Tech Feature
Green Hydrogen
It's (Really) Not Easy Being Green (Hydrogen)
While the jury is still out on maritime 'fuel of the future', green hydrogen is seen globally as a particularly invaluable part to the process – as well as a potential fuel – particularly in the fight to decarbonize heavy and long-haul transport industries like shipping.
While the promise is real, the challenges are many, including the high cost of renewable energy sources themselves, the energy-intensive electrolysis process, and the development of infrastructure. Similar to other giant strides in technology, the mass production of green hydrogen will take a broad mix of political will (ie. funding), corporate nerve, and individual innovation.
Sealhyfe offshore hydrogen production pilot (Lhyfe), on WAVEGEM platform (GEPS Techno), On the left : FLOATGEN floating turbine (BW Ideol). On the SEM-REV offshore testing site (Centrale Nantes / OPEN-C)
© Lhyfe
Producing green hydrogen in the offshore environment presents a number of advantages, led by the abundance of renewable energy (read integration into the rapidly expanding offshore wind grids globally) to generate electricity to run the power-hungry electrolysis process. In addition, readily abundant seawater can be used to cool the electrolyzers, helping to boost efficiency and reduce costs.
But these offshore pluses are weighed down with an equal, if not greater number of risks, including the much higher CapEx and OpEx costs due to the inherent challenges associated with working efficiently, cost-effectively, and safely in the offshore environment; the logistical challenges of delivering the hydrogen from the sea to the shore; and last but certainly not least, the many unknowns of operating the electrolyzers – designed and optimized for onshore operations – in the caustic offshore environment.
Despite the negatives, Lhyfe is a French company hellbent on meeting and beating the challenges.
Earlier this summer, it announced a "world first": Its Sealhyfe pilot project has started producing green hydrogen in the Atlantic Ocean, 20 km off Le Croisic, France, and is now connected with the SEM-REV power hub.
"As of June 20, 2023, the platform began producing its first kilos of offshore hydrogen, marking a decisive milestone for the future of the sector. The progress of the Sealhyfe trial once again demonstrates Lhyfe's ability to bring about concrete advances in the hydrogen industry and at great strides," Lhyfe said in a press release.
With the aim of scaling to commercial production, Lhyfe opted to choose a challenging trial area.
Lhyfe said that the 1 MW electrolyzer supplied by Plug would be put to the test under real conditions on a floating platform, a WAVEGEM platform, engineered by GEPS Techno, that was re-engineered to stabilize the production unit at sea. Connected to Central Nantes' SEM-REV offshore testing hub operated by the OPEN-C Foundation, a hub that is already linked with a floating wind turbine, FLOATGEN, engineered and operated by BW Ideol.
Lhyfe's Sealhyfe platform, which is less than 200 sq. m., is designed to produce up to 400 kilograms of hydrogen a day.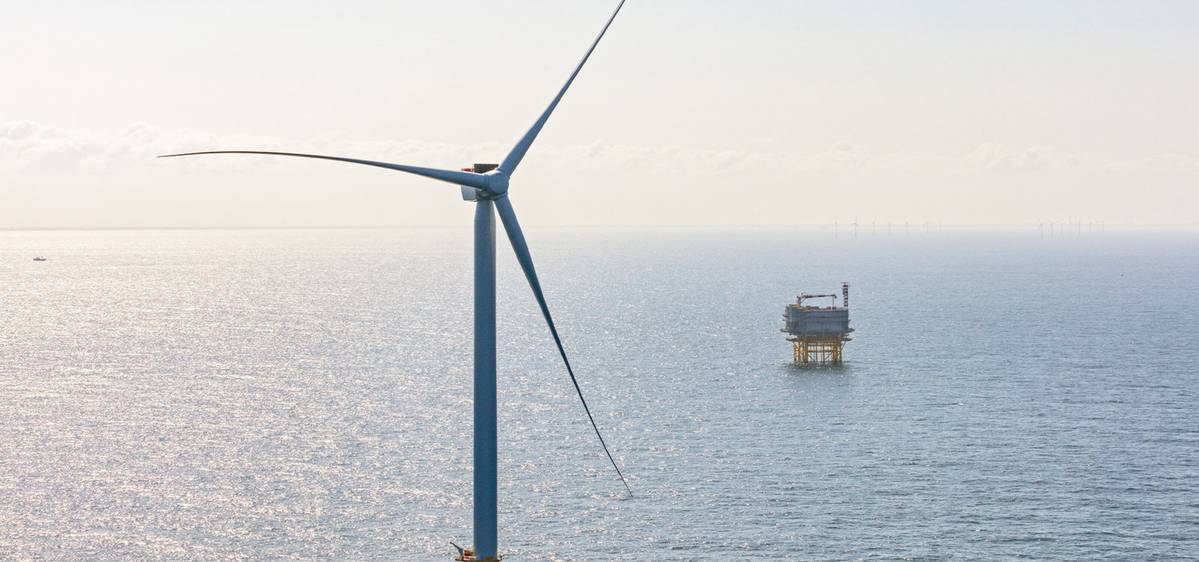 In another project, Dutch offshore wind farm developer CrossWind awarded Italy's Rosetti Marino a new engineering, procurement, construction, installation, and commissioning (EPCIC) contract for an offshore green hydrogen production and storage pilot plant dubbed the Baseload Power Hub, which will be located within CrossWind's Hollandse Kust Noord offshore wind farm, 18.5 kilometers off the Dutch coast. CrossWind is a joint venture between Shell (80%) and Eneco (20%).
According to Rosetti Marino, the project will convert excess wind energy to green hydrogen through an electrolyzer and store it as green hydrogen that can be converted to electricity when needed via a fuel cell, including also battery storage for shorter-term power storage. The aim of the project is to stabilize power flow when the wind isn't blowing as briskly and/or during power demand surges.
The scope of work of the contract awarded to Rosetti Marino SpA includes detailed engineering of the Baseload Power Hub, procurement of material and equipment, construction work, transport and installation at sea, and commissioning and start-up of the platform (EPCIC). Activities are due to start immediately and are expected to be completed by the end of 2025.
As for the Hollandse Kust offshore wind farm, it on June 19, 2023, produced its first megawatt-hours (MWh) of electricity, and delivered it via TenneT's offshore grid to the Dutch mainland. In the coming months, production capacity will be constantly increased, so the wind farm will eventually generate 3.3 TWh a year. When complete, the Hollandse Kust Noord wind farm will have a total installed capacity of 759 MW.
There is [$22m worth of] HOPE
Lhyfe also announced that the HOPE project, which it is coordinating as part of a consortium of nine partners, has been selected by the European Commission under the European Clean Hydrogen Partnership and won a 20 million euro grant (around $22 million at the time of writing).
"Through these two pioneering projects in offshore hydrogen production, Lhyfe aims to validate industrial solutions which it will submit in response to future calls for projects from various governments, to help achieve the target set by the European Commission as part of the REPowerEU plan of 10 million tons of clean hydrogen produced in the European Union by 2030," Lhyfe said.
To achieve this, Lhyfe has already signed partnership agreements with wind turbine developers and offshore power specialists, such as EDPR, Centrica, and Capital Energy.
Matthieu Guesné, Founder and CEO of Lhyfe, said: "Our team – supported brilliantly by our partners – has achieved a genuine feat of technology in successfully designing this first floating green hydrogen production site. We are extremely proud to be the first in the world to produce [green] hydrogen at sea.
"This has been our wish since the launch of the company and we continue to move very quickly on offshore, which for us represents a tremendous development opportunity for mass producing hydrogen and decarbonizing industry and transport. We are continuing to build on the successes we have had so far, firstly to prove to the world that transition is possible today, and of course to accelerate it."
Key Innovations to be Developed via HOPE
Recycled offshore barge: The structure housing the production unit will be a second-hand jack-up barge, demonstrating the transformation of infrastructure previously used for oil and gas while also helping to reduce costs and lead times.

10 MW PEM electrolyzer: This compact electrolyzer will be the first of its size to be installed offshore.

Seawater treatment system: This low-energy system which is compact, economical and able to use the heat emitted by the electrolyzer, will be used for the first time to produce green hydrogen from seawater purified by evaporation.

Underwater flexible hydrogen pipeline for hydrogen export: The hydrogen will be exported ashore via a flexible thermoplastic composite pipeline of over a km long, which for the first time will transport hydrogen produced at sea.
HOPE Project Partners
Lhyfe (France): Engineering, equipment procurement, works supervision, operation, optimization of the overall production, export and distribution system, project coordination.

Plug (the Netherlands): Supply and engineering of the 10MW electrolyzer.

EDP NEW (Portugal): Contribution to the optimization of operations and impact analysis. Steering of techno-economic studies for large-scale developments.

POM West-Vlaanderen (Belgium): Project implementation support in the testing area (studies, permits) and analysis of the social, economic and environmental impacts of the project.

CEA (France): Optimization of operations via digital simulation.

Strohm (the Netherlands): Supply of the subsea flexible thermoplastic composite pipeline (TCP).

Alfa Laval (Denmark): Supply of the seawater treatment system.

ERM - Element Energy (France): Coordination support.
Fast Facts on the HOPE Project
What: Hydrogen Offshore Production for Europe (HOPE)

What (Part II): The production site will comprise three units: production and compression (at medium pressure) at sea, export by composite pipeline, then compression (at high pressure), storage and distribution onshore.

How Big: 10 MW/up to 4 tons of green hydrogen produced a day

Funding: 20 million euros grant from the European Commission

Where: The North Sea, off the port of Ostend

Why: For the first time in the world, green hydrogen will be produced at sea and then exported ashore via a composite pipeline to supply the needs of the regional ecosystem. The aim is commercialization

When: By mid-2026