Safety Offshore
Dropped Objects
Dynamic Risks Call for Dynamic Thinking
Dropped objects are a leading cause of incidents offshore, and the risks are many.
By Wendy Laursen
Multi-component tools can be designed to ensure that when they are suitably tethered and used by a competent individual, they are safe for working at height.
Image courtesy of Stopdrop Tooling / Shutterstock
At present, bolts are being produced to at least 85 different industrial standards. The Dropped Objects Prevention Scheme (DROPS) Reliable Securing best practice handbook, a collaborative industry effort, notes the need for a qualified evaluation before they are used for maintenance or modifications. Bolted connections fail due to improper use/installation (30%), vibration (20%), knocks (12%), overloading (11%), wear (6%), and corrosion (5%).
A 2022 DNV report notes that Norwegian Petroleum Safety Authority incident data indicates that galvanic corrosion between fasteners and tertiary components and overload/fatigue due to wind are the most common threats leading to dropped objects.
Mike Rice, CEO of Dropsafe, a company specializing in dropped object prevention, says whether you're in the North Sea, the Gulf of Mexico, or elsewhere, there are often prolonged periods of harsh environmental conditions at all locations offshore.
He points to the dangers of counterfeit nets on the market: "The netting itself is rarely stainless steel, but even when it is, the crimps or the carabiners are not, and that is often where galvanic corrosion in secondary securing can cause an issue.
A recent BSEE safety alert highlighted corrosion hazards associated with cranes on idle facilities. Inspectors observed numerous instances where cables that supported blocks and balls were weakened by corrosion, resulting in components dropping from elevation.
Australia's offshore safety regulator, NOPSEMA, has cited a lack of consistency when describing corrosion during crane inspections as an issue. Words such as "extensive," "surface," and "local" were sighted.
"The prevalence of cranes operating in a de-rated capacity due to the corrosion of the crane structure is evidence that reports of corrosion were either not assessed or fully understood."
NOPSEMA's Head of Safety and Integrity Division, Derrick O'Keefe, says: "Dropped objects range in size and severity, and their occurrences generally do not form a pattern."
Revised guidance for crane operator competency was published in 2021, and he says a key part of prevention includes appropriate maintenance strategies, inspections, procedures, and trained and competent personnel.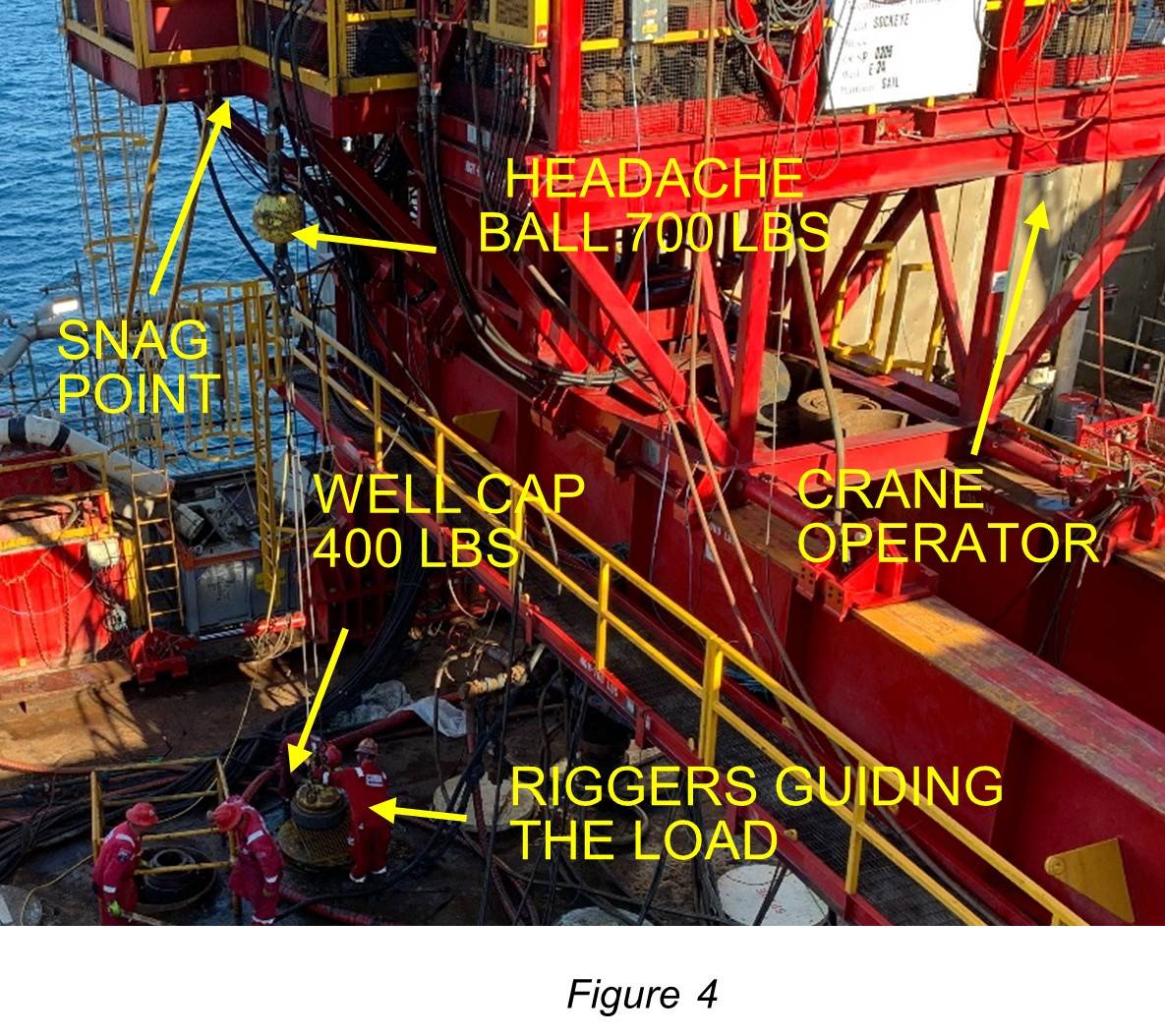 Top Causes of Dropped Objects
According to DROPS scheme data, the top causes of dropped objects include inadequate risk assessment, human factors, inadequate procedures, failed fixtures and fittings, poor housekeeping, collisions, and snagging.
BSEE issued a safety alert in March 2023 after a 700-pound crane overhaul (headache) ball crashed to deck less than two feet from a rigger after an auxiliary line snagged during a "blind" lift.
Drilling rigs can have accentuated risks simply by the nature of the work – the lifting, the vibration.
Asset age can also be a compounding factor, especially when assets are re-activated after cold stacking.
But the risks need not be 700-pound; dropped tools and components also pose a significant risk.
Stopdrop Tooling grease guns are an example of a multi-component tool that's been designed with engineering controls to ensure that when the tool is suitably tethered and used by a competent individual, it's safe for working at height.
"Prior to Stopdrop Tooling being available, tools accounted for 15% of all dropped object incidents," says Gary Dunn, Global Business Manager at Stopdrop Tooling.
Eden Newell, VP of Business Development & Marketing at drops mitigation equipment supplier 5th Element Inspection Services, cites the US Bureau of Labor Statistics indicating that there are over 50,000 "struck by falling object" recordable injuries every year onshore and offshore in the US – that equates to one every 10 minutes. The risks are aplenty, she says.
"Why is it so hard? Why do we still see dropped object incidents as one of the top causes of lost time injuries and fatalities in the offshore industry? It all boils down to the mindset and attitude of the person doing the job; fancy product safety solutions alone cannot solve this issue. Human factors have a lot to do with dropped objects – neglect, error, and complacency are some of the most common factors that can contribute to dropped object risks."
Engineer out the hazards, if possible, says Newell. Also, continue industry collaboration among oil and gas companies, drilling contractors, shipyards, EPC companies, contractors, sub-contractors, and equipment manufacturers.
Lastly, put more emphasis on regular training by using safety statistics and data as the basis for designing more practical, hands-on, on-the-job training.
DROPS Metaverse
Axess Group recently partnered with DROPS Asia Chapter to develop a hazard hunt module in the DROPS Metaverse, a virtual reality (VR) application.
As part of the training, participants virtually navigate a drilling rig to look for potential dropped objects.
Allen Smith, representing DROPS Training and Admin, sees value in what he calls a second-nature prevention strategy.
"For every task, every task step, every task plan, basically everything we're doing, we take the time out to think about how we are prepared to prevent dropped objects and to mitigate the consequences."
This includes survey and inspection of equipment, the management of tools and equipment at height, exclusion zone management, and more, including DROPS awareness, asset-specific training, and consultation.
"Manufacturers can help identify what needs to be inspected and what should be corrected, but the kind of dropped objects we really need to focus on in task planning are the dynamic drops and how to recognize the sequence of events that can lead up to an incident," says Smith. He believes that even the high number of incidents reported is an under-estimate.
Mike O'Berry, the GOM Public Affairs Officer at BSEE says the Bureau has seen an uptick in reported incidents involving dropped objects, with more than 60% of the reported dropped objects related to crane activities.
On average, BSEE receives five lifting incident reports each week, with approximately 17% of lifting incidents involving a dropped load. Approximately 90% occur during routine or recurring lifts. "BSEE believes that a continued focus on safety must go beyond simple compliance with regulations and toward the adoption of a meaningful safety culture that permeates all offshore energy activities."