LR Blazes the Digital Path
Lloyd's Register (LR) is helping offshore energy operators leverage digitalization solutions to make operations more economic and efficient, as Sean van der Post, Global Offshore Business Manager, LR, explains.
Photo courtesy Getty Images/LR
While "digitalization" has become somewhat of an empty industry buzzword, Sean van der Post, LR, sees it as something that has the power to offer boundless opportunities, presenting offshore operators with new pathways to efficiency, safety and profitability.
"For Lloyd's Register, digitalization is about the ability to capture and rapidly process relevant information to create value," he said. "I think where a lot of the failings have occurred is not focusing on the 'relevant information' bit. There has been so much information captured in data, and now a lot of it doesn't necessarily improve decision making."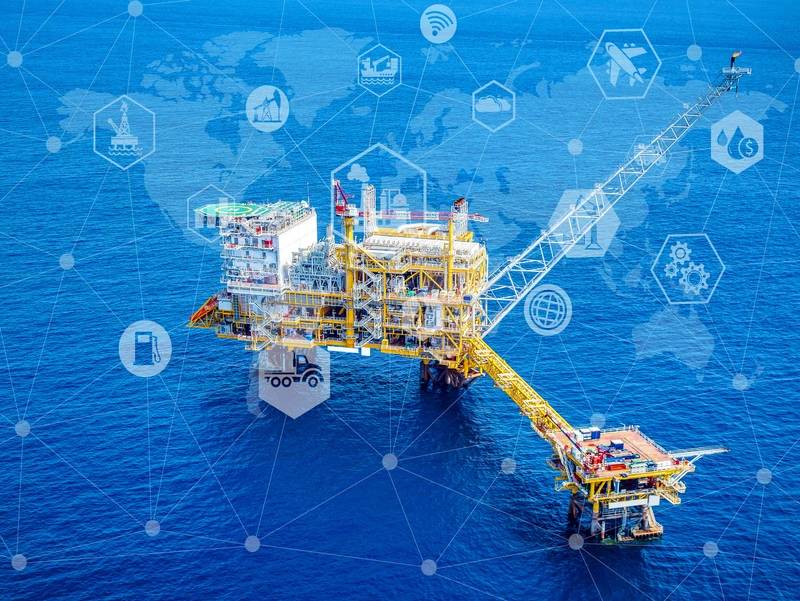 Photo copyright JT Jeeraphun /AdobeStock
Harnessing 24 Years of Data
LR was contracted by Bluewater Energy Services B.V. (Bluewater) to provide a comprehensive structural digital twin and evaluation of a floating production, storage and offloading (FPSO) units' structure, using 24 years worth of historical data plus real-time data to help Bluewater assess Glas Dowr's operational readiness and redeployment options.
"This was interesting because you're taking data from an asset that is 24 years old, that has operated across three different fields, adding real-time data and transferring it into a format that is useful to help determine the life of that asset," said van der Post
LR's digital solution, an integration of a multi-physics models, sensor information and design data of the unit, will be used to mirror and predict the status and life of its corresponding physical twin. This is designed to enhance the operation of Glas Dowr, giving Bluewater the ability to comprehend and predict the structural performance at the new field prior to physical redeployment.
"I think it was really pushing that boundary, taking something that is 24 years old and then translating it in that format that says, 'okay, we've got a great asset, it still has a lot of useful life in it, but maybe we have to use it and operate it in a slightly different way so that we don't have to carry out unnecessary maintenance and activities," said van der Post.
As the digital twin is designed to continuously collect and process sensor data, it presents a constant evolving picture of the FPSO's status so Bluewater can assess the asset's health status at all times.
"I think for us, probably the biggest lesson learned (from the Bluewater project) was simply understanding the volume of data that can be captured over 24 years, sifting through that and getting to the valuable data," said van der Post. "This is the part where you have to invest the time and effort" to not get caught up in simply capturing data for data's sake, but really honing in on the most important parts.
It is very clear that operators and the wider industry see an opportunity and a need to adopt AI technologies to create and drive competitive advantages Sean van der Post,
Global Offshore Business Manager,
Lloyd's Register.
Artificial Intelligence 'Match Making'
Another scope of the digitalization discussion is the acceleration of artificial intelligence (AI) across all industries, and LR is aiming to offer guidance to the maritime and offshore industries on this nascent technology by launching an AI Register, which is a standardized digital register of LR-certified AI providers and solutions.
"It is very clear that operators and the wider industry see an opportunity and a need to adopt AI technologies to create and drive competitive advantages," said van der Post. "On top of that, we are seeing need from the providers of that technology, too," to help signal confidence to potential adopters of the technology. "The next stage is understanding better the value we get from AI," said van der Post. "It really comes down to the basics of asking, 'Does it deliver what it claims to do?' That's the really important part, because it's very easy to say we have the solution."
The AI Register is designed to assist stakeholders in finding appropriate providers and solutions for business challenges, minimizing the risk and cost of investing in AI technology.
Each AI solution entered into the LR AI Register will be categorized against their LR certification status, such as Digital Twin Ready, Digital Twin Approved, Digital Twin Commissioned and Digital Twin Live from LR's ShipRight Digital Compliance framework. The AI Register will also provide details about what the specific solution offers, such as key business benefits, target applications, functions and performance.
"Lloyd's Register's key part here, in the same way as what we've done with classification, is to provide the industry with that confidence to make that jump in the various stages of technology adoption." For the offshore space, van der Post said a number of operators and owners are starting to look at how they can move to things like autonomous or unmanned floating installations, step changes that will rely on these types of new and fast-evolving technologies such as AI to achieve.
The Bottom Line
While the digitalization discussion naturally focuses first on technology itself, the speed of development as well as the interactivity among other systems, ultimately the digitalization discussion comes down to efficiency, safety and cost.
"When you start looking at unmanned facilities, for example, you look at your ability to reduce exposing people to the very challenging environments offshore," which fits neatly into both the safety and the cost category, said van der Post.
It also helps owners and operators to better understand the condition of the unit itself and the equipment on board, moving firmly and finally to a predictive maintenance scenario premised on real condition-based monitoring and analysis versus the traditional hour- and calendar-based method.
"(Digitalization) is starting to predict when we need to proactively intervene on a facility, as opposed to just working with plans of shutdowns," said van der Post, who notes that LR is engaged in a multitude of programs with operators, industry players and the likes of the U.K.'s Net Zero Technology Center to collaboratively explore new real-world applications and solutions. "It is at that stage where it's really exciting as we move forward as the technology, and I think our understanding of how to use the technology, is developing."
While digitalization is a driver for the offshore industry's owners and operators, it is a driver too for classification, as it looks to better serve clients by leveraging its own data assets, which in the case of Lloyd's Register is more than 260 years of experience.
"It's about taking all of that (data and experience) and now finding a way in which class can support not only how we collect that data, but also how we rapidly process that data and inform our clients and the industry in terms of how they need to proceed."
In its bare essence it's about the ability to more rapidly collect and process data, and to disseminate information and guidance in a much shorter space of time than what class has traditionally been able to do. A great example is to take learnings from faults and failures and to get them into rules updates more efficiently.
"I think this is the opportunity; the quicker we can respond, the quicker we can support the industry, the more potential value we can actually deliver," said van der Post.
Looking ahead to 2022 and beyond, van der Post sees an offshore energy industry in transition, forced to dramatically reduce emissions while increasing the productivity and reliability of offshore assets, which by nature work in and under arguably the most harsh and corrosive environment on the plant.
"We are no longer in a situation where we continue to produce oil and gas as we did before," said van der Post, noting the environmental emission mandates, as well as the exodus of experienced people from the industry following the latest protracted downturn.
"We are going to see many new solutions coming, whether it be electrification, autonomy, carbon capture and storage, all of which have the power to add additional cost per barrel."
Despite societal pressure for more rapid energy transition, oil and gas will remain a staple energy source for many years to come. And while the offshore industry faces myriad challenges, many will be met and solved via digital solutions.
Watch the full interview with Sean van der Post, Global Offshore Business Manager, Lloyd's Register, on Offshore Engineer TV: