Eye on Design
Galveston Island
Inside the Galveston Island Hopper Dredge Design
C-Job CEO Job Volwater discusses the design of Great Lakes Dredge & Dock's new hopper dredge Galveston Island.
By Greg Trauthwein
Photo courtesy GLDD
To start us off, can you give a 'By the Numbers' look at your company today?
Job Volwater
Basjan Faber and I founded C-Job Naval Architects in 2007. It was just the three of us (then), but today we employ more than a hundred people; engineers, designers and software developers, to bring the best naval architectural knowledge to our clients. Our aim is to be one of the largest independent design firms, to give independent support to ship owners and shipyards.
What was the scope of C-Job's supply to the design and support of GLDD's Galveston Island?
Job Volwater
We teamed with GLDD in 2019, starting off with the feasibility study to find out the exactly what GLDD needed for its new hopper dredge. [Once that was] all clear, we started off with the conceptual design, creating the tender documents. While GLDD was tendering its design in the United States for building, in parallel, we continued doing the basic design. That led to the class approved documents from ABS. And then when the shipyard [Conrad] was appointed, we were giving support to both the shipyard and GLDD, and we also did a part of functional design … all of the information for detail design.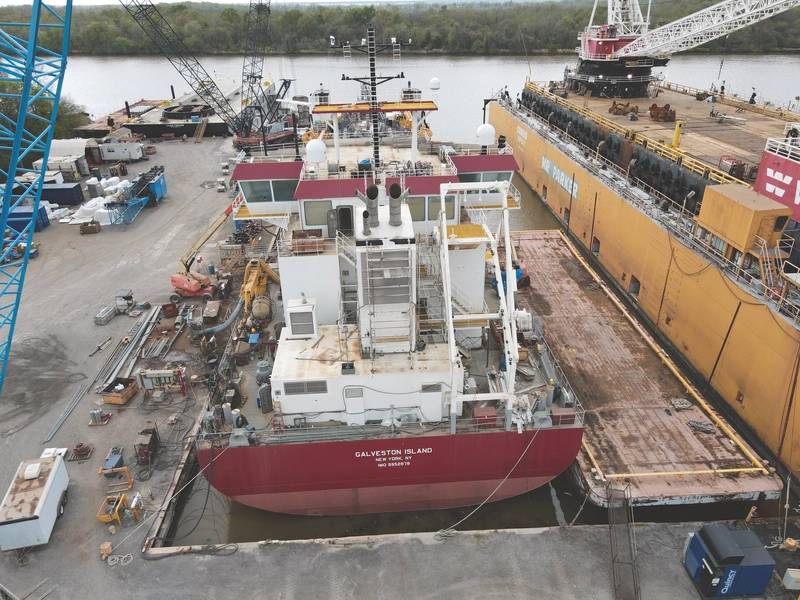 What are the key technical highlights of this GLDD's Galveston Island to make it more efficient, effective and/or environmentally friendly?
Job Volwater
With GLDD, we were working on a vessel that had to have a very low resistance in all sailing conditions, [for which] we used a lot of CFD calculations to validate. We also focused on creating a lighter vessel that can take on more payload, [which was] very interesting for GLDD.
I believe that a vibrant dredge market in the U.S. was an impetus for C-Job's expansion here. How do you view the US market today? Where do you see opportunity?
Job Volwater
It was before Covid when we opened our own business in Texas, close to Houston. The dredge market [in the U.S.] is very interesting, and we are doing a lot of support within the dredging market there, nationwide. We also focus in the United States on the offshore wind market. For example, DEME's wind installation vessel Orion, which will be working in U.S. waters, was also a design that we co-created for DEME, with DEME. There is a huge demand within the United States, and we can support owners and shipyards, from newbuilds to retrofits.
The Q&A with Job Volwater, CEO, C-Job, was edited for brevity and clarity. Watch him discuss the design of the hopper dredge Galveston Island on Maritime Reporter TV: