Feature
Carbon Capture and Storage
Northern Lights: Trailblazing the Path to Net Zero Emissions
©Equinor
In the global quest for achieving net zero emissions and slowing down global warming, carbon capture and storage (CCS) technology has merged as an important solution. Among the notable projects being developed in the field is the Northern Lights offshore carbon capture and storage project in Norway, a country with long experience with offshore CO2 storage.
Bartolomej Tomic
The transition to a sustainable energy future requires innovative solutions that go beyond simply halting fossil fuel projects.
Carbon capture and storage (CCS) has emerged as a critical technology to address emissions from hard-to-abate industries.
"CCUS is a necessary bridge between the reality of today's energy system and the increasingly urgent need to reduce emissions. Not only can it avoid locking in emissions from existing power and industrial facilities, it also provides a critical foundation for carbon removal or negative emissions," Dr. Fatih Birol, Executive Director at the International Energy Agency, said recently.
In a speech in October 2022, Kadri Simson, European Commissioner for Energy, said, "I believe that CCUS has incredible potential in our race to reach climate neutrality. And without CCS and CCU, it will be practically impossible to limit the global warming to the 1.5 degrees Celsius objective."
She said that the Commission modeling showed that the EU will need to capture and utilize or store between 300 and 640 million tonnes of carbon dioxide per year by 2050 to meet its climate goals.
There's been a notable recent surge in offshore carbon capture and storage news, with offshore storage licenses recently either granted or pending in the U.K. and Norway, a giant offshore CCS project sanctioned in Malaysia, as well as projects planned for the U.S. Gulf of Mexico.
For now, let's focus on a project that, while not yet pumping CO2 under the seabed in Norway, already has significant milestones to show for and will soon be ready for operation – the Northern Lights.
The Northern Lights – a celestial phenomenon name for a project that's mostly about the areas below the seabed – is led by a joint venture between Equinor, Shell, and TotalEnergies, which entered a partnership to work on the offshore CO2 storage project back in 2017.
Back in 2019, while the project was still being in the works and yet unsanctioned, Equinor's then Chief Executive Eldar Saetre said Nothern Lights could become the world's first cross-border CO2 storage.
Since then, the project has been approved, backed by the Norwegian government, offshore storage capacity and offshore injection tests completed, Northern Lights JV company formed, some cross-border CO2 transport deals struck, transport ships ordered, and recently, significant onshore works completed in Øygarden municipality in Norway, where CO2 receiving terminal is being built.
The size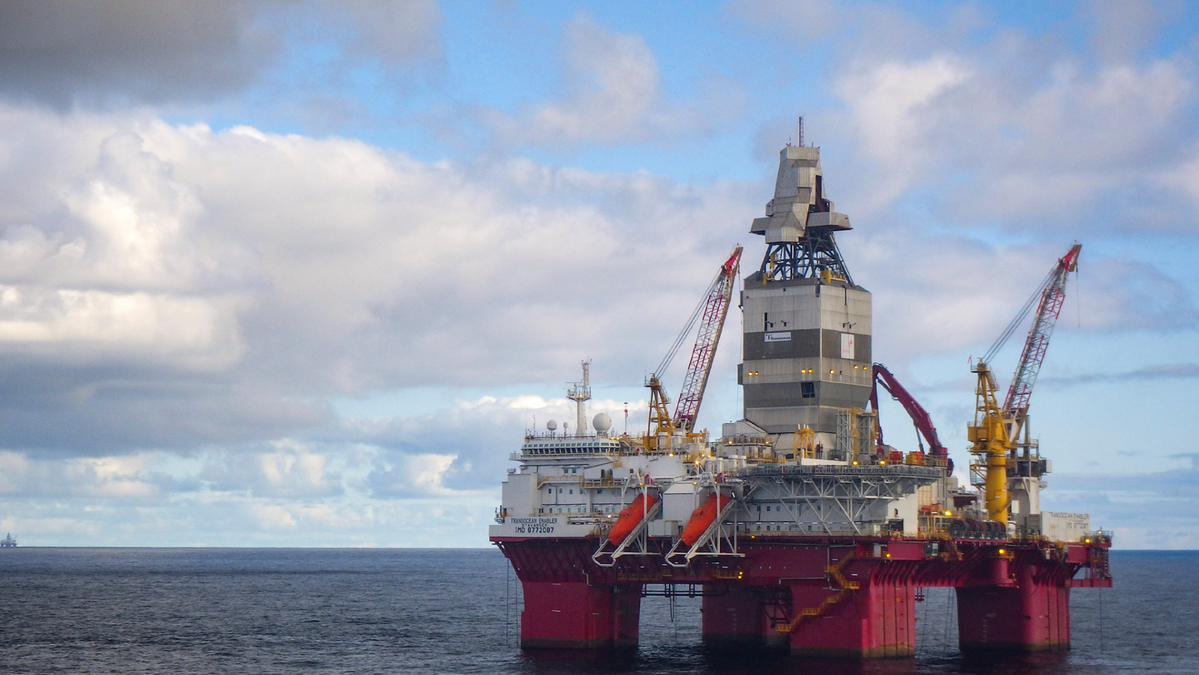 The Northern Lights JV plans for the project to have an initial storage capacity of 1.5 million tonnes CO2 annually, with the captured CO2 set to be permanently stored in a saline aquifer, 2,600 meters beneath the seabed.
The plan is for CO2 from emitters who sign deals with Northern Lights JV to have their CO2 offtaken by liquefied CO2 carriers, shipped to the onshore plant in Øygarden for an intermediate storage, and then transported by a 110 km pipeline to an offshore subsea storage.
While the initial storage capacity is 1.5 million tonnes of CO2 per year, plans are in place to increase capacity as demand grows across Europe.
In 2020, Northern Lights drilled the first CO2 exploration well that confirmed that the reservoir in the Johansen formation, at 2.600 meters depth, is suitable for safe and permanent CO2 storage.
Offshore drilling operations in 2022 at the EL001 storage license (granted in January 2019) confirmed the storage capacity of at least 5 million tonnes CO2 per year.
The wells were been drilled using Transocean's semi-submersible drilling rig Transocean Enabler.
Worth noting, the European Commission in January 2022 announced that EU countries had agreed to award Northern Lights €4 million for Front-End Engineering Design (FEED) studies for the expansion of the Northern Lights CO2 transport and storage capacity to over 5 million tonnes per year.
The planned expansion will include subsea facilities and capacity increase of the onshore receiving terminal in Øygarden.
Clients
As part of the first phase of the project, 80% funded by the Norwegian government, Northern Lights has reserved 800,000 tonnes of CO2 per year for the Heidelberg Materials cement factory in Brevik and the Hafslund Oslo Celsio waste-to-energy plant, to fulfill its obligations as the transport and storage component of Longship, the Norwegian Government's full-scale carbon capture and storage project.
Apart from this, in August 2022, the Northern Lights joint venture struck its first commercial deal. The agreement was signed with fertilizer maker Yara, to store CO2 captured at Yara's Dutch operation. Under the agreement, 800,000 tonnes of CO2 per year will be transported on ships from Yara in the Netherlands from early 2025.
Announcing the Yara deal, Shell's then CEO Ben van Beurden said, "We are proving that this actually works. The fact that it can is a major breakthrough because this is now a pathfinder project for similar projects in Europe."
Another vote of confidence for the project came in May, 2023 when the Northern Lights joint venture signed a deal with Orsted to transport and store 430,000 tonnes of biogenic CO2 emissions per year from Orsted's two power plants in Denmark.
Børre Jacobsen, Managing Director of Northern Lights, then said, "This agreement confirms the commercial potential for CCS and demonstrates that the market for transport and storage of CO2 is evolving rapidly."
The deal was signed after Ørsted won public funding from the Danish Energy Agency under the first Danish tender of the CCUS Fund to develop a CO2 capture hub for the biomass power stations Asnæs and Avedøre, from which CO2 will be shipped to the Northern Lights reservoir.
"From 2026 Northern Lights will be shipping the first cargo of biogenic CO2 from Denmark to Norway," Børre Jacobsen said.
In May 2022, Northern Lights JV also signed a memorandum of understanding with Cory, a U.K. based waste management and recycling company, for Cory to potentially ship carbon dioxide from its 'energy from waste operation' on the River Thames in London to Northern Lights' subsea CO2 storage facilities. A firm deal has yet to be signed.
In its annual report for 2022, Northern Lights said that its existing agreements had fullfiled the capacity for the first phase of the project, with the customer pipeline for commercial volumes for the phase 2 development progressing. According to Northern Lights JV, half of these prospective clients come from waste incineration and cement companies, along with hydrogen, refineries, and steel/metal companies.
Who is building Liquefied CO2 Carriers for Northern Lights?
In October 2021, Northern Lights ordered two CO2 carriers for the project from China's Dalian Shipbuilding Industry Co.
The Chinese shipbuilder is building two 130-meter-long liquefied CO2 carriers, each with a cargo size of 7,500 m3.
Northern Lights adapted ship designs used for transporting liquefied petroleum gas, adding a liquefied CO2 carriage system and insulation to maintain a temperature that keeps the CO2 in a liquid state, including a special high-tensile-strength nickel steel alloy with a tank wall thickness of 50 mm.
The two vessels, designed to transport liquid CO2 with purpose-built pressurized cargo tanks, are expected to be ready for delivery by mid-2024.
Being built for a project that aims to reduce emissions, the vessels themselves are designed for low-emission operations. The main fuel for the ships will be LNG. Other innovative technologies, such as a wind-assisted propulsion system and air lubrication are planned to be installed to reduce carbon intensity by around 34% compared to conventional systems.
The Danish marine pumps specialist Svanehøj is supplying deepwell cargo gas pumps for the two CO2 carriers.
First steel for the ships was cut in November 2022, and the keel laying ceremony was held in April 2023. The ships, classified by DNV and sailing under Norwegian flag, are expected to be delivered in 2024. Once delivered they will be operated by "K" LINE on behalf of Northern Lights JV.
Onshore Storage Tanks
In its 2022 annual report, Northern Lights said that the Øygarden CO2 receiving terminal had been more than 75% completed by year end.
Since then, the percentage has increased, as the company on June 2 said that it had installed all 12 CO2 storage tanks at the plant.
These tanks, standing at 32.5 meters tall, boast a capacity to store nearly 700 tonnes of CO2 each.
They will serve as an intermediate storage for the CO2 brought in by the ships, before being transported into the subsea aquifer. Aker Solutions was responsible for the lifting and installation of the tanks.
Also, the terminal could be expanded by a second jetty to cater for additional volumes of imported CO2 from larger ships, additional intermediate storage for CO2 with additional volume, and additional CO2 export pumps, as supported by the EU, as mentioned earlier.
First mover
In the 2022 annual report, Northern Lights' Jacobsen said, Northern Lights CCS is a key technology to decarbonize hard-to-abate industries in Norway and Europe, and reach the goals set in the Paris Agreement, achieving net zero emissions by 2050.
"The message from IEA and the IPCC is clear; net zero is near impossible without CCS.
"In 2024, we will be ready to receive CO2 volumes, initially through Longship (Norcem and Celsio), and then also commercial volumes. One of the defined key success criteria for the Norwegian Government, and for us, is to demonstrate the potential in CO, transport and storage as a service.
"It is an important part of our mandate to share our knowledge and experience as a catalyst for creating a commercial CCS market. Northern Lights is a first mover, and we encourage others to follow."
Did you know?
Northern Lights, while the first project of the kind in Norway, is not the first offshore carbon storage project in the country.
Namely, according to the Norwegian Petroleum Directorate, since 1996, CO2 has been removed from the Sleipner Vest gas in the North Sea and injected in the Utsira Formation. One million tonnes of CO2 from the Equinor-operated Sleipner field are stored in the subsurface every year.
Also, according to NPD, since 2007, 700 000 tonnes of CO2 per year has been stored at the Snøhvit offshore field in the Barents Sea. CO2 is separated from the gas in the process facility on Melkøya before it is sent by pipeline down into a reservoir located around 140 kilometers from land. Regular surveys are performed to monitor how injected CO2 fills the storage area.