The 'Green Rig' is Coming Closer to Reality
As the world continues its journey toward attaining net zero goals by 2050 there is an increasing pressure on the oil and gas industry to reduce its greenhouse gases (GHG) while maintaining global energy demands. Decarbonization has remained at the top of the news agenda in the last few years, with operators eager to create more 'green' rigs which operate with a reduced carbon footprint. But are more environmentally friendly oil rigs really on the horizon? We explored some of the key developments which show this vision is becoming a reality.
By Alex Imperial, VP and Area Manager, South America, Energy Systems at DNV
Image courtesy DNV
One of the most important elements of reducing CO2 emissions is having a clear understanding of the way forward. While new technology is essential to driving greater energy efficiencies, this can often be expensive and time intensive to implement. DNV's Decarbonization – Act Now paper was introduced to highlight an accessible and credible pathway for all upstream operators to reduce direct emissions by incorporating cost-effective means of carbon savings.
Along the same lines, specifically for mobile offshore units, DNV has also put in place the ABATE (Ready) Class notation, which provides a structured approach to identify and assess the implementation of abatement measures, based on the design and operation of individual installations, to enable measurable reductions in an installation's GHG emissions. Primarily developed to cover offshore oil and gas installations, the general principles can be also applied to other floating offshore installations.
The decarbonization paper proposed a three-tier method:
Reduce overall energy usage

Seek to remove environmental losses

Replace energy supply with low carbon alternatives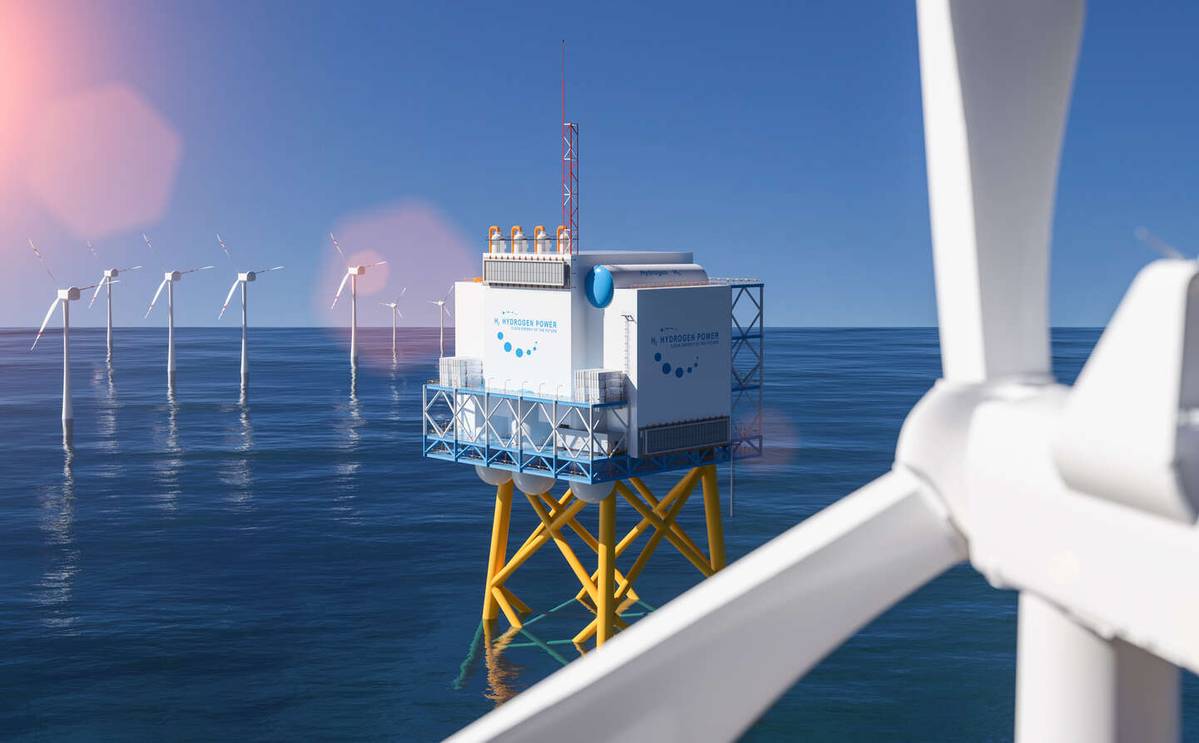 Verifying hybrid power application
The use of hybrid power is an increasingly popular solution to support the decarbonization of traditional drilling rigs; with DNV having classed eight such units that have been converted. In late 2022, Dutch-based Huisman announced the development of a harsh environment semi-submersible drilling rig design, which can be powered with onshore-produced hydroelectricity but also with floating wind turbines. The rig includes a low drag electrified robotic drilling system that offers consistent speed of operation, as well as a heave compensated drilling floor. The hybrid power system and energy storage systems could ensure that emissions are reduced by 30-40% per well1.
DNV also completed the concept verification review of Odfjell Oceanwind's WindGrid (WindGrid) system, a solution for providing an uninterrupted power supply from Mobile Offshore Wind Units (MOWUs) to micro-grids. It combines energy storage, grid converters and floating wind turbines in order to enable gas turbine generators to be shut down during peak wind power production.
DNV's review confirmed the technical feasibility of the WindGrid system, and that expected reductions in CO2-emissions for North Sea applications are in the range of 60-70%, compared to generation of electricity from conventional gas turbines.
Elsewhere, there is advancement in the utilization of hydrogen for powering oil rigs. DNV was recently engaged by Ocyan as independent third party in the qualification process of a system injecting hydrogen as an additive in the internal combustion engines of drilling rigs, in order to reduce diesel consumption and GHG emissions from drilling. DNV's technology qualification process will ensure that the technology achieves the expected degree of maturity, following provisions in DNV-RP-A203 – which provides the industry with a systematic approach to technology qualification, ensuring that new technologies function reliably within specified limits.
Digitalization driving efficiencies
With a focus on decarbonizing offshore oil & gas platforms, Technip FMC's Deep Purple project aims to creates a complete, sustainable subsea energy solution. The pilot includes an electrolyser, hydrogen storage, fuel cells, and energy control system as well as the development and testing of an advanced control and advisory system and a dynamic process simulator. The pilot will allow the consortium partners to ensure energy efficiency and autonomous operation offshore, as well as prepare the system for large-scale offshore commercial use. DNV helped TechnipFMC and the consortia develop the specification for the associated suite of digital twins according to their Recommended Practice DNV-RP-A204 ("Qualification and Assurance of a Digital Twin"). DNV collaborated to define the digital modules needed to be able to enable safe, unmanned, energy efficient and cost-effective remote operation of the system.
Carbon capture and storage
Carbon capture and storage (CCS) is playing an increasingly important role in decarbonizing assets. DNV recently qualified a modularized carbon capture facility for offshore installations, developed by Aker Carbon Capture. The Just Catch Offshore technology is proven to capture CO2 from flue gas stemming from turbines on floating offshore installations, even in harsh weather conditions. The modularized solution can fit into any type of application where gas turbines are present, bottom fixed as well as floating production facilities, such as floating production, storage, and offloading (FPSO) and floating liquefied natural gas (FLNG) vessels, power hubs, and offshore power gas plants.
The system is based on a modularized design with two standard units of 120 and 180 kTPA as building blocks. The units are typically configured and installed into one module. However, by combining modules, the capacity can be increased and adjusted in accordance with the specific requirements, providing significant flexibility towards capture capacity and power demand. The qualification follows concept studies with exploration, development and production, and FPSO operators in the oil and gas industry globally and the system will now support emission reductions across the sector.
Effective well management
Engine management is one of the key drivers in reducing Scope 1 emissions on a rig with many drilling contractors adopting systems which improve fuel efficiency. There has been significant progress in developing management solutions which reduce fuel usage and lower emissions. Oil and gas drilling contractor, Nabors Industries, developed a system which sends automated alerts to the driller through dashboards to advise the optimal number of engines to run. The technology is fully automatable and connects to a rig's generator control system with engines automatically turned on or off based on the advisories. During field testing, the system indicated a reduction in diesel consumption in line with internal models of up to 20% in certain applications, with an equivalent reduction in CO2 emissions.
Supporting net zero goals
As energy transition efforts continue to ramp up, identifying and verifying new concepts for more carbon neutral rigs is essential to the future of the oil and gas industry. While energy security concerns remain high, new technologies which drive recovery with a reduced carbon footprint will support net zero goals while delivering essential fossil fuels to the global energy market.
About the Author:
Alex Imperial is the VP and area manager for South America at DNV, following a 20 year career with the company gaining extensive experience in the shipping and energy industries.