Markets
Wind Turbine Installation Vessels
WTIV Boom Looms
Up to $8bn forecast to be invested in new wind turbine and foundation installation vessels to meet offshore wind demand in the international segment.
By Philip Lewis, Research Director, Intelatus Global Partners
Copyright alpegor/AdobeStock
Over the last few years, many statements have been made concerning growth in wind turbine and foundation installation demand. These statements have been followed, in some cases, by firm orders for high-specification vessels, mainly from established players. However, many of the announcements remain unconverted into shipyard orders.
We forecast that close to 30,000 increasingly large turbines and foundations will be installed in the international bottom-fixed segment between 2022 and 2035. At least 10 WFIVs and/or six additional WTIVs will be required to meet international demand in the forecast perform after the middle of the decade, inferring an investment of $4-8 billion.
Offshore wind activity was until recently centered in northwest Europe and China, driven by government subsidies provided to support energy transition targets. Going forward, new European markets will emerge off the coasts of the Baltic, Atlantic and Mediterranean. Activity will be seen in the wider Asian region including Taiwan, Japan, South Korea, Australia and India. The US will emerge as one of the largest bottom-fixed installation markets during the forecast period. Several of the new offshore wind markets are shaped by local content preferences impacting, to various degrees local ownership, registration and flagging, crewing and vessel build content.
As we can see from the following charts, 15 MW wind turbines will be trend for established markets with some new markets still deploying smaller turbines. The impact of a bigger turbine is a larger rotor diameter and that means the WTIV crane needs to lift to higher heights.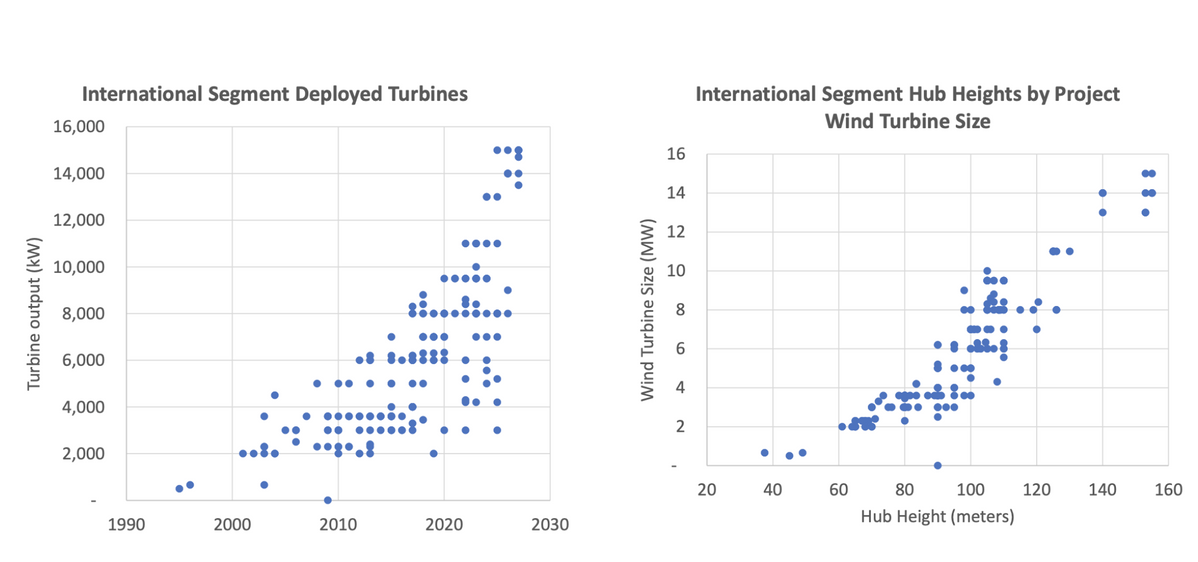 Wind turbine and foundation installation vessel demand is rapidly changing. Until recently this requirement has been largely satisfied by wind turbine installation vessels (WTIVs) and heavy lift vessels and semi-submersibles designed for the oil & gas and port/salvage market (HLCVs and HLSSs). Market requirements have now firmly shifted to purpose-built next generation WTIVs and WFIVs - foundation installation vessels capable of handling the largest bottom-fixed monopile and jacket foundations.
The foundation segment poses interesting installation challenges. With wind turbines getting larger, the loads on foundations are greater and they have to be bigger. Further, with bottom-fixed wind farms moving to the 40-60 meters water depth range as seen in the below chart, foundations will become significantly heavier – another key driver for installation vessel crane capacity.
As turbines and foundations become larger, a large number of exiting turbine and foundation vessels have become technically obsolete. This has resulted in the upgrading of existing vessels and new builds. The chart below shows how the existing and planned turbine and foundation fleet matches the evolving technical demand.
Additional turbine and foundation installation vessels will be required to meet international demand in the forecast period after the middle of the decade.
About the Author:
Philip Lewis is Director Research at Intelatus Global Partners. He has extensive market analysis and strategic planning experience in the global energy, maritime and offshore oil and gas sectors. Intelatus Global Partners was formed from the merger of International Maritime Associates and World Energy Reports.