Rig Scrapping Lowest in Years as Recovery Intensifies
Teresa Wilkie, Director – RigLogix, Westwood Global Energy Group
Copyright Larry/AdobeStock
From 2014 to 2018, during the deepest period of the rig market downturn, there was a yearly average of 43 rigs – jackups, semisubmersibles (semis) and drillships – permanently removed from the active fleet, mostly through scrapping or conversion for non-drilling purposes. Demand during the same period was 8% lower (549 rigs versus 505) than the previous five-year average and it spurred rig owners to rethink the size and quality of their fleets. Then when commodity prices and rig demand began to show signs of improvement during 2019, a 21% drop in attrition was recorded compared to the 2014-2018 period. This was attributed to drilling contractors seeing the early signs of potentially putting assets, some of which had previously been circling the drain, back to work should demand and dayrates rise sufficiently.
Market upturn supressing attrition
Of course, the 2019 market recovery was short lived when in 2020 the Coronavirus pandemic obliterated rig demand and with it came a 35% jump in rig attrition against the previous year. Between 2020 and 2021, the average age of rigs being retired fell to an all-time low, and during this time we saw drillships as young as eight years old being removed from the active fleet.
We are now once again amid a rig market upcycle that really took hold in the latter half of 2021, with higher demand and utilisation now being recorded in all three rig segments. And this is no doubt one of the main reasons behind the substantially lower level of attrition last year. No drillships were removed from the active fleet in 2022, while just nine jackups and six semis were retired, the majority of which were over 30 years old.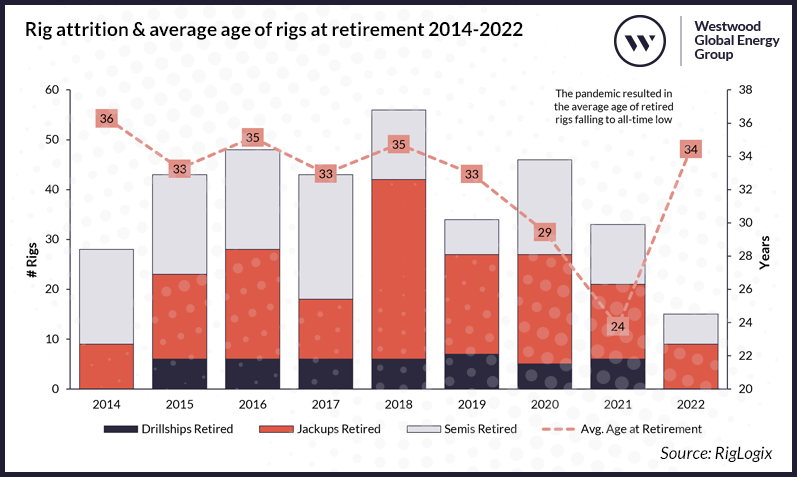 This indicates that rig owners are hanging on to vintage or cold-stacked tonnage, as is generally the case in a rising rig demand and dayrate market. However, the available supply of active (non-cold stacked) rigs, especially jackups and drillships, is shrinking fast and there has already been word that several rigs, which have been idle for multiple years, are being bid into tenders where rig owners do not have any active rigs to bid.
The price tag associated with putting such a rig back to work these days is not cheap, with some drillers estimating this to be as much as $100 million for a drillship, which would often require a multi-year contract with a dayrate high enough to make a suitable return. In addition to this, it is understood that a driller may now have to wait as long as 18 months for a reactivation to be completed these days.
Reactivations favoured over newbuilds so far
As the supply/demand balance tightens, the reactivation of rigs has been on the rise with approximately 25 jackups, three semis and nine drillships brought back to life since 2021. However, the level of newbuilds being delivered from shipyards hasn't increased to the same level witnessed during the short-lived 2019 recovery period.
During 2019, 25 new jackups, four semis and two drillships were delivered from shipyards in the Far East or Singapore but 2022 brought with it just 10 deliveries in total, which is even less than the number delivered during 2020 (11 rigs).
Most of the remaining stranded newbuild rigs available, of which there are 22 jackups, 15 drillships and eight semis, are owned by the shipyards and drilling contractors continue to be very cautious when it comes to purchasing such a rig. However, 2023 could be the year the tide turns on this, especially if the level of demand continues to improve. In the last quarter of 2022, Transocean announced that it had signed a purchase agreement as part of a joint venture for the 7th generation ex-West Aquila drillship for $200 million from the Daewoo shipyard. Meanwhile, Saipem confirmed it had exercised its option to buy the 7th generation Santorini drillship (originally ordered by Ocean Rig), which it had been bare-boat chartering from Samsung Heavy Industries since 2021. Meanwhile, it's understood that various drilling contractors are eyeing the remaining drillships left in yards.
New rig orders unlikely in near term
As seen in Figure 2, the level of new rig construction contracts being awarded has all but stopped, with just two new rigs ordered since 2015. Sentiment from the industry is that there is little appetite for new rigs to be ordered following the harsh lessons learned from previous newbuild cycles as well as a lack of spare capital for such an expensive purchase. Therefore, it is unlikely that we will see a wave of new construction anytime soon and instead drilling contractors will look to their own idle fleets or already under-construction or stranded units to meet their client's needs if current supply runs out.
About the Author:
Teresa Wilkie is the Director of RigLogix within Westwood Global Energy Group, leading a team of experienced offshore rig market analysts. She has over a decade of knowledge as an analyst in the oil and gas industry brining expertise from her time at IHS-Markit (formerly ODS-Petrodata) and Esgian (formerly Bassoe Offshore).