FPSOs
Emission Reduction Technology
Reducing CO2 emissions from FPSOs
Gas turbines used to be the obvious choice for powering FPSOs, not any more.
By Wendy Laursen
FPSO Liza Unity
Source: ABS; Copyright SBM Offshore
Using gas turbines to power FPSOs has enabled the use of gas that would otherwise be flared, but they are inefficient by today's standards – having an energy conversion rate of around 25-30%, according to a 2022 ABS whitepaper.
ABS claimed an industry first in 2021 with the award of its Sustain-1 notation for an FPSO, ExxonMobil's Liza Unity, delivered by SBM Offshore, and it was a sign of things to come.
While combined cycle power generation offers a more efficient use of produced gas and heat generation than turbines, the industry's ambition to eliminate CO2 emissions has expanded attention to flare gas recovery, carbon capture from power generation, electrification, and digitalization.
There is no universal solution, says Mia Elg, R&D Manager at Deltamarin, a company that provides ship design, offshore engineering, and construction support for the marine and offshore industries. "For instance, there can be significant changes in oil and gas production during a field's lifetime. This influences power consumption and primary fuel availability. Production could be run using gas turbines burning the by-product gas, but the gas may not be available later. In this case, external fuel would be used, and each fuel requires different or very fuel-flexible machinery."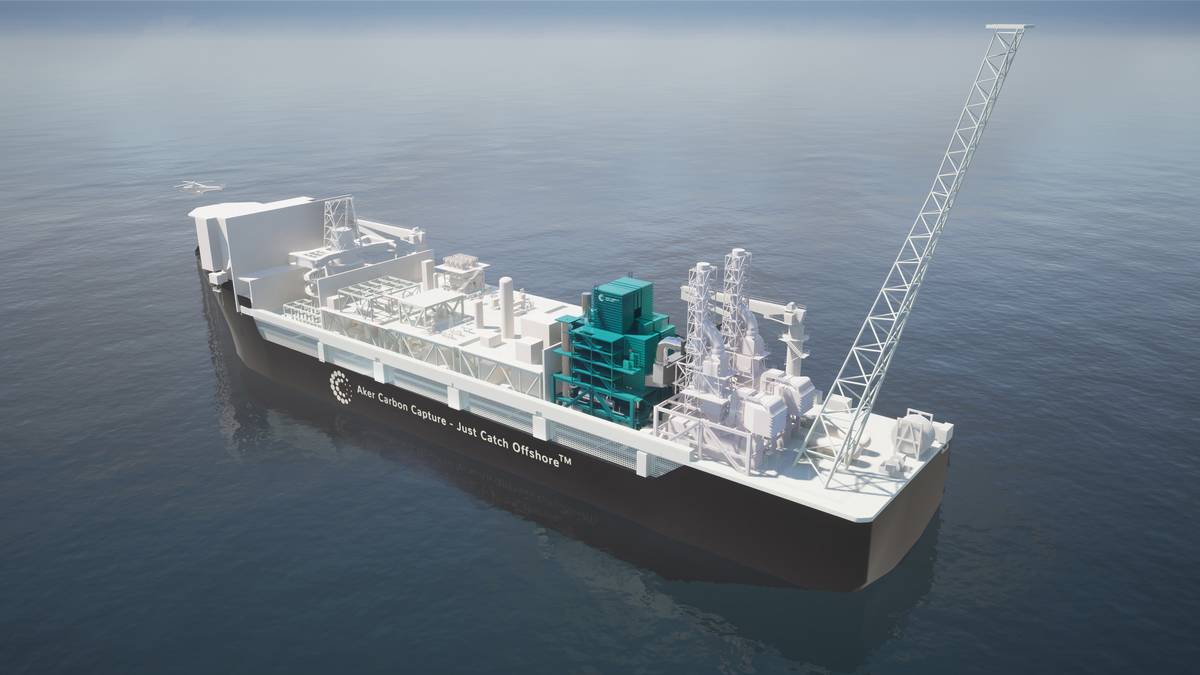 Gas turbines represent approximately 80% of CO2 emissions from offshore activities, and replacing them with electricity from renewable sources is receiving increased attention. Using shore power is an option for near-shore, and energy from offshore wind farms is an option for remote locations. Still, as Marie-Francoise Renard, Offshore Sales and Marketing Director, Bureau Veritas, says, this second option relies on weather and electricity storage solutions.
Alan Waters, Senior Manager Front End Brownfield UK at Aker Solutions, was involved in the evaluation of carbon capture versus electrification for an FPSO project last year. He says managing process heat is important. Many gas turbine power systems have waste heat recovery installed, and that heat source needs to be replaced. While there are promising technologies such as high voltage electrode boilers, the electrical demand would actually be higher if the power system is electrified.
The principal challenge for electrifying existing FPSOs is the need for high voltage slip rings on already congested turrets, or taking power from an over-the-side balcony; these can have fundamental constructability challenges.
"The power taken onboard needs to be stepped down to interface with the rest of the systems onboard, so a single transformer, or multiple smaller ones, will need to be installed. Here the economies of scale and available real estate start being problematic.
Often, the switchboard that they have to be interfaced with have limited cubicles and cabinets. These may have to be extended as well."
There are no technical showstoppers for system design but rather constructability challenges that influence the business case, he says. "We need to look at schemes, such as the use of a single power source across multiple fields, to support the business case challenges."
For Waters, subsea power systems rather than topside solutions, as Aker Solutions has already successfully demonstrated at Equinor's Åsgard field in the North Sea, or floating substations as developed for Chevron's Jansz-Io project in Western Australia, are technology game changers.
Compressors and water injection pumps are often the biggest topside power consumers, says Christopher Bowles, Head of Sales Upstream Industries at MAN Energy Solutions, who also sees the value of subsea compression. He explains that MAN's subsea compressors at Åsgard are 11.5MW, but topside, the same function would require about 50MW.
"The Electrical Module provides all the distributed energy to power the entire FPSO, in addition to housing equipment that controls the processes onboard the vessel, and that gives us an opportunity to help optimize power, energy, and processes at a collaborative, system level."
He says measures like closed bus operation in the power network can support higher levels of efficiency and availability, as can energy storage and autonomous control systems.
Dave Waddington of GE Power Conversion is seeing increased adoption of electric motors in the compressor train. The company was recently awarded a contract to supply their FPSO Electrical Module for energy distribution on a deepwater FPSO.
Chris Ayres, Chief Customer Officer at OPEX, an ERM Group company, says digital technologies can deliver reductions of up to 7.5% in CO2 emissions. Bumi Armada recently selected OPEX's artificial intelligence (AI) technology to reduce CO2 emissions from the Armada Kraken FPSO.
"FPSOs have huge amounts of up-to-the-minute data coming from equipment and processes, all of which can be used to generate an operational emissions model that allows teams to focus on the root causes of emissions day to day."
A typical configuration which produces a fully customized, asset specific emissions model and up-to-the-minute AI-powered dynamic emissions target can be installed in eight weeks.
Digitalization addresses many aspects of an FPSO's operation, says Greg Trostel, Industry Development Manager, Rockwell Automation.
Examples include the use of digital technologies to: operate more closely to control limits, employ a predictive asset management strategy to avoid process upsets, predict and analyze flared emissions, and connect everything to everyone.
He says the industry should take a fresh look at its projects. "We have seen examples in the past of great design features being cut from projects to meet budgetary approval hurdles. This focus on the CAPEX portion of the project (typically 2-4 years and one-third of the total project cost), while important, needs to be balanced with more attention on the operations of the vessel (up to 25 years and two-thirds of the total project cost)."
BW Offshore says case studies have shown that it's possible to integrate power generation carbon capture into a new FPSO-based field at an overall capture cost that is lower than the CO2 emission tax rate, and DNV-qualified Aker Carbon Capture's modular CO2 capture system in 2022.
SBM Offshore aims to have a near-zero emissions FPSO available by 2025, and the Mero field consortium in Brazil is developing subsea separation technology. With these developments, the industry pushes further forward on emissions reduction.