Interview
Carl Trowell, CEO, Acteon Group
Offshore Wind: Acteon Preps for "Mega-Cycle" of Investment
Striking a balance between traditional offshore oil and gas and renewable markets is neither straight nor clear. Carl Trowell, CEO, Acteon Group discusses his company's strategy to capitalize on what he sees as resurgence offshore oil and gas investment premised on energy security concerns, plus a "mega-cycle" of investment in offshore wind energy in the long term. #offshorewind #oilandgas #shipsandshipping #renewableenergy #offshore #offshore energy #DigitalTwin #digitalization #Ukraine #perfectstorm
By Greg Trauthwein
Technology's like Menck's Hammer have use in both traditional offshore oil and gas as well as offshore wind industries.
Image courtesy Acteon
Offshore Wind: Acteon Preps for "Mega-Cycle" of Investment
The group overall has a turnover about half a billion pounds in revenue, and we have about 2,000 employees worldwide, working in three global divisions. We've worked on more than 80 major renewable projects and we've installed almost 2,500 driven monopile foundations for wind farms. We've completed more than 1,000 mooring installations, 300 decommissioning projects, and we've worked in over 100 countries.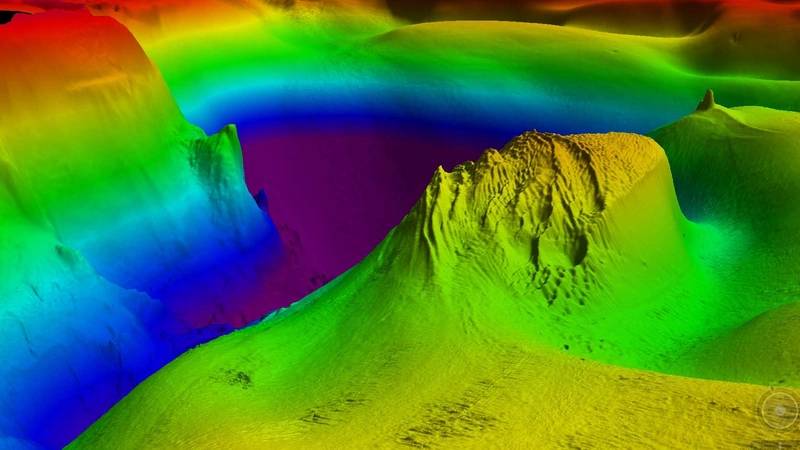 Survey work, prior to installation as well as throughout an asset's lifecycle, will become increasingly important to Acteon Group.
When you look at the industries you serve, what do you consider to be the key technologies that are central to your future?
I'll pick three to emphasize. One of our divisions specializes in survey work, both ahead of installation of in-sea infrastructure and then post installation for ongoing integrity and inspection monitoring; that technology is an area that we are going to emphasize going forward, as there's going to be such a huge amount of infrastructure going in the sea over the next few years. Where we see real technological advancement is in putting sensor packages on autonomous vehicles, surface or subsurface.
Another area where we're putting a lot of innovation is around geotechnical site investigation, particularly with the building need for the installation of big offshore wind farms where the foundations are getting more complicated. So rock soil parameters are important, and to give you one example, we've developed a new remotely operated sea floor drill specifically for shallow water, unconsolidated sands relevant to the renewables market. We've been doing this for years in the deep water for oil and gas, but we've particularly developed a new product for the renewables market.
The third are where we are putting a lot of time and effort into is new foundation technologies and techniques, particularly, again, for renewables. We're taking techniques that have been developed in the oil and gas world and now applying them as the offshore wind market begins to move away from areas where it's easy to just put in simple monopiles to where you're going to have to do more complex foundations, hard rock, difficult substrates. But also the fact that the turbines are just getting bigger and bigger, which means the foundations are getting more challenging.
A portable, remotely operated drill.
Can you point to one technology, one capability where you sit back as a CEO and just think, "wow, we actually do that?
Our ability to engineer and store complex foundations would have been what I picked until a few weeks ago, but then I sat through a review with our engineering group where we're building a digital twin for an offshore floating wind installation. We've helped the operator engineer and model the whole floating system from the turbine through to the semi-sub and the anchoring systems, and come up with a digital monitoring system. We're building a digital twin so that you can then use it to predict failures, problems and downtime on the other units in the field. I've seen a lot of PowerPoint presentations on it, but I actually saw it for real and I saw it on a live project. I did step back and say, "Wow, we can do that." So that's a nice question with nice timing.
Has the most recent offshore oil and gas crash from 2014 to '21 fundamentally changed the needs of your clients, and as a result, your company?
Historically Acteon saw itself as an oil field services business, when in fact actually, if you step back, it's an in-sea infrastructure company. To some extent, a lot of the services we provide are somewhat agnostic as to whether they work for oil and gas, renewables or other nearshore infrastructure projects. But the heritage of the company came from the oil and gas side and it still remains a big leg, one of the key legs for us on the stool. But as you say, the downturn from 2014 onwards was quite drastic. (Personally) I've been through maybe three or four big downturns in my career and this one felt very different from most, if for no other reason the duration.
What we saw is a couple of things. We saw from our customer base a real entrenchment and a focus on cash flow, cash flow generation, return back to shareholders rather than pumping money back into lots of new projects. As a consequence, we saw a lot of our customers focus on investment in existing infrastructure, existing bases and existing projects. Accordingly, we cut our business to match that. I think Acteon now versus where it was in 2014 is much more focused on oil and gas services that are related to the installed base. So helping with existing optimization with late life extensions, with intervening on infrastructure to add additional capacity or extra wells. So you're getting more from the install base all the way through to decommissioning. And so our business in the oil and gas is much more focused now late life and decommissioning than it was in 2014.
I think we will see a resurgence in some of the green field new developments, but I think in general that will still be biased a bit more onshore than it is offshore. And in the offshore arena, I think that we will still bias our services towards that existing infrastructure services.
The other thing is part of our customer base started to seriously get focused on the energy transition. As we've seen their focus change, we've been moving with them.
It's going to be very interesting now to see how much the focus on energy security, and the need for oil and gas in the interim, how much that really drives a wave of investment. We're seeing it, but is it sustainable?
There's going to be more infrastructure going into the sea in the next decade from offshore wind than went in throughout the whole lifetime of oil and gas. If you just look at the number of units, the number of installations, when you start moving to floating wind, it's going to be off the scale of the number of moorings. We're at the beginning of what will be a mega cycle of investment Carl Trowell,
CEO, Acteon Group
That leads perfectly to the next question. On one hand you're leaning on the traditional oil and gas projects and revenues, while you're also investing in the future, the renewable markets that are still maturing. How do you balance the two?
The challenge is a bit less consequential for us because a lot of what Acteon does is within servicing in-sea infrastructure, somewhat agnostic as to whether that's oil and gas infrastructure, renewables or other structures. It means for all of our services, it's a move or a nudge over in that direction, or it's a repurposing or dual-use of some solutions.
I can give you an example of that in what we have within our moorings and anchors business unit, InterMoor. There, we developed a SEPLA anchor, a suction embedded plate anchor which was used in the oil and gas industry in many places all around the world for certain anchoring purposes. It turns out, it's incredibly applicable to floating wind. So we've slightly re-engineered it, we've looked at a deployment technique, and we have a product which is equally applicable in both spaces.
Then 2H, our engineering group, specializes in risers and umbilicals. In the energy transition they've been successful taking that expertise and applying it decarbonization of the oil and gas industry.
So they're taking that expertise, reversing it and coming up with engineered solutions to, for example, do cold-water cooling on FPSOs, reducing the energy requirements because (by using seawater for the cooling). They're doing something similar to provide air conditioning into airports and hospitals by using deep water.
Overall, there are a lot that companies and individuals that grew up engineering in the oil and gas business (now able to address the challenges associated with the energy transition.)
The attitudes have changed quickly and I think that's driven a lot by following the money.
I think there's something that everyone has to think about, which is there's going to be more infrastructure going into the sea in the next decade from offshore wind than went in throughout the whole lifetime of oil and gas. If you just look at the number of units, the number of installations, when you start moving to floating wind, it's going to be off the scale of the number of moorings. If you're in this sector you should be turning your eyes to this because we're at the beginning of what will be a mega cycle of investment.
While offshore wind is growing rapidly, energy security issues due to the war in Ukraine have generated a resurgence in traditional offshore oil and gas spending.
How has the war in Ukraine and continued supply chain snarls materially impacted the Acteon Group and what measures have been enacted to help mitigate that risk?
It's had limited direct influence on us in the sense that we don't and haven't historically had very many operations around that part of the world or with Russia. But, of course, a lot of the knock-on effects are having big implications. On the negative side, I think the biggest thing is cost inflation in the supply chain, risk in the supply chain of equipment, key components, materials being ready is a challenge.
The other consequence though, which is somewhat in the opposite direction, is that it's brought a real focus to energy security. It's brought a revised view to supply and investment in oil and gas, and particularly gas, triggering (for us) a bit of a resurgence in that market. And you mentioned the downturn 2014 to 2021 or so. I think during that time there were people who thought that a dollar would never be spent in oil and gas ever again. That's under revision at the moment.
You almost have a perfect storm at the moment, where most offshore oil and gas sectors are picking up and seeing a new surge of investment, while at the same time, the renewables market is coming up and at the same time people are working on things like nearshore defenses and coastal structures. They're all happening at the same time and that just adds another layer of back pressure into the supply chain.
Acteon Group has built and acquired a family of brands across the marine and the energy industries. What's next?
For us, we have a new structure, working with three divisions now on a global scale. That's been the latest evolution, and we see the benefits of further integration both from technology synergies and probably new product development, from bringing those companies closer together. But I think there is a mega cycle coming of investment and where that lies between offshore wind and oil and gas, we'll have to see. I think there's room for further consolidation amongst the supply chain. But on the back of the last oil and gas downturn, we have a lot of smaller subscale oil field services business and I think there's going to be some consolidation there.
With respect to the renewables, you've got this huge investment cycle coming. We did a recent piece of work and we found out that on a typical offshore wind project, you've got almost 10 times as many companies independently contracted in the supply chain than you do in an equivalent oil and gas project. So we think logic would tell you that there's a need there from an efficiency and delivery point of view for consolidation. And there's also room for there to be big global offshore service companies focused on the offshore wind developed because we're only at the beginning of this evolution. So you could see the need for bigger companies to service the industry on a global scale developing. And we see ourselves as a platform for future M&A, be that bolt in to our structure or if we take part in some of the bigger combination.
Installing monitoring instrumentation on a riser.
For Bonus Coverage, watch the full interview at: