Decarbonization
Carbon Capture & Storage
North Sea's CCS gold rush demands geological acumen
Bidding for the UK's first ever carbon storage licensing round is well underway with fierce competition expected for the potentially lucrative permits. While successful proposals will obviously have to be technically and financially impermeable, they cannot neglect a critical evaluation of the complex geology that each site presents.
By Gudmund Olsen, Manager Reservoir Engineering at AGR
Copyright Immimagery/AdobeStock
Launched by The North Sea Transition Authority (NSTA) in June, 13 areas - made up of a mixture of saline aquifers and depleted oil and gas fields - are up for grabs. The goal is to potentially lock-in between 20 to 30 million tons of CO2 per year by 2030. An estimated 100 CO2 stores may be required around the basin to reach net zero by mid-century (Figure 1).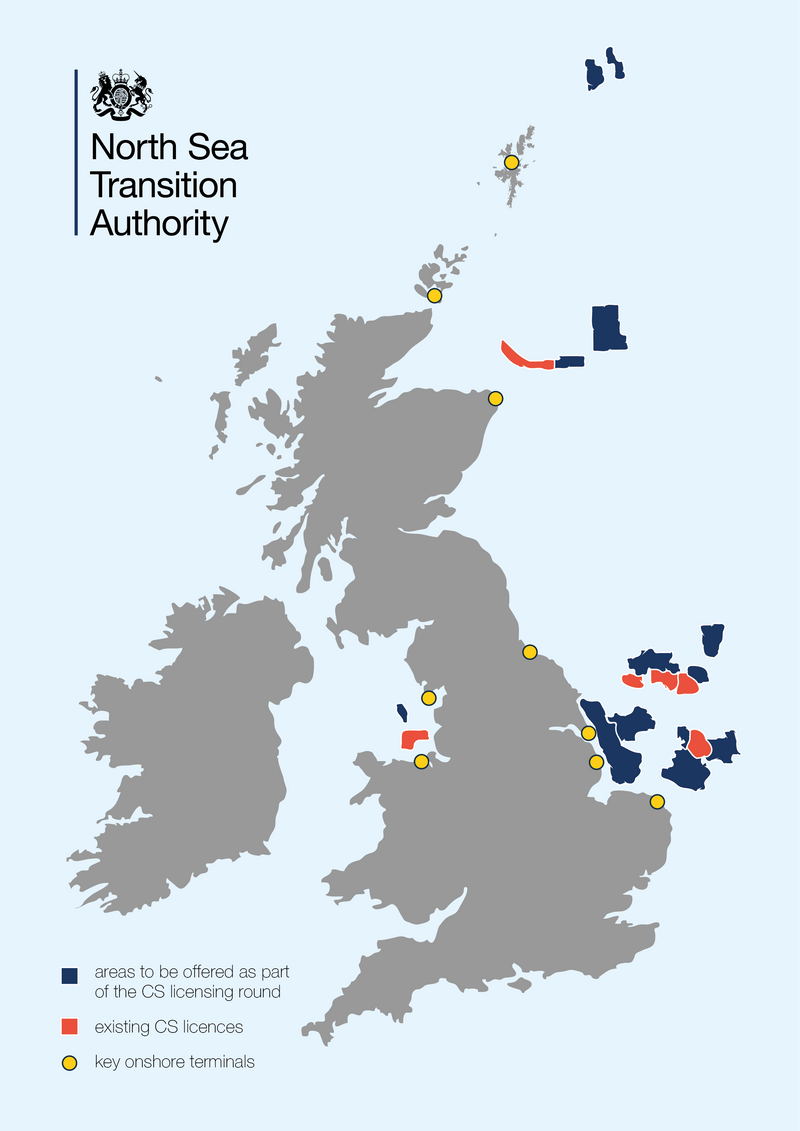 Image courtesy of the North Sea Transition Authority (NSTA)
Figure 1: The application window will close on 13 September, and will be evaluated by the NSTA on technical and financial criteria.
While the areas on offer have a close proximity to existing infrastructure suitable for re-purposing, as well as links to industrial clusters aiming to decarbonize, it is the license-seekers ability to conform to the geological and judicial conditions which will make or break a bid.
A rocky relationship
In efforts to displace oil and achieve better recovery, dense phase carbon dioxide pumped into a porous saline aquifer and stored in reservoirs next to oil and gas fields, has been a 'friend with benefits' to the industry for many years. However, over time, the CO2 which has not been dissolved in the aquifer water or trapped in pores, will move upwards along permeable conduits/reservoirs (since the dense CO2 phase is more buoyant than water) and become a potential 'foe' which can creep into reservoirs and invade hydrocarbon bearing intervals, until it is capped by a geological seal. In the long-term, CO2 will be dissolved and may react with minerals in the host rock to reach a solid state.
Monitoring CO2 plume migration via seismic technology will control such an event. However, storing CO2 in a trap, similar to an oil and gas accumulation, or to allow it to percolate a saline aquifer, is a strategic choice. In the latter case, there is less risk of top seal failure, compared to the accumulation of a carbon dioxide column that builds overpressure by buoyancy.
While it may be tempting to store CO2 in a drilled location, where the geology is well understood, legacy wells pose a threat of overburden integrity and containment. Therefore, when screening for storage - usually via 2D or most likely 3D seismic - calculating the cost on the bottom-line as well as the environment, is vital before a reservoir can even be qualified. With such high stakes, failure caused by fault leakage, is not an option (Figure 2).
Figure 2: AGR has worked on a range of CCS projects from feasibility studies to assessing potential reservoirs, through to drilling, completing and injection tests of CO2 wells.
To fully characterize the risk of fault leakage, fault history and tectonic stress need to be taken into consideration. While seismic will give a history of fault movements, geomechanical modelling will enable characterization of seal capacity. If CO2 is stored as an accumulation in an untested structure, tectonic events may cause massive leaks. Though storage in a depleted field is less risky as containment has been tested, legacy wells still pose a significant risk.
Claiming the carbon prize
For more than two decades, AGR has been engaged by authorities, energy companies and certification agencies to advise, develop and implement CO2 storage strategies both on and offshore. In September 2021, the company joined the Linking Carbon Capture and Storage (LINCCS) research project. Over the next three years, the consortium, backed by The Research Council of Norway, will develop and fast-track cost-cutting, next-generation technologies through concept to commercialization. Full-scale projects are expected to be finalized by 2027. The project is especially committed to solving storage capacity challenges in the Norwegian North Sea and optimize infrastructure solutions (Figure 3).
Figure 3: The application window will close on 13 September: it is expected that any new licences will be awarded in early 2023.
As well as technical and economic considerations, dumping and locking away carbon inside deep North Sea strongholds demands rigorous judicial review. Like any waste collection, getting the 'garbage' to site is governed by strict yet varied regulations across on cross-country transportation before it can leave the coastline.
Bi-lateral agreements on transportation are needed within the current framework: an all-encompassing standard would be desirable. The lack of a legislative framework poses an economic risk. As targets to capture and store CO2 emissions is driven by national or even local authorities, at what stage of carbon's journey to its seabed lock-up do governments take the credit for scoring a climate change goal? It is also unclear how operators of bioenergy plans can get recognition for capturing CO2 leading to a negative carbon emission. In all cases, the CCS project must make commercial sense and use climate change at its steer.
The sprint for CCS
According to the Global CCS Institute1, there are now 27 fully operational CCS facilities with 135 in the pipeline from a diverse range of sectors including cement, steel, hydrogen, power generation and direct air capture. The UK's first ever carbon storage licensing is therefore the starting gun needed to accelerate the energy transition and reach net zero goals. The risks, if well understood and managed, can be overcome and will make a dramatic impact on decarbonizing and transforming the oil and gas industry.
About the Author:
Gudmund Olsen is the Manager Reservoir Engineering at AGR. With almost 40 years' industry experience, he has advised on some of the most historical discoveries and field development projects in the North Sea basin.