Logistics Drones take off in Offshore Energy
Since their introduction in the defence space, the use of aerial drones, or unmanned aerial vehicles (UAVs), has proliferated. They're in regular use in the upstream industry for inspection operations, reducing rope access requirements, risk and cost. Now, just as the likes of Amazon are gearing up to deliver goods via drones, so too are operators – in oil and gas and renewables.
Elaine Maslin reports.
Gullfaks B is one of the Gullfaks facilities that will have drone logistics services from August
Photo by Ole Jørgen Bratland, from Equinor.
Up until now, use of drones to deliver items offshore has been a little sporadic – a novelty almost, such as when Danish cookies were delivered to a tanker in 2015. But operators are now starting to get serious.
In 2020, Equinor trialled its first drone logistics using a CAMCOPTER S-100, operated by Nordic Unmanned, to fly a 3D-printed part for a lifeboat system 80 km from Mongstad base to the Troll A platform. In June, it signed a deal for drone logistics to fly goods between Gullfaks A, B, and C, as well as vessels in the area, in the Norwegian North Sea, starting mid-August.
Others are doing similar. Just days after Equinor's announcement, Denmark-based DSV said that it was teaming up with energy company Ørsted and regular test flights of spare parts and tools to the 400MW Anholt Offshore Wind Farm in Denmark's Kattegat Sea began that month.
Peter Matthiesen, Senior Director, Head of Innovation & Digital Products, at DSV, a global logistics business, says drones offer a new way to do things, especially where existing services are time-consuming, expensive and have high CO₂ emissions. "We are looking at the different services we are offering and saying, OK, now we have a new tool in the toolbox, which services can we replace?"
Drone deliveries to turbine technicians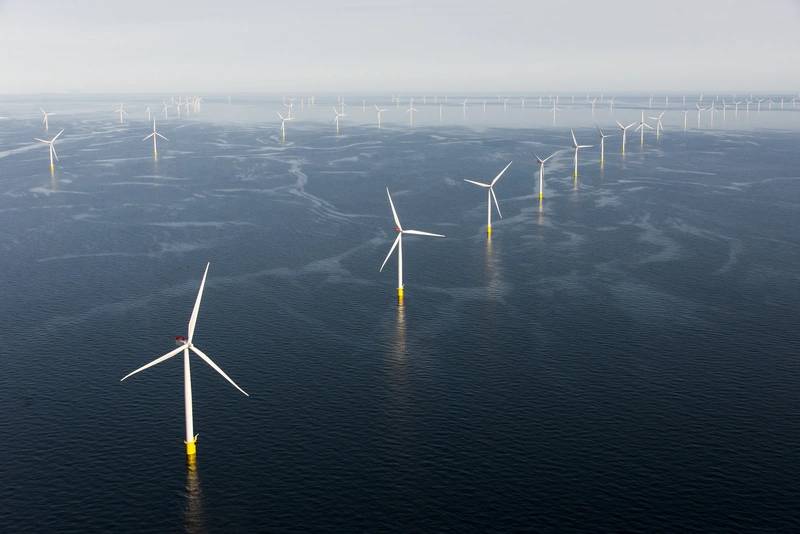 Photo from Ørsted
The Anholt wind farm in the Kattegatt Sea, off Denmark.
Offshore wind offers a number of opportunities. "There is a lot of money lost when these turbines stop," says Matthiesen. "Sometimes the technicians know what's wrong, through sensors on the turbine, but often there are surprises. Sometimes they could need oil or they're missing a particular tool or the technician has stayed longer than they thought was needed and they don't have lunch. According to the rules, they have to come back for lunch. So we can get lunch to them."
While trials have proven the potential, what's needed now is to be able to prove the capability as a service, he says. Working with Ørsted, one of its standard logistics customers, DSV started running test flights, supported by autonomous systems operator Holo, in late June. This involves a RigiTech Eiger logistics drone flying with spare parts between Ørsted's operations base at the Port of Grenaa to the Anholt offshore substation (OSS), 25 km out at sea.
"We have proven it can work says Matthiesen. "We are now starting to look at an interesting component; how to get closer to windmills and how to navigate autonomously in a wind park without hitting a turbine." At Anholt, that means navigating around 111 turbines.
The Eiger drone has a 100km range. It is a hybrid UAV, so it takes off vertically, like a helicopter, but then flies like a fixed wing aircraft, making it quite fast, says Matthiesen – up to 150 km/hr in a tail wind, in fact (RigiTech says it can power through 54km/hr winds). It has 3kg payload capacity, which, with 80% of the spare parts needed in offshore wind weighing under 3kg makes it a good fit, says Matthiesen.
The goal is for the drones to hover above the turbine nacelle to drop off its payload to a technician. It does this through a mission plan, which includes a route that it navigates using cameras and sensors. The goal is that most of this is done autonomously, monitored from shore, where pilots can take over if needed. The drones are monitored in case they deviate from their mission plan, in which case an abort button can be hit, says Matthiesen. The drone is also fitted with a parachute, for emergencies, and there's collaboration with the support ships in the wind farm in case one needs to be recovered. But the parachute also helps secure a permit, he says. How the drone then delivers a load to a technician, e.g. via winches or a sling, for example, will be finalised through these trials, says Matthiesen, an, in future, flights could also be from the OSS and in future also from hotel service ships, he adds.
Longer term, increased cargo loads, up to 200kg, would opens further doors, says Matthiesen. This is because the cranes currently mounted in wind turbine nacelles to lift in up to 200kg loads could be removed from the designs.
DSV has been trialing deliveries out to the Kattegatt offshore wind farm, offshore Denmark.
Drone deliveries in the Tampen area
Over in Norway, Nordic Unmanned is gearing up for running multiple daily cargo flights between the installations at the Gullfaks field and vessels in the Tampen area.
The deliveries could be anything from oil samples to spare parts, etc. By being able to distribute spares more efficiently using drones – instead of supply vessel or helicopter – installations can have shared inventory, reducing the cost of spares drastically, says Pål Kristensen, VP for Logistics at Nordic Unmanned. "What's game changing is that we can fly dangerous goods, which is not possible today with a helicopter with passengers on it. We can also fly in low visibility and can reduce the amount of crew needed, reduce cargo vessel needs, including crane operations. The drone is simpler and more time efficient."
Nordic Unmanned is using its Staaker BG Logistics drone for this work. They're configured to carry two packages weighing up to 2kg, that can be lowered onto a deck using winches without having to land the drone. This configuration is being upgraded to two 5kg packages that can be winched or a 10kg box that could be landed with the drone. The drone will approach the Gullfaks installations using GPS, but then locate a QR code on the landing pad, which then initiates the landing or winching procedure.
In future, they'll also look to fly goods from an onshore supply base to offshore. This would be using a CAMCOPTER S-100, a 4m-long UAV able to carry up to 50kg of cargo in a belly-mounted box or sling mounted at up to 150km/h cruising speed, manufactured by Schiebel. To land, the drone flies to within 100 m of a landing area and then uses the Airbus "DeckFinder" system, based on radio beacons on the helideck which signals to the drone, and initiates an automatic landing procedure.
Photo by Ole Jørgen Bratland, from Equinor.
In 2020, Nordic Unmanned flew a trial out to the Troll A platform using a CAMCOPTER S-100.
Focusing on automation
A strong focus is on automating as much of the process as possible. The company has been focused on this area this year, with trials and demonstrations of automated landings. This has included stress testing both systems onshore, at a quayside close to their offices, at the TAU autonomy test centre near Stavanger and at Stavanger airport. This included landing and take-off of the BG Logistics drone from an articulated 5 x 8m helideck (compared with standard 25sq m helidecks) creating 8-degree pitch and roll, mounted to a truck that was driving at 15km/hr (to replicate the speed of an offshore support vessel).
During the onshore trials, Nordic Unmanned worked with several of Equinor's helideck teams offshore on how to integrate the service, including, in future, them being able to change the drone batteries etc., says Kristensen.
"It's a complex picture," he says. "There's a lot of focus on technology and maturity of technology, while wrapping around that is regulations and working closely with regulators to see how we can implement this safely." Longer term, managing air space in a more efficient manner will also need to be worked on.
Future extended capability
It's a step-by-step approach, says Kristensen. "The end goal is larger systems, 2,000 km distance, 500 kg cargos," he says. "What we are doing now is paving the way for these systems, testing different types of technology, automated landing, remote operations, different types of air space, difference types of weight class."
A future vision is integration with subsea drones. This could even be "dropping off" a subsea drone, for inspection work, such as checking a suspected leak. Nordic Unmanned has already trialled this using a drone from Stinger AS. This extends the range of subsea drones, says Kristensen.
Photo from Nordic Unmanned
A CAMCOPTER S-100 in flight.
There are also others looking at this area. In Germany, for example, energy firm EnBW has launched an offshore logistics drones research project to see what requirements will need to be met for such a service. The project is inviting drone manufacturers and service providers to demonstrate their technologies with a technical framework and call for interested parties to register being launched in 2023. An "Offshore Drone Challenge" will then be held in Germany in summer 2024. Longer term, it envisions drones being used to take personnel to and from their work locations in wind farms.
Regulatory catch-up
Kristensen says the technical limitations are being removed very quickly. The challenge is maturity of the regulations and their ability to keep up, but also maximizing the utilisation of drones. They won't necessarily be in use all of the time. So they could provide general visual inspection capability, oil spill detection, emissions monitoring, the search element of search and rescue and even support subsea operations.
Matthiesen agrees. "The challenge is still to get approval from the different authorities. The technology is moving much faster than legislation, which is a big challenge. Right now, you might as well be operating a plane, it's the same rule set. But people do recognise this is too rigid. In the future, drones also need to communicate with each other to avoid crashes and there's a big initiative in the EU to make this happen.
For the drones, in general, we are only just scratching the surface on where this is going," he adds. "People are seeing the possibilities, it's a commercial offering and a real alternative now. There's going to be a huge boom when the regulation begins supporting it."
But they won't take over, adds Kristensen. Vessels and traditional helicopters will still need to be used as well.
1
Photos from Nordic Unmanned.
Photos from Nordic Unmanned.
Nordic Unmanned's Staaker BG Logistics drone during testing on an articulated helideck at Sola Airport, Stavanger, Norway.
Image courtesy Wilhelmsen
Wilhelmsen Ships Agent with drone on Swire Pacific Offshore Vessel
Drone deliveries taking off in Singapore
Singapore based F-Drones has been working with GAC and Marco Polo Marine. With GAC, they've targeted drones able to deliver up to 100kg over 100km to vessels and offshore platforms. Testing started using an F-Drones' drone able to handle items up to 5kg over 50km. Earlier this year, F-Drones also signed a memorandum of understanding with Marco Polo Marine to co-develop delivery drones for offshore wind farms.
This June, Wilhelmsen said its Agency by Air service was scheduled to launch at Singapore's Marina South Pier. This would see Wilhelmsen's Ships Agency and Airbus piloting what they claimed as the first deployment of drone technology in real-time port conditions for the delivery of maritime essentials using Airbus' Skyways UAV to vessels at anchorage.
The Skyways drone is using pre-determined 'aerial-corridors' in its 1.5km flight to the Eastern Working Anchorage. A pilot flight included landing on the deck of the Swire Pacific Offshore's anchor handling tug supply vessel, M/V Pacific Centurion to deposit a 1.5kg cargo before returning to base. The entire delivery, from take-off towards the vessel, to landing back at base, took just 10 minutes. Wilhelmsen says the delivery distance will gradually be extended out to 3km from shore. The trials are being supported by the Maritime and Port Authority of Singapore (MPA) and the Civil Aviation Authority of Singapore.