Integrated cable protection and stability system offers life-of-field benefits
Offshore wind cable stability system designed to prevent long term damage
At a time of renewed interest and heightened activity in the offshore wind sector developers are seeking technological innovation from the supply chain to assist in their efforts to maximise efficiency and minimise cost.
Much of the technology being used by the sector is derived from the traditional offshore energy arena, particularly where subsea-related product solutions are required and, with well documented cable failures eating up substantial resources, both in terms of cash and time, high performance cable protection systems (CPS) can play a key role in failure mitigation.
Balmoral is recognised for its experience in extreme subsea environments and the company has adapted its polyurethane design engineering and manufacturing capabilities to develop a high performing cost-efficient patented CPS solution: Balmoral FibreFlex™ .
Fraser Milne is the company's engineering and projects director and said: "Our technical and engineering teams, as part of the Balmoral Discovery Unit, have created a unique solution that is designed to provide maximum performance for life of field installations.
"The fibre-reinforced system mechanically locks to the end connectors removing the need to rely on PU bonding, which is notoriously unpredictable, while providing market-leading strain and stiffness levels that are unachievable using traditional solid PU manufacturing methods. These innovations also contribute to greatly increased fatigue life.
"Our system provides an increase in axial tension capacity by a factor of two while controlling axial elongation. It also increases bend stiffness by a factor of 1.5 allowing improved control and reduction in the cable's maximum bend radius within a slimline profile."
Balmoral says FibreFlex's long-term creep performance is a substantial improvement on traditional cable protection while bending and axial stiffness is optimised without having to qualify alternative PU materials.
Ian Milne, sales manager for renewable products at Balmoral, said: "We are well known for our technical and engineering capabilities and our design team has created a unique system that can be deployed on most fixed wind developments.
"I believe Balmoral FibreFlex represents a huge step forward in cable protection offering improvements across installation, performance, management and maintenance.
"We are seeing increased awareness and interest in the system which is being used safely and successfully on a number of developments around the world."
Balmoral's 40+-year track record of providing tried, tested and proven subsea protection products is set to benefit the global offshore wind sector with the company achieving Fit 4 Offshore Renewables (F4OR) accreditation.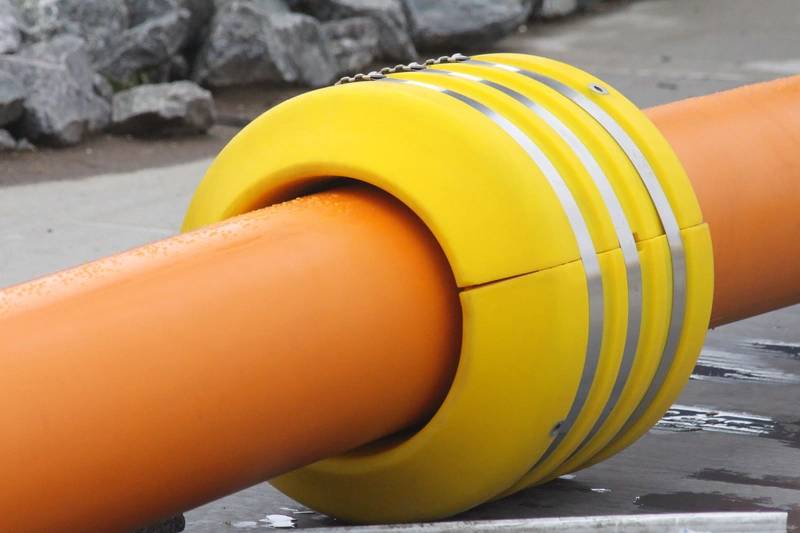 Balmoral FibreFlex
™
Integrated offshore wind cable protection and stability system
Value-engineering slashes floating wind life-of-field costs
As widely reported, huge opportunities are opening up for the supply chain in the offshore wind market. Latest intelligence predicts a rise in global capacity to 234GW by 2030 from 2019's output of 29GW.
With the reduction in development costs for wind power already being exploited, floating wind is becoming an increasingly attractive prospect for developers around the world as they seek to harvest large scale, powerful and consistent wind power efficiently. Balmoral's experience in providing integrated surface and subsurface solutions has seen the company being invited to contribute to a number of prestigious developments.
Cost reduction challenge
The company was asked to significantly reduce costs incurred during the pilot phase of a high profile North Sea floating wind project.
Balmoral's technical team designed a value-engineered solution that increased the size of the subsurface buoyancy modules, thus reducing the quantity required, and the use of its patented integral clamp system which reduced installation times by a massive 70%.
Alternative materials were introduced which further drove down the life-of-field cost of ownership.
Ian Milne explains: "Engagement and collaboration are where real savings can be made so we encourage contact at the early stages of development. We enable significant savings by playing a proactive and innovative role in delivering end-to-end solutions.
"Our in-house expertise – including a dedicated research and development team, hydrodynamic engineering design and project management, supported by comprehensive test facilities – provides a truly unique offering to the global offshore wind sector.
"Complemented by fixed wind patented fibre-technology cable protection systems (CPS) our solutions offer high performance, highly competitive options."
Offshore wind cable stability system prevents damage
With recent publicity surrounding offshore wind cable failures Balmoral says its integrated cable protection stability system offers up to 75% reduction in subsea cable movement helping prevent irreversible damage.
The stability solution, which complements Balmoral FibreFlex™, the company's patented cable protection system, offers enhanced tensile and creep performance by using weighted modules to improve cable curvature response while maintaining system geometry over life.
The proprietary system has been proved to offer up to a 75% movement reduction in subsea environments with a corresponding trebling of cable life subject to seabed topology and metocean data.
Even in the most extreme environments a 50% reduction in subsea movement is achieved that more than doubles cable lifetime performance.
Fraser Milne says: "The integrated stability system delivers these important improvements without the requirement for expensive secondary activities such as placement of concrete mattresses or rock dumping which can involve the chartering of further vessels.
"This innovative development was inspired by engagement and recognition of client requirements and considers the commercial aspect of not just field development but the longevity of the product, improving overall field reliability and therefore directly affecting the Level Cost of Energy (LCOE)."