FEATURE
Subsea Technologies
Subsea Technologies
The ability to work on the seabed has always been a challenge. These innovators aim to de-risk subsea ops, helping to make them more seamless, efficient and safe.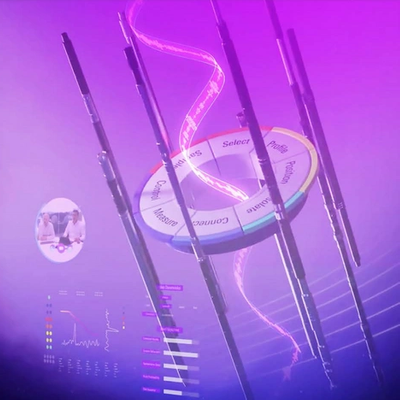 Symphony
Schlumberger has recently launched Symphony live downhole reservoir testing, a technology platform that enables operational control of the downhole testing toolstring to deliver real-time downhole measurements.
According to the company, Symphony testing reduces operational time and improves safety and efficiency while enabling informed decision making for better reservoir understanding and reduced field development planning uncertainty.
Symphony testing unites Schlumberger's Muzic wireless telemetry with the downhole string, creating a digital solution that enables real-time control of the dynamic range of conditions during well testing operations. The digitally enabled toolstring is customized for the test objectives to position, isolate, connect, measure, control, sample, select and profile the reservoir.
Collared Monopiles
RWE will deploy special collars around the monopile foundations at the seabed level at its Kaskasi offshore wind farm, in what has been described as "the first time ever in the renewables industry."
The 'collared monopile' technology will provide additional support for lateral loading, increase the bearing capacity and improve the structural integrity of the entire foundation – especially in difficult ground.
DEME Offshore will transport and install the new foundation technology at the Kaskasi wind farm in the German North Sea. Also, Kaskasi will be the first commercial offshore wind farm in the world to use an improved installation method to drive all monopile foundations to target penetration. The vibro pile driving technique will reduce both installation time as well as noise emissions for marine life."
iFROG
An amphibious robot called iFROG capable of working in teams to clean and inspect monopiles above water level and up to 60 meters below (~6 bar), has recently completed trials at the Offshore Renewable Energy (ORE) Catapult's National Renewable Energy Centre in Blyth.
Teams of iFROG robots will be able to clean corrosion and biofouling from monopiles, before inspecting the surfaces and conducting pre-emptive checks of weld integrity.
During the final trials, two robots demonstrated how they can work together in a team above and below the waterline. The first robot performed corrosion mapping and water-jet cleaning of the monopile. The second robot inspected weld lines to assess integrity and flag potential defects, ORE Catapult added.
By increasing the frequency and quality of subsea inspections, iFROG can save up to £150,000 (around $200,000) per offshore wind turbine per year, ORE Catapult said.
Floating buoy for subsea power
Ocean energy technology developer Ocean Power Technologies (OPT) has received a DeepStar project award to study the use of its PB3 PowerBuoy to provide remotely controllable zero-carbon power for deepwater subsea oil production applications.
OPT's moored floating buoys - such as OPT PB3 PowerBuoy - harvest wave energy and convert it to electricity.
The project will explore using OPT's PB3 PowerBuoy and a subsea battery to reduce the cost and carbon emissions associated with conventional means of powering and controlling subsea oil and gas production equipment. The study will consider water depths of 1000, 2000, and 3000 meters.
The wave-energy buoy, i.e., power source, can be placed closer to the production site reducing the cost of a subsea umbilical. Coupled with a modular subsea battery (energy storage in the 100-500 kWh range) it provides sufficient power to operate electric trees, SCMs, and HPUs. This enables decarbonization and autonomous, remotely controlled, all-electric subsea production.
Terminator
Baker Hughes has recently launched its vessel-deployed subsea wellhead cutting system Terminator.
Using a first-of-its-kind mechanical wellhead removal method, the Terminator system cut a subsea wellhead from an abandoned exploration well owned by Wintershall DEA in Norway.
Baker Hughes worked with Wintershall DEA to cut the subsea wellhead from an abandoned exploration well in 360-meter water depth in only 35 minutes. By comparison, alternative abrasive cutting methods could take as long as five or six hours for the cut alone.
The Terminator system can be deployed from a vessel and uses a mechanical cutter, rather than water jet cutting methods of conventional systems, to eliminate associated risks with high pressures. Also, the system can reduce offshore personnel by two-thirds compared to conventional systems, requiring just two people instead of the typical six for water cutters
The Terminator system can reduce fuel consumption with its 100-horsepower motor and is also smaller and lighter compared to the original 1000-horsepower abrasive water cutting system typically used on similar types of vessel-based operations.
The total operation with Wintershall DEA, from deck deployment to laying down the Terminator system, took just two and a half hours – saving the operator up to 12 hours compared to conventional systems.
FiberLine Intervention
Aberdeen-based downhole sensing technology specialist, Well-SENSE recently won an award for its FiberLine Intervention and its contribution to the offshore well intervention industry
FiberLine Intervention is a new approach to gathering well data, employing single-use, bare fiber-optics for distributed temperature and acoustic sensing. The fiber delivers immediate data as soon as it enters the well, demonstrating changing conditions as it is installed from surface to total depth. FLI then provides a dynamic picture of the entire wellbore, from every point simultaneously, for the duration of the well survey.
FLI is suitable for a variety of applications from integrity monitoring to seismic surveys. Its rapid, lightweight, rigless intervention system delivers significant cost and efficiency savings, with just one engineer at the wellsite and no requirement for wireline support, according to WellSense.
ReLineWL Coretrax
UK-based well integrity and production optimization firm Coretrax recently deployed its ReLineWL expandable straddle in the Gulf of Mexico, helping an operator to troubleshoot an inoperable safety valve, passing through a restriction that conventional straddles could not pass through.
According to Coretrax, the one-trip rigless system developed to address common well integrity issues, delivers a 700% greater flow area when compared to traditional straddles, "allowing operators to install a patch without creating a restriction and to unlock greater commercial value from existing wells."
"Unlike conventional straddles, the ReLineWL's slim outer diameter meant it could bypass various ID restrictions to reach the flapper valve. Once in position at 8,675 ft, the patch was expanded to permanently open the valve. This resulted in full well access so upper completion removal could be facilitated. This saved significant rig-time when compared to costly and time-consuming traditional milling operations," Coretrax explained.
FibreFlexx
Balmoral, a UK-based engineering company, specializing in offshore buoyancy, insulation and protection solutions for the offshore energy industry, has developed Balmoral FibreFlexx - a cable protection solution for offshore wind.
According to Balmoral, its fiber-reinforced cable protection system mechanically locks to the end connectors removing the need to rely on unpredictable PU bonding.
Balmoral says FibreFlex's long-term creep performance is a substantial improvement on traditional cable protection while bending and axial stiffness is optimized without having to qualify alternative PU materials.