In the Shipyard
Detyens Shipyards
Emerging Leaders: Jake Sithong, Ship Superintendent, Detyens Shipyards
Jake Sithong, Ship Superintendent, Detyens Shipyards, at the Warnow Beluga undocking.
Photo courtesy Detyens Shipyards
Deftly balancing commercial and government ship repair work is no simple task, but Charleston, SC-based Detyens Shipyards (DSI) is well-versed with more than 60-years of experience. Jake Sithong, Ship Superintendent, DSI, graduated from the U.S. Merchant Marine Academy (USMMA) and in a few short years has risen the ranks at DSI.
By Greg Trauthwein
I've been doing this for 30+ years and more so than ever we talk about a dearth of young talent in the marine industry. Yet here you sit, a young man with a leadership role at one of the country's premier ship repair yards. How did you come to a career in maritime?
I was born and raised Orlando, Florida, graduating from the United States Merchant Marine Academy (Kings Point). Originally, I wanted to go to the United States Military Academy West Point, because that's where my great-grandfather went, and he served in World War II. That was my inspiration. But I was accepted into Kings Point first, and realized the (career opportunities) in the maritime industry. (After graduating Kings Point), I worked with Edison Chouest Offshore for a while, but I wasn't fully satisfied with my role there, so I reached out to Detyens, which had a position starting as a tug boat operator. Once there, I started working with the docking crew, physically building the blocks and laying out docking plans inside each of the dry docks where ships come in and out. The ship superintendent role came up when I was already working here. I crave leadership responsibility, and I thought that that was something that I would enjoy. I was offered the position and I just jumped in.
As a Ship Superintendent, what are your responsibilities, and ultimately, what was the impetus to make the move to a shoreside position?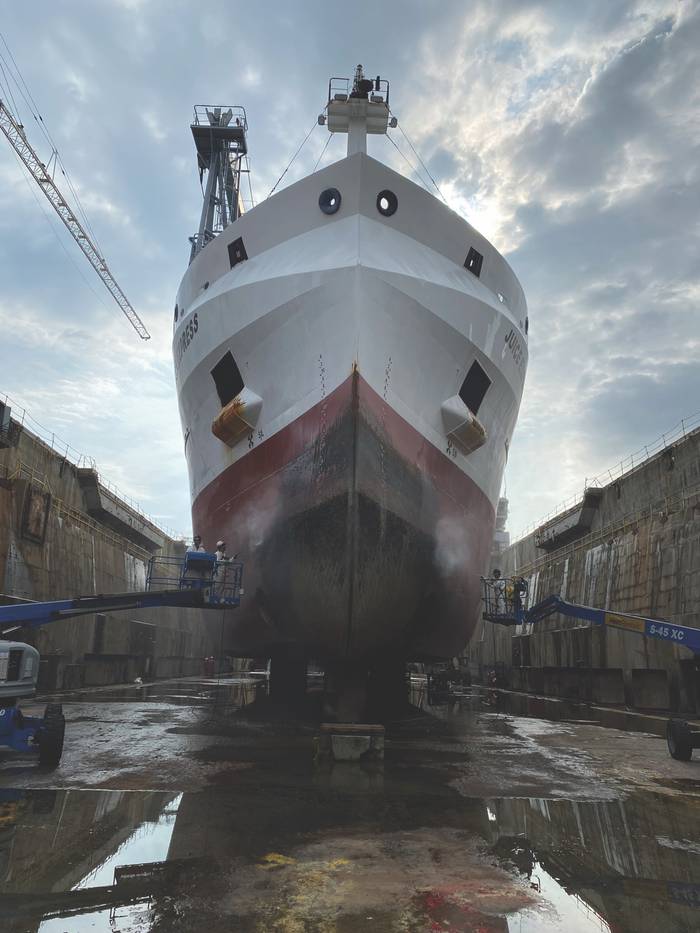 The Ship Superintendent starts correlating with management on the ship repair project when it comes in to Detyens. I work with a lot of scheduling, manpower, allocating resources, scheduling subcontractors, making sure that all the items inside the contract are being met in a timely, efficient and productive manner. You have to maintain schedule and make sure your man-hours aren't going over a certain amount. There's a lot of time and process that goes into that, from the simple things like morning meeting with your team leaks, to going on a shift every single day, monitoring each job.
(When I made the decision to transition shoreside), I didn't know exactly what I was going to do; I just knew that I didn't want to sail offshore with the company that I was with previously. I craved a leadership position, especially coming out of school and having that background in the military, and being a reserve officer. Now that I got the opportunity to be a Ship Superintendent, it meets everything that I've always wanted in terms of a leadership. You have 100-200 people working under you, managing to ensure everything is done the right way, safely and efficiently.
Let's stick on that leadership thread for a moment because I understand that you were recently tapped to stand in as a Project Manager on a foreign flagship, the Juice Express, repair project with Seatrade NL.
A lot of the roles that you have as superintendent are maintained as a Project Manager, except now you're doing pricing, estimating and subcontracting … handling the money side of things. Working on the Juice Express, as the project manager was an awesome experience, to say the least. Not only was I working the price and term negotiations, I'm solely responsible for scheduling, making sure that the ship is in and out at the right time. That's working in direct correlation with the port engineer and his project manager's team. So, everything that you do every single day, every decision you make counts. You feel more responsibility as a Project Manager.
Can you give us an update on the shipyard today, a discussion of the current and the future projected work in the yard?
Detyens usually has a really good balance of government and commercial contracts. We have four dry docks (one is a floating dock) [and the work load can range from large oceangoing ships to] smaller projects, tugboats, barges, and other things that we can fit into our floating docks. They do a good job of having us stay on our toes in terms of managing and project management.
I know that balancing traditional commercial ship repair with government work is no easy task. What do you see as the chief differentiators between some of the commercial and the government projects?
The government projects make up a good amount of our revenue. Government projects come in with their work package, whereas on the commercial projects, we need to save the most amount of money and get out of here in the least possible time. You learn a lot of business tactics, especially on the government side with government contracts: it's very formal. It's a little more informal on the commercial side, and you are a little more personal with just the port engineer, and there it just becomes pure negotiation. But overall, at Detyens, we have a really good [government and commercial work] balance right now. We're ready to tackle any project that comes: it really doesn't matter, government or commercial, we'll make the best [effort] for that customer, that company, being fair, working diligently and working efficiently as well.
When you look at your tenure at Detyens to date, can you discuss one or two projects that you found to either be the most interesting or technically challenging?
[I've handled jobs ranging from a few days to many months. One government ship project was in for nearly 11 months, stepping in to run the entire project when my project manager's wife became ill]. That was an experience, to say the least, because that was actually one of my first superintendent jobs for a big government contract. That whole learning curve was essentially being thrown into the fire, to get the job done, efficiently, making sure you're maintaining a good balance of spending money, saving money, and pleasing the customer, because MSC is a big client of ours. That's a small example.
A really specific one I can give you was for the Juice Express, the Seatrade tanker that came in for a standard 10-day package. It was a five-year, change the shaft seal, replace the blade seals, etc., job. They also had a paint item, and they thought they were going to get a shave and a haircut and leave for their underwater paint. But they came here and their entire system on the flat bottom had failed, and there were barnacles covering about 75% of the bottom of the ship. Not only did I not know what to do at first, but I had to figure it out because they needed to leave in 10 days. Their charter was in Tampa, and they needed to be there on the 23rd at 8:00 AM.
The biggest challenge that I faced was working with our subcontractors, obtaining quotes, making sure that they could do everything that was necessary. Once I got that quote, it had to be negotiated again with the port engineer as they obviously want to spend the least money as possible. So, you really learn a different side of business as a Project Manager; you grow and it really molds you into an awesome business manager and leader in general, especially becoming really good at negotiating.
Overall, though, you really have to be there 24/7, no matter what. It's a grind, but it's everything that I wished for; everything that I craved as a leader, and it's the perfect job for me. I'm utilizing all my tools and resources; all of my past learning. Every day there's a new thing to learn. I couldn't more blessed for the opportunity to work here+.
Watch the full interview with Jake Sithong Ship Superintendent, Detyens Shipyards, here: