Larger Vessels Emerge as a Major Loss Driver in the Shipping Industry
By Captain Randall Lund, Senior Marine Risk Consultant at Allianz Global Corporate & Specialty
Image copyright aerial-drone/AdobeStock
Large vessels continue to drive ever-higher exposures, with fires, container and carrier losses, hazardous cargo, costlier salvage operations and issues with port of refuge leading to oversized losses and general average becoming more frequent.
While the number of serious shipping accidents worldwide has declined over the long-term, incidents involving large vessels – namely container ships and roll-on roll-off (ro-ro) car carriers – are resulting in disproportionately high losses. In the past year alone, fires on board the car carrier Felicity Ace and container ship X-Press Pearl both resulted in total losses.
A number of recurring themes have emerged in major incidents in recent years, many of which are a consequence of the increased size of vessels. As vessels have grown larger, values at risk have increased, while the environmental bar has been raised. However, regulation, safety management systems and salvage capabilities appear to have not always kept pace.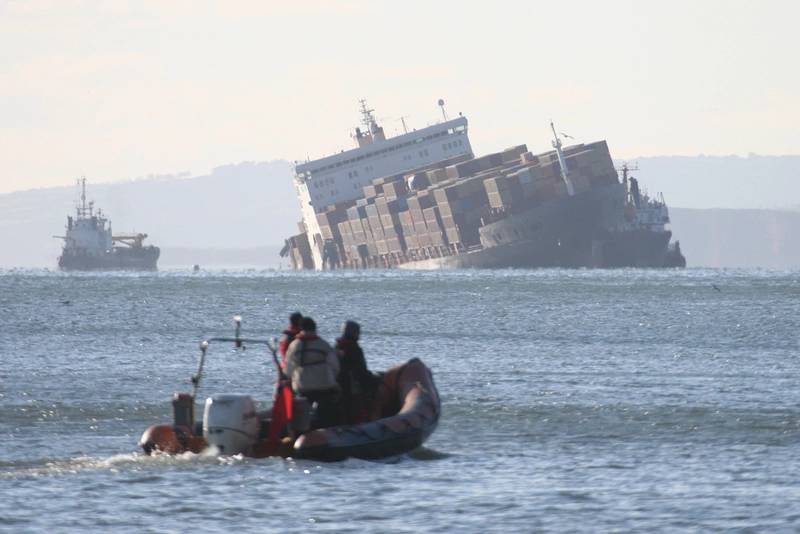 Image copyright Joe Gough/AdobeStock
Salvage and wreck removal costs drive large losses
The rising cost of salvage and wreck removal, a consequence of the increased size of vessels and growing environmental, social and governance (ESG) concerns, is fast becoming a critical issue for insurers. Re-floating or wreck removal for large vessels is a complex task, requiring specialist equipment, tugs, cranes and barges.
A number of incidents involving large losses in recent years have ended in costly salvage and wreck removal operations, such as that of the car carrier Golden Ray, which capsized just outside the US port of Brunswick in 2019, took almost two years and cost in excess of $800mn. The operation, the largest ever of its kind in the US, involved three million man hours and specialist equipment to cut the ship into eight pieces for removal.
The Golden Ray was one of the most expensive salvage operations ever, second only to the cruise ship Costa Concordia, which cost over $1bn after it capsized off the Italian coast in 2012. The container ship Rena, which grounded off New Zealand in 2011, took four years to clean up at a cost of $500mn.
Large container ships are of particular concern, as salvage techniques have yet to be tested on a 20,000+ teu vessel in a major incident, although there have been some close calls. In the Suez Canal, the Ever Given highlighted the potential challenges in refloating a large container ship. The safe discharge of thousands of containers from a stricken vessel, even in favourable conditions, would take time and is likely to stretch the capabilities and scope of equipment of the salvage industry.
The ESG effect on casualties is beginning to have a serious impact on claims. In the past, a wreck might be left in-situ if it posed no danger to navigation. Authorities now want to see wrecks removed and the marine environment restored, irrespective of the cost. The environmental responsibilities for owners and insurers will push up the cost of these events exponentially.
This is an area of concern for insurers and reinsurers. Over the past five years we have seen more and more claims over $100mn, with the bulk of the claim due to wreck removal and pollution mitigation.
Port of refuge review needed to avoid total losses
Port states and other stakeholders must find ways to accommodate large vessels in distress. A number of fires left container ships struggling to find refuge recently. In the case of the X-Press Pearl, the inability to discharge hazardous cargo contributed to the total loss of the vessel.
The X-Press Pearl sank off Sri Lanka in May 2021 following a container fire, resulting in one of the country's worst environmental disasters. Prior to the sinking, the vessel had called at Hamad Port in Qatar and Hazira Port in India, but both were unable/unwilling to discharge a leaking cargo of nitric acid, which is thought to have caused the blaze.
The vessel is the latest in a growing list of container ships that have had difficulty finding a port of refuge following fires or problems with cargo. The MSC Flaminia, Maersk Honam and Yantian Express all had to wait several months before they were granted refuge and their cargo could be safely discharged. Such delays increase damage and salvage costs.
These losses raise broader questions about how cargo-related incidents, and container fires in particular, should be handled in future.
Image copyright Andreas/AdobeStock
Collapsing containers
In March 2022, the container ship Dyros lost around 90 containers and saw another 100 damaged in rough weather in the North Pacific Ocean. The incident was just the latest in what has become a worrying and expensive trend for insurers. Recent years have seen a number of container stack collapses at sea, resulting in losses overboard and damage to cargo on deck.
Around 3,500 containers were lost at sea in four separate incidents over a three-month period in late 2020 and early 2021, including 1,800 containers lost on the One Apus and over 1,000 from the Maersk Essen and Maersk Eindhoven. These incidents occurred in rough seas while the vessels were enroute from China to ports on the US west coast. The loss of so many containers in such a short period was unprecedented, compared with an annual average of 1,382, according to the Word Shipping Council.
The large size of modern container ships is also likely to be a contributing factor, as larger vessels behave differently at sea to smaller vessels. Container stacks are exposed to huge forces on a modern container ship, especially when a vessel experiences parametric and synchronous roll in rough seas. Container stack collapse and the loss of containers at sea can have serious safety and environmental consequences, particularly if dangerous cargo is involved.
Such losses are also likely to be linked to the commercial pressures that container ships now operate under. Vessels have to keep to a tight schedule, which increases the risk of human error. Historically, the captain was the only boss when a vessel was at sea. But that is no longer the case with modern communications, which connect the bridge to shore. Transport by container vessel now requires a specific risk management approach, much more logistics-focused rather than traditional shipping.
Improvements to investigation reports needed
Many accident investigation reports take too long to produce, meaning valuable lessons from shipping accidents are not being learned. Under the Safety of Life at Sea (SOLAS) convention, flag states are required to submit accident reports to the International Maritime Organization (IMO). However, of the 526 serious shipping incidents that involved loss of life, major pollution or the total loss of a vessel that took place between 2017 and 2020, just 63% had an accident report submitted as of March 2021, according to data compiled by Lloyd's List from the IMO. This was a slight improvement on the 50% rate of filing recorded two years previously, but well below the IMO's target rate of 80% by 2022.
With a worrying number of complex accidents involving large vessels in recent years, there is an urgent need to learn from these accidents and improve regulation, controls and processes.
About the Author:
Captain Randall Lund is a Senior Marine Risk Consultant at commercial insurer Allianz Global Corporate & Specialty. He has more than 25 years of experience as a Marine Surveyor and 21years as a Marine Accident Investigator and Transportation of Hazardous Material Instructor. Captain Lund holds a USCG Ocean License and served 27 years in the US Navy Reserve, Commander (retired).