A Sea Change for Workboat Crew Communications
Photo Credit: David Clark
Crew communications on board patrol boats, interceptors and other high-speed craft face a multitude of challenges. It might be the deafening roar of a 350 HP quad-engine configuration, blistering wind noise at speeds of 60 knots or more, or the constant pounding through rough waters – all contributing to a high degree of difficulty for boat crew communications, resulting in diminished situational awareness and heightened stress levels that can adversely affect the safety of crew members and mission success.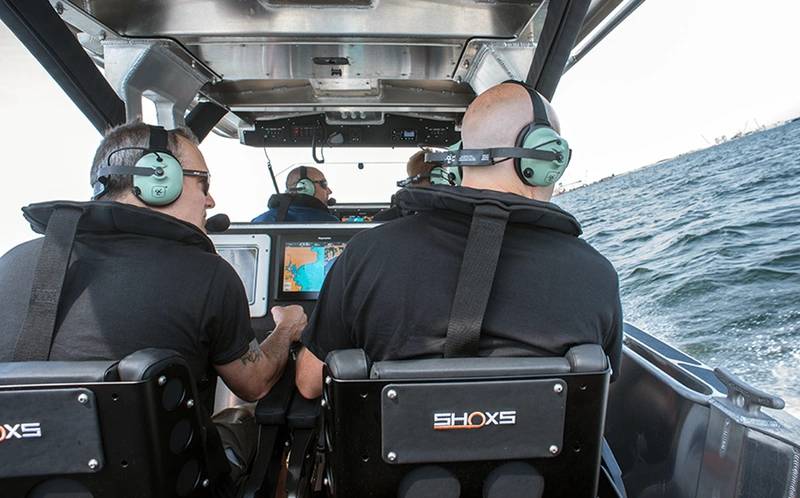 Photo Credit: David Clark
David Clark Headset System Solutions
With nearly three decades of experience in the design and production of both wired and wireless headset systems for the marine industry, David Clark Company is transforming boat crew communications on board patrol boats, fire/rescue craft, offshore service vessels, tugs, and a variety of other workboats. On these craft, clear, reliable crew communication is critical.
Chris Toller, Project Manager, Patrol and Military Crafts from MetalCraft Marine US Inc., and a David Clark customer, puts it this way, "Crew communication is paramount for effective missions and crew safety. The operator needs to know that the crew is OK and secure, can receive navigational and situational awareness input, and provide feedback with confidence that the messages are received."
The company's flagship offerings are the Series 9100 Digital and the Series 9900 Wireless headset systems. Both systems are designed to withstand rugged use and corrosive marine requirements. System components feature marine-grade, water-tight design – including corrosion resistance, wide-ranging temperature tolerance, high performance shock/vibration absorption, and superior dust and water ingress protection - to ensure reliable communications. "With our inhouse state-of-the-art design and engineering resources, we have developed a high level of expertise in producing systems that are built to overcome the obstacles to effective communication at sea," says Bob Daigle, Systems Manager at David Clark Company.
Photo Credit: David Clark
Series 9100 Digital System – "Future Ready"
The Series 9100 Digital System ─ unmatched for scalability, versatility and simplicity of setup and operation ─ is fast becoming the communication system of choice for workboat and patrol boat crews. The system defies obsolescence, providing clear headset communication for an unlimited number of users, radios, and other devices, with each user having four mode selections to program to their unique job criteria. The IP-based system can also accommodate existing network ancillaries, resulting in a simple, cost-effective solution for ever-evolving and demanding mission protocols.
One of the unique capabilities of the Series 9100 Digital System that enhance communication versatility and flexibility is the ability to seamlessly integrate wireless headset technology. David Clark's Series 9900 Wireless headset system, based on the latest DECT technology, provides crew members with enhanced freedom and mobility to move about the craft without being tethered to intercoms or equipment, while providing clear, hands-free communication for a hybrid system solution. Wireless gateways and belt stations allow users to quickly switch to wireless communication, without switching headsets. With a myriad of tasks that deck crew must perform on high-speed craft, the ability to communicate with the operator and other crew members untethered and hands-free increases safety, situational awareness, and efficiency. Wireless capability is critical during visit, board, search, seizure (VBSS) operations, allowing crew members to board a suspect craft, while maintaining communication with their vessel.
Adaptable Headsets Provide Comfort and Clear Communication
David Clark Digital Communication headsets are available in a variety of models, including over-the-head and behind-the-head styles for use with military ballistic helmets. Headsets provide maximum comfort during long hours on the water, while ensuring clear, crisp communication in the harshest conditions. All headsets feature Quick-Release connectors for switching from wired to wireless communication modes in seconds. Headsets also a feature a PTT button (redundant to the headset station PTT) that is conveniently located at the microphone bracket, making it easy to find in the most stressful situations while affording simultaneous boom/mic adjustment and transmit capability.
A Proven, Worldwide Track Record
The David Clark Series 9100 Digital System has been chosen for hundreds of installations for the U.S. Department of Homeland Security and U.S. Customs and Border Patrol interceptors, as well as on many U.S. Coast Guard small boat programs. Systems have also been installed on and international police, SAR and security vessels in the EU, Middle East, and Asia Pacific regions. "David Clark Company has learned a great deal about the RHIB/HSC market from both boat manufacturers and crews/operators. That knowledge and insight has contributed to the development of the Series 9100 Digital and Series 9900 Wireless intercom systems in response to the needs and requirements of navy, coast guard, law enforcement and commercial operators around the world," said Daigle.
Photo Credit: David Clark
Take A Closer Look…
To see and learn more, watch our Series 9100 Digital System videos of the SAFE Boats International 37-foot Multi-Mission Interceptor (MMI), and the Zodiac Hurricane 13-meter, ZH-1300 MACH II OB Interceptor, or visit www.davidclarkcompany.com.