Tech Files
New & Innovative Products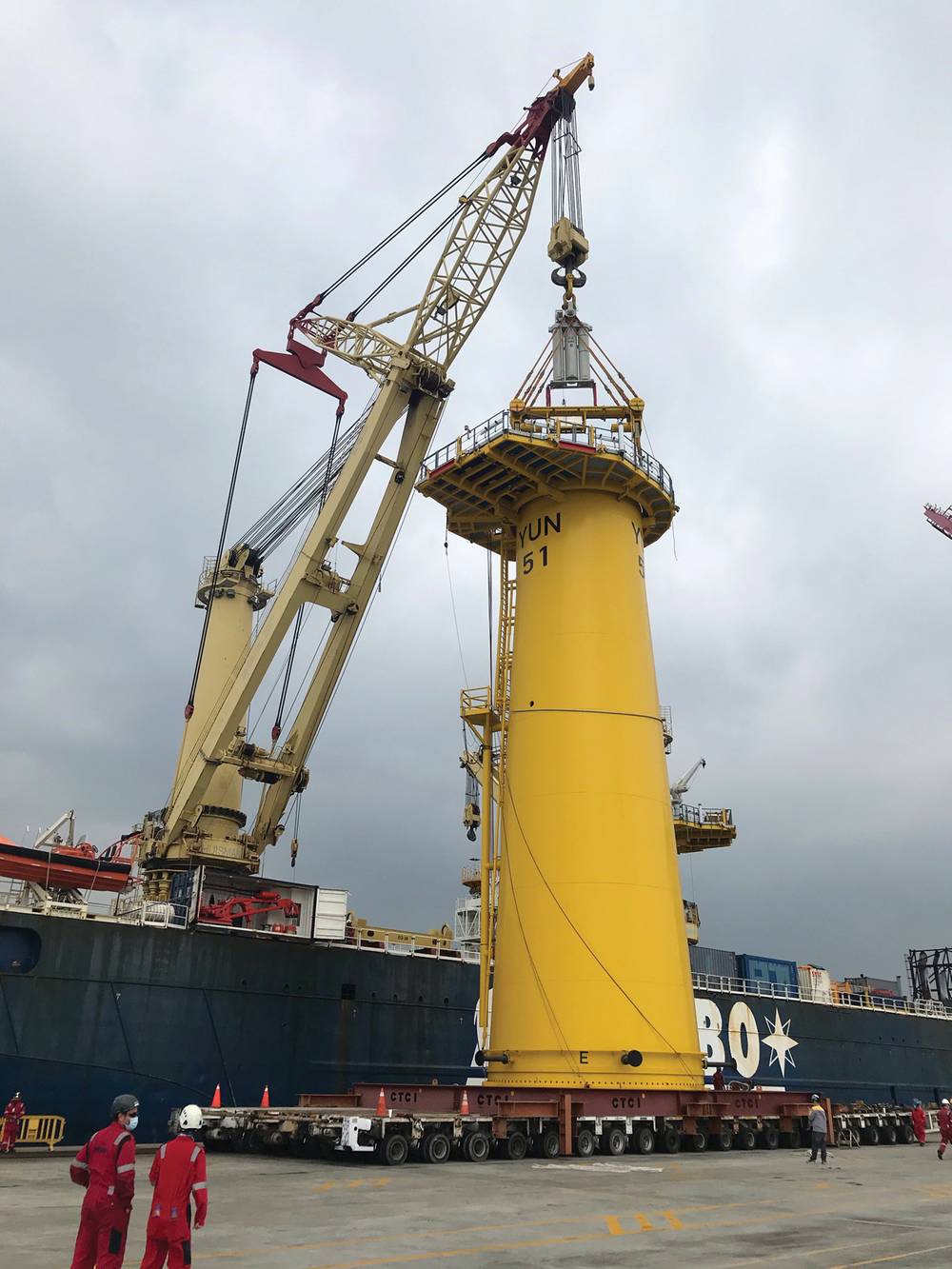 Image courtesy Lankhorst Ropes.
Lankhorst Heavy Lift Slings for Yunlin Offshore Wind Project
Jumbo is using heavy lift slings from Lankhorst Ropes to install offshore wind turbine transition pieces onto monopiles situated in the Yunlin Offshore Wind Farm, Taiwan. In total, the slings will be used to lift and position 80 transition pieces from the Jumbo Javelin. Located in the Taiwan Strait eight km west of the coast of Yunlin County, the Yunlin offshore wind farm will cover an overall area of approximately 90 sq. km, and when completed will be Taiwan's first large multi-megawatt offshore wind project.
The Jumbo Javelin is a dynamically positioned, heavy lift crane vessel featuring two rotating mast cranes with a combined lift capacity of 1,800t.
Made from HMPE Dyneema SK78 yarns, the LankoForce endless spliced sling (grommet) are 82mm diameter. The transition piece lifting tool will use six endless spliced sling lengths of 6.574 metre and 12 slings of 7.456 metre, depending on the size of transition piece.
Credit Odfjell Oceanwind via DNV
Floating wind for oil platforms and drilling rigs
From late 2022 or early 2023, Equinor will bring online the 88MW Hywind Tampen floating wind farm, which will power five Equinor's offshore oil and gas platforms in Norway, Snorre A and B, and Gullfaks A, B and C. The eleven 8 MW floating turbines will have a total capacity of 88 MW and meet about 35 percent of the annual power demand of the five platforms, which is expected to save 200,000 tons per year of CO2 emissions. The wind turbines will be connected in a loop by a 2.5 km-long, 66 kV dynamic inter-array cable system.
JDR will provide cables, and Subsea 7 will install them. Wood Group will be responsible for modifications on the Snorre and Gullfaks platforms.
As for offshore wind-powered drilling rigs and platforms, offshore drilling contractor Odfjell Drilling is working on this, and not just to power its rigs but to offer its floating wind solution for rent to others.
The drilling firm in 2020 invested in Oceanwind AS, a company working on developing harsh environment floating offshore wind turbines. The investment gave birth to Odfjell OceanWind, a company working to build floating wind turbines to power offshore drilling rigs.
In June this year, DNV completed Odfjell OceanWind's WindGrid system for Mobile Offshore Wind Units (MOWUs). DNV's review confirmed the technical feasibility of the WindGrid system, and that expected reductions in CO2-emissions for North Sea applications are in the range of 60-70%, compared to the generation of electricity from conventional gas turbines.
Odfjell's WindGrid is a solution for providing an uninterrupted power supply from Mobile Offshore Wind Units (MOWUs) to micro-grids. It combines energy storage, grid converters, and floating wind turbines in order to enable gas turbine generators to be shut down during peak wind power production.
Interestingly, Odfjell OceanWind floaters, first of which could be available in 2024, are expected to feature Siemens Gamesa's 11MW but also the giant 14MW turbines. The whole system is also expected to use Siemens Energy's BlueVault energy storage solution which includes batteries, AC PowerGrids, transformers, switchboards, and power control system.
Methanol, batteries for giant WTIV
In the Netherlands, Van Oord in October ordered a new offshore wind turbine installation vessel that will be able to install next-generation wind turbines of up to 20MW. The vessel will be built by Yantai CIMC Raffles Shipyard in China. Van Oord said the vessel would have a very low CO2 footprint as it will be able to operate on methanol, which reduces the ship's CO2 footprint by more than 78%.
Also, the vessel will be equipped with an advanced active emissions control technology (Selective Catalytic Reduction) to reduce the NOx emission "to an absolute minimum."
Further, an installed 5,000 kWh battery pack can take the peak loads and regenerate energy to reduce the fuel consumption and corresponding emissions even further," Van Oord said.
Power from Shore
Elsewhere in Norway, we'll soon see both platforms and offshore drilling rigs powered by floating wind, but first, let's give a mention to power from shore. Norway already has several offshore fields powered by hydro-power-generated electricity from shore, with more to come. One of them is Troll West electrification project, for which Siemens Energy recently won a contract with Aker Solutions to supply the complete packages for the electrical transmission, distribution, and power management system (PMS). Siemens Energy said that a key objective of the Troll West electrification project is to reduce NOx and CO2 emissions by replacing existing gas turbine-driven generators and compressors on the Troll B and C facilities with power from shore.
The plan is to supply electrical power to Equinor's Troll B and Troll C semisubmersibles with a 40-mile (65-km), 150-MW subsea transmission cable from the Kollsnes natural gas processing plant on the island of Ona. The electrification of Troll B and Troll C platforms is expected to reduce annual carbon emissions by approximately 500,000 tons – an amount equivalent to about 1% of all emissions from Norway. Also, NOx emissions from the field will also be reduced by an estimated 1,700 tons per year.
Siemens AG is also part of the project consortium and will provide static frequency converter systems, large-scale drive trains, and special frequency converters, which will allow power to flow bi-directionally for normal and island operation.
Tri-fuel platform suppliers in U.S.
Harvey Gulf in September took delivery of its second tri-fueled platform supply vessel. The 310-ft. Harvey Power is equipped to run on liquefied natural gas (LNG), electric battery power, and ultra-low-sulfur diesel but will be primarily operated utilizing only LNG and battery power.
The Harvey Power will also feature an emissions monitoring system that will allow the company to track the vessel's emissions in real time. The system will provide data showing reductions in emissions from the utilization of LNG as a single fuel source, as well as combined fuel sources using LNG and battery power and diesel and battery power.
Harvey Gulf has three additional PSVs being retrofitted with batteries to make them tri-fueled.
Early in 2021, energy storage solutions provider Corvus Energy secured a contract with Wärtsilä to deliver its Energy Storage Systems (ESS) for Harvey Gulf's fleet.
The orders followed the successful sea trial of Harvey Energy, the first-ever LNG-battery hybrid retrofit of a platform supply vessel (PSV) in the Americas.
Wärtsilä will integrate the battery-based ESSs, each with a capacity of 745 kWh, into their LNG-fueled hybrid-electric propulsion system. The ESS and Wärtsilä Energy Management System (EMS) will allow the vessels to operate in Dynamic Position mode on a single-engine augmented by battery power, to operate more efficiently in transit and other operational modes, and to operate on battery power only when stationary.