The U.S. Navy Report
How big does the Navy need to be? Bigger than it is today.
The Navy's various force structure analyses call for a fleet of 355 to 500 ships and more. Today the "battle fleet" is 296 ships. And Navy leaders say that's not enough to meet commitments or satisfy the demand signal from the combatant commanders. But there are new ships on the horizon.
By Edward Lundquist
HII's Ingalls Shipbuilding division was awarded a $1.47B contract for the detail design and construction of the amphibious transport dock LPD 30.
Rendering courtesy HII
DDG 51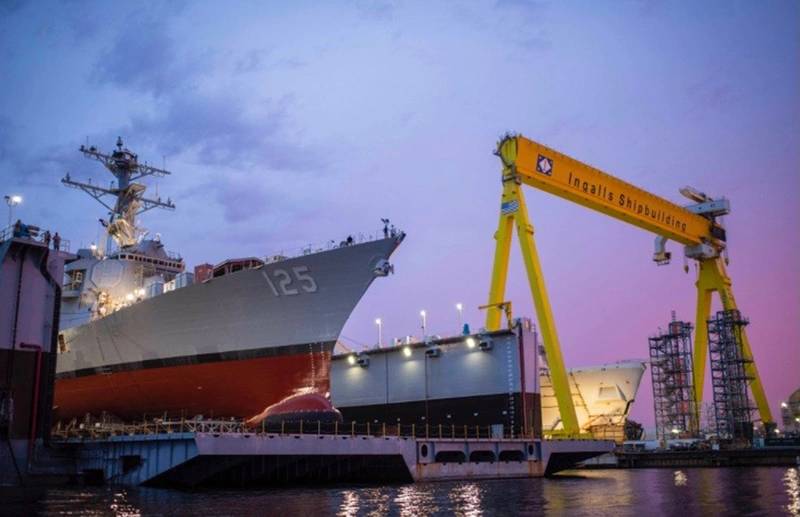 Photo courtesy of Huntington Ingalls Industries
Future Jack H. Lucas (DDG 125), an Arleigh Burke-class guided missile destroyer (Flight III configuration) successfully launched at Huntington Ingalls Industries, Ingalls Shipbuilding division, June 4.
The 67 Arleigh Burke-class guided missile destroyers in the inventory today constitute the mainstay of the Navy's surface fleet. There are currently 67 Arleigh Burke DDGs in the fleet, in Flight I, Flight II and Flight IIA variants. The newest variant, Flight III, uses the proven Arleigh Burke hull form and replaces the SPY-1D with the new SPY-6 Air and Missile Defense Radar (AMDR).
The Navy has approved construction of 14 Flight III DDGs. The Flight III baseline begins with DDGs 125-126 and will continue with DDG 128 and follow-on ships. The first, USS Jack H. Lucas (DDG 125), was launched at Huntington Ingalls Industries shipyard in Pascagoula, Miss., on June 4.
While the Flight III is a game-changer in its own right, with improved combat capability over the earlier Arleigh Burkes, it does not have the space, weight and power (SWaP) margins needed for advanced weapons like laser and rail guns. The Navy's answer is the large surface combatant, or LSC, which has now been designated at the DDG(X).
DDG(X)
That new large surface combatant is the DDG(X). The Navy has stated that the remaining 22 Ticonderoga-class Aegis guided missile cruisers (CG-47s) will reach the ends of their service lives and be retired between FY2021 and FY2038. Their replacement will be the DDG(X) class of next-generation guided-missile destroyers (DDGs). DDG(X) will likely have a similar combat system equipment to the DDG 51 Flight III and potentially leverage a new hull design evolved from the DDG-51 and Zumwalt (DDG-1000) ships. It will likely be sized somewhere between the 9,100-ton DDG 51 and the 15,700-ton DDG 1000. The DDG(X) will also have an integrated propulsion system (IPS) based on technology from the DDG-1000 and CVN-78 IPS and the Navy's new Columbia-class ballistic missile submarine.
Carrier strike groups normally deploy with a CG to provide air defense for the carrier and escorts. The Navy hasn't said how many DDG(X) it plans to build, but if it sticks with the "shotgun" role there will probably be one DDG(X) for each CVN, more if the DDG(X) also replaces older DDG 51s.
DDG 1000
U.S. Navy photo by Chief Mass Communication Specialist Shannon Renfroe
Zumwalt-class guided-missile destroyer USS Michael Monsoor (DDG 1001) participates in U.S. Pacific Fleet's Unmanned Systems Integrated Battle Problem (UxS IBP) 21, April 21.
The stealthy Zumwalt-class (DDG 1000) of guided missile destroyers was designed to provide naval surface fire support (NSFS) for expeditionary forces and conduct ASW operations in the littorals. To support troops ashore it had two 155mm Advanced Gun System (AGS) guns that fired the rocket-assisted, precision-guided the Long-Range Land-Attack Projectile (LRLAP). Because each round was so expensive, the Navy cancelled LRLAP, and AGS was no longer a viable weapon. The Navy will remove the guns and replace them with vertical launch tubes that canfire the new hypersonic Conventional Prompt Strike (CPS) missile.
FFG
Photo courtesy Marinette Marine Corp.
An artist rendering of the guided-missile frigate FFG(X). The U.S. Navy awarded a contract to design and produce the next generation small surface combatant, the Guided Missile Frigate on April 30.
The Constellation class of guided missile frigates (FFGs), (formerly the Small Surface Combatant (SSC)), are being built at Fincantieri Marinette Marine in Wisconsin, and are based on Fincantieri's proven FREMM design. The lead ship, USS Constellation (FFG 62), is scheduled to be delivered in 2026. The new FFGs will replace the Oliver Hazard Perry (FFG 7) frigates, 51 of which were built for the U.S. Navy, serving between 1977 and 2015. The first 12 FFG 62 frigates will be based at Everett, Washington. The Navy may select a second yard to ramp up production.
LCS
U.S. Navy photo courtesy Chief Mass Communication Specialist Shannon Renfroe
Independence-variant littoral combat ship USS Gabrielle Giffords (LCS 10) launches a Naval Strike Missile (NSM) during exercise Pacific Griffin.
The Navy procured 35 the Littoral Combat Ships (LCS) between 2005 and FY2019, with two variants—the monohull Freedom-variant. Built by Lockheed Martin at Fincantieri Marinette Marine in Wisconsin, and the trimaran Independence variant built as Austal USA in Alabama.
The Raytheon-Kongsberg RGM-184 Naval Strike Missile (NSM) is currently being installed on littoral combat ships and integrated into the Constellation-class guided-missile frigate to enhance lethality. NSM is a sub-sonic, sea-skimming anti-ship cruise missile with a range of around 100 miles. The system was successfully tested aboard USS Gabrielle Giffords (LCS 10) in October 2019 during exercise Pacific Griffin near Guam. In March 2021, Gabrielle Giffords test-fired the Naval Strike Missile Block 1A.
While the ships continue to be built, the Navy plans to start decommissioning several this year.
Amphibious ships
Two types of large amphibious ships are being procured for the Navy: LPD-17 Flight II class amphibious ships and "Big Deck" LHA and LHD amphibious assault ships. Both types are built by Huntington Ingalls Industries/Ingalls Shipbuilding (HII/Ingalls) of Pascagoula, Miss.
The Navy's force of amphibious ships at the end of FY2020 included 33 ships, comprised of 10 amphibious assault ships (2 LHAs and 8 LHDs), 11 LPD-17s and 12 LSD-41/49 class ships.
The Navy's 12 aging Whidbey Island/Harpers Ferry LSDs (LSD-41/49) class ships entered service between 1985 and 1998 (with a planned service life to take the class to FY2026 - FY2038). The Navy plans to replace them with a scaled-down variant of the of the LPD-17, now called the LPD-17 Flight II class ships. The Navy has moved up retirement of some of the LSDs, however, and is focusing on a new, smaller amphibious platform called the Light Amphibious Warship (LAW) to support the implementation of "distributed maritime operations" (DMO).
LAWs could be based on existing commercial designs and built in second or third tier shipyards, expanding America's shipbuilding industrial base. LAW "concept design" contracts have been awarded to Fincantieri, Austal USA, VT Halter Marine, Bollinger and TAI Engineers, leading up to a design selection in 2023.
Two expeditionary transfer docks (ESD) and three expeditionary mobile base ships (ESB) have been built at General Dynamics NASSCO in San Diego, with two more ESBs planned.
Aircraft Carriers
The future USS John F. Kennedy (CVN 79) is under construction at Huntington Ingalls Industries (HII) Newport News Shipbuilding in Virginia. Her predecessor, USS Gerald R. Ford (CVN 78), which was commissioned in 2017, is a first-of-class ship.
Christened and launched in 2019, Kennedy is now more than 80 percent complete and scheduled to be delivered in 2024. The previous USS John F. Kennedy (CV-67) was a Kittyhawk-class conventionally-powered aircraft carrier, built at Newport News Shipbuilding, that served from 1968 to 2007. She was christened in 1967 by the ship's sponsor, President Kennedy's 9-year-old daughter, Caroline, who is also the sponsor for CVN 79.
Attack submarines
Photo courtesy General Dynamics Electric Boat
USS Illinois (SSN 786) at General Dynamics Electric Boat.
The Navy has been procuring Virginia-class boats since FY1998, and a total of 34 have been procured through FY2021, but the Virginia's are not coming on line fast enough to provide direct replacements for the 688s that are reaching the end of their service lives.
Beginning with USS Vermont (SSN 792), commissioned in 2020, the Navy introduced the Block IV variants, with the Virginia Payload Tubes (VPTs) and additional improvements for producibility and affordability. There will be ten Block IV boats, with one already in service and the rest in some stage of construction.
The Block V boats, beginning with SSN 802, will include the Virginia Payload Module (VPM). The Block V VPM adds an 84-foot-long, mid-body section with four large-diameter, vertical launch tubes to carry Tomahawk missiles or other payloads. So far, two Block V boats are on order.
The Block V contract with General Dynamics Electric Boat for 10 boats, nine of which will include VPM.
U.S. Navy photo courtesy Newport News Shipbuilding
The Virginia-class attack submarine Minnesota (SSN 783) is under construction at Huntington Ingalls Newport News Shipbuilding.
Ballistic Missile submarines
The Columbia-class ballistic missile submarines (SSBN), formerly known as the Ohio Replacement Submarine and SSBN-X Future Follow-on Submarine, will replace the Ohio-class SSBN. The Navy plans to build 12 of the 560-foot, 21,000-ton Columbia-class subs, with each sub capable of carrying 16 Trident D5 missiles. Unlike the Ohios, which required a mid-life refueling, the Columbias have a life-of-the-ship nuclear fuel core, and an expected service life 42-years.
Auxiliaries
Naval architects at Australia's Sea Transport Solutions have developed a concept for the U.S. Navy's Light Amphibious Warship (LAW). (Sea Transport Solutions)
The Navy is building new replenishment ships, with the first of six John Lewis-class fleet replenishment oilers (T-AO 205) launched this January at General Dynamics NASSCO shipyard in San Diego. They will replace or supplement the existing Henry J. Kaiser-class of oilers. Twelve Expeditionary Fast Transports (EPFs) have been delivered, with two more under construction and a 15th on order from Austal USA in Alabama. The Military Sealift Command operates them around the world. The twin-hulled EPF has a shallow draft of less than 13 feet and a stern ramp for loading and unloading to a pier. It can carry company-sized units with their vehicles at 35 knots, or configured to transport an entire infantry battalion. EPF has a total ship computing environment that integrates communications, navigation, surveillance and other installed systems. It is configured for expansionto provide more capability and connectivity as needed. EPF has a sizable helicopter deck, but no hanger. EPF 14 and 15 will be built with significant medical support capabilities, and are being considered EPF Flight IIsas an expeditionary Medical Transport (EMT).
Unmanned
The Navy is investing in large and medium sized unmanned surface vessels (LUSV and MUSV) to augment and complement the surface fleet. The Leidos Sea Hunter and SeaHawk MUSVs have demonstrated the ability to sail autonomously for long distance. The LUSV program, called Project Overlord, has modified commercial offshore support vessels (OSVs) for autonomous unmanned operations. Six companies (Huntington Ingalls; Lockheed Martin; Bollinger Shipyards; Marinette Marine; Gibbs & Cox Inc.; and Austal USA) to study the LUSV concept. L3Harris has received a contract from the U.S. Navy for the MUSV program. The MUSV is viewed as a sensor platform, while the LUSV is seen as a floating magazine that can carry long-range missiles that are launched with remote targeting information.
Where to?
While everyone agrees the Navy needs more ships, there isn't a coherent plan to grow to 500 or 355, and the money just isn't there to buy them.
The current FY 2022 Navy budget request asks for eight ships--an Arleigh Burke-class destroyer, two Virginia-class attack submarines, and one Constellation-class frigate, one John Lewis-class fleet oiler, two Navajo-class towing and salvage ships, and one T-AGOS(X) ocean surveillance ship. At the same time, the Navy has also announced that twice that number of ships will be retired.
The eight ships in the latest budget amounts to baby steps to get to a big goal, whatever that goalwill be.