Tech Files
New & Innovative Products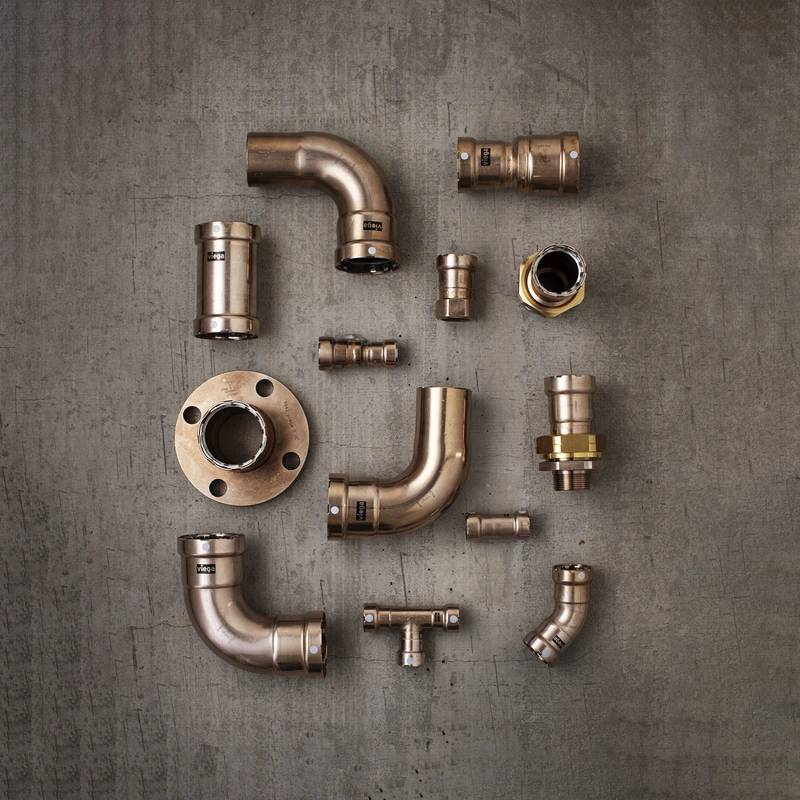 Feature Product: Viega Fittings Earn Navy Approval
Viega MegaPress CuNi and ProPress copper fittings are the first press fittings approved for use in Navy combat ships. After years of testing, the Naval Sea Systems Command (NAVSEA) has approved the use of MegaPress CuNi mechanically attached fittings in sizes ½-in. to 2-in. in surface combatants for a variety of systems, including chilled water, potable water, electronic freshwater cooling, seawater cooling, washdown countermeasures, drainage and others. ProPress copper ½" fittings were also approved for potable water and various drains.
Pressing pipe offers numerous benefits.
Mitigation of fire: A recent analysis by the Society of Naval Architects and Marine Engineers (SNAME) found more than half of the fires (onboard ship) were caused by hot work, such as welding and soldering. Because pressing does not require heat, flame or an external power source, it eliminates the danger of fire when joining pipe.
Cost and labor savings. Pressing can reduce installation time by 70% over traditional methods of joining pipe, as well as savings when testing the systems due to near zero leaks. The National Steel and Shipbuilding Co. (NASSCO) has done studies showing that testing pressed pipe fittings costs less due to fewer leaks, repairs and retesting.
The primary NAVSEA-approved fitting is MegaPress CuNi, a 90/10 copper nickel alloy specifically designed to withstand harsh marine environments. It can be used on Schedule 40 and Class 200 90/10 copper nickel pipe. The second is the ProPress copper fitting system, which offers more than 400 different configurations and three different sealing elements: EPDM, FKM and HNBR. The U.S. Coast Guard, American Bureau of Shipping, DNV-GL, Lloyd's Register, Bureau Veritas and RINA all have previously approved the use of Viega fittings in marine environments.
Cummins Tier 4 Engine
Cummins Inc. launched the QSK60 EPA Tier 4 / IMO III. The new EPA Tier 4 compliant selective catalytic reduction (SCR) aftertreatment system is being paired with the QSK60 engine to address the impact of stricter emissions regulations on commercial marine markets in North America. The new system mitigates downtime and improves total cost of ownership, the manufacturer said.
SCHOTTEL LE-Drive
SCHOTTEL said it aims to meet increasing demand for electronic drive concepts with its newly launched LE-Drive ("Embedded L-Drive"). As the propulsion systems are compatible with electric motors of all types and manufacturers, the LE-Drive allows a free choice of electric motor for diesel-electric or purely battery-powered vessels. Thanks to its compact design, the integrated LE-Drive allows even more freedom in vessel design compared to conventional Z and L variants, the manufacturer said.
CIntelsat FlexMaritime 45cm Antenna Class
Satellite communications services provider Intelsat released a smaller antenna class for its FlexMaritime high-throughput satellite (HTS). The new maritime mobility solution enabled by the 45cm antenna is designed to bring a new level of broadband connectivity performance and affordability for fishing, leisure, tugs and other workboats, as well as smaller or coastal merchant ships, Intelsat said. 45cm terminals from Intellian and KNS are now qualified on the Intelsat FlexMaritime network.
Image: Fincantieri Marine Group
SOLID 156HS - Intelligent Data Center
Condition Monitoring by Fincantieri Marine Services North America offers an integrated approach to data collection, communication, projections and analysis. The SOLID combines a monitor, data logger, powerful analysis software and radio (LTE & SAT), all in one compact unit. It is the latest technology designed to meet the most demanding requirements for monitoring and direct data analysis of complex thermodynamic systems.
mtu EPA Tier 4 Engines
Rolls-Royce received U.S. EPA Tier 4 certification for its mtu propulsion systems based on its Series 4000 M65L 16-cylinder diesel engines. The mtu propulsion system, which includes the engines and SCR exhaust aftertreatment, has been put to use during test bench runs and around 10,000 hours of operation in ferries and tugs operated in the U.S. by Foss Maritime and the San Francisco Water Emergency Transportation Authority (WETA).
TracPhone V30 Marine VSAT Antenna
KVH Industries, Inc., introduced the TracPhone V30, an ultra-compact Ku-band VSAT antenna designed to deliver data speeds as fast as 6 Mbps down/2 Mbps up for leisure and commercial boats wanting to experience the benefits of internet at sea. Measuring 14.5 inches diameter and weighing 23.4 lbs, the TracPhone V30 is designed to provide ease of installation and retrofit with a single power-data coax cable, versus multiple cables, and to utilize DC power.
ZF AT 80 Thruster
ZF launched its new ZF AT 80 thruster model range, available as a 360-degree steerable thruster and as a retractable propulsion system, or as a bow thruster. With a power output of 1,380 to 1,585 kW, the propulsion system covers the range between the existing ZF 6000 and ZF 7000 models. The new hydrodynamically optimized shape of the underwater housing is designed to reduce drag and improve cavitation behavior, and its lean and flat design is geared to save installation space.