Vessels
Recent Deliveries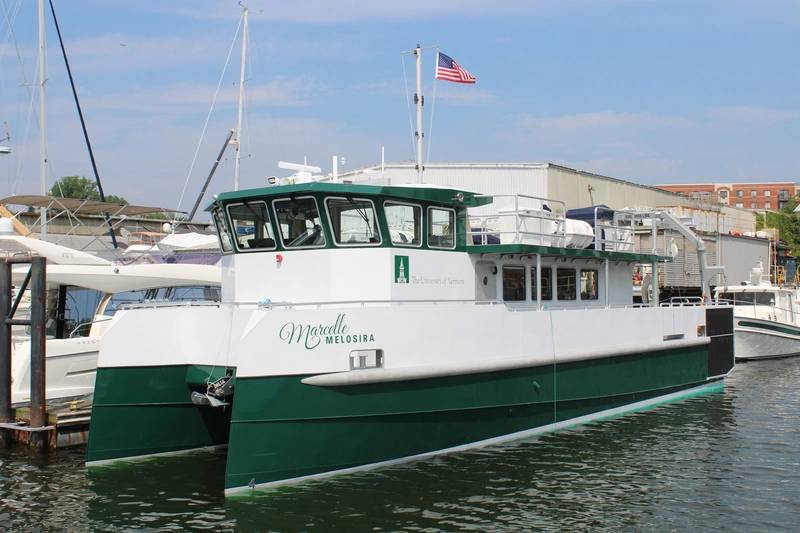 Derecktor Delivers Hybrid Catamaran to UVM
Derecktor Shipyards NY delivered another commercial hybrid vessels, its fourth delivery of an aluminum hybrid catamaran, this one to the University of Vermont (UVM). The RV Marcelle Melosira, will serve as a floating classroom and laboratory, enabling advanced research operations and hands-on educational programs. Designed by Chartwell Marine and built in collaboration with UVM and Chartwell, the 19-meter (64 ft) research catamaran has been crafted to fulfill the functions outlined by UVM's Rubenstein School of Environment & Natural Resources. These functions include low emissions, low fuel burn rates, a stable and safe platform for research, high maneuverability, and the ability to tow trawls, sleds, and plankton nets. The vessel will also facilitate the launch and recovery of scientific equipment, small remotely operated vehicles (ROVs), and sediment sampling devices.
RV Marcelle Melosira is equipped with dual control stations to maximize operability and offers a large interior space and an expansive exterior aft deck area. The vessel is designed to operate on Lake Champlain in up to 1.5-meter Significant Wave Height conditions.
UVM, through its strategic vision "Amplifying Our Impact," is committed to research initiatives that strengthen healthy environments and societies. The construction of the RV Marcelle Melosira aligns with this vision, and the vessel's arrival at the Rubenstein Ecosystem Science Laboratory on Lake Champlain in 2023 will mark an important milestone in advancing scientific exploration and education.
RV Marcelle Melosira is the fourth new build using hybrid systems supplied by BAE.
Derecktor recently signed a contract to build two 65 ft hybrid catamaran ferries for Chatham Area Transit in Savannah, Georgia. The waterjet driven vessels will operate on a route connecting downtown Savannah with Hutchinson Island, home of the Savannah Convention Center. Delivery is expected in 2024.
Freire Shipyard to Build IFREMER Research Vessel
Freire Shipyard signed a contract with IFREMER - the French national institute for ocean science - for the construction of a new 40.3-m vessel for the French oceanographic fleet. It will be designed to deal with all disciplines of oceanography in Atlantic coastal areas: geosciences and paleoclimatology, physical oceanography and biogeochemistry, biological oceanography, and ecosystem functioning, from the coastline to the continental shelf. It will also perform duties related to fishery on the continental shelf and will accommodate a crew of 12 people and 10 scientists, allowing for training campaigns with teachers and students on board.
The oceanographic research vessel stands out for the wide range of energy savings technologies and low-consumption solutions implemented: from the hull design, the design of the power plant, the power distribution system, the heat recovery system, the level from thermal insulation to the efficiency of air conditioning.
The diesel electric propulsion system will combine three main variable speed generator sets (suitable for operation on biodiesel), two shaft lines driven by electric motors and a DC electric distribution system, which together with a battery pack will offer great performance of the power plant, optimization of consumption, good redundancy, and outstanding acoustic performance (not only in terms of compliance with BV COMF 2 class notation but also with DNV SILENT-F standard). The dynamic positioning system and the electric bow thruster facilitate the maneuverability of the boat.
It will have an oceanographic marine telescopic main crane at the stern for marine use designed to launch and to recover scientific equipment (corer, buoys, etc.) and general handling on the aft part of the vessel. In addition, she will have a type A stern gantry, a T-type lateral gantry and a telescopic rail beam for CTD maneuvering. For fishing operations, this boat will also have two trawling winches and a removable net drum.
BRIX Marine Delivers Artemis: Wildlife Adventuring on the Kona Coast
BRIX Marine delivered Artemis from its custom PaxCat portfolio, designed for Hawaiian Adventures, a provider of immersive wildlife experiences on the Kona Coast. Artemis is a 42 x 16-ft. vessel, purpose-built to enhance their mission of cultivating connections between communities and marine wildlife.
Artemis is equipped with Twin Volvo D11-510 with IPS 650 boasting an impressive 510 horsepower and dual counter rotating forward facing propellers. "The maneuverability that you get with the Volvo IPS drives will take most of the anxiety out of docking in the dark, tough weather, and tight spaces, which we often deal with in Kona," said Shane Aggergaard, Founder of Hawaiian Adventures.
Artemis incorporates many design features that optimize wildlife viewing, offering unobstructed sightlines and comfortable spaces for passengers and crew alike.
"BRIX Marine in Port Angeles came up with an amazing design and, with a collaborative effort of many people, created what I feel to be the finest small tour boat in Hawaii," said Aggergaard.
Artemis' Main Deck welcomes guests on a spacious and comfortable open-air ride. Padded forward-facing seats are strategically positioned at the optimal viewing angle for all passengers, offering uninterrupted views of the captivating surroundings. The deck provides ample shaded and full sun seating options, ensuring guests' comfort throughout the journey. Just astern of the main seating area, a spacious and clean marine head (private restroom) is available, along with complimentary cold drinks, sunscreen application mirrors, and integrated trash receptacles. The soft SeaDek (EVA foam decking material) adds a touch of luxury, allowing guests to enjoy a barefoot feel during their adventure.
Eastern Shipbuilding, HOS Team to Convert OSV to SOV
U.S. offshore vessel owner Hornbeck Offshore Services, best known for its offshore oil and gas support vessel services, is looking at business opportunities in the growing U.S. offshore wind sector as well as in offshore accommodation services in the oil and gas area.
For that, Covington, La. based Hornbeck Offshore said Wednesday it had contracted Eastern Shipbuilding Group to convert one of its recently acquired 280-ft. offshore supply vessels (OSV) to a service operation vessel (SOV) to meet the growing demand of the U.S. offshore wind market, as well as to serve the demands of the petro-energy flotel market.
Capable of supporting both construction and O&M activities, the U.S. flag, Jones Act-compliant vessel was originally constructed by Eastern in 2014 and will be converted at the company's 300-acre Allanton Shipyard in Panama City, Fla. It is expected to be available in the spring of 2025.
The HOSSOV 300E has been designed in collaboration with VARD, the original designer of the vessel, to address the key features of the U.S. offshore wind client community based upon VARD's other recent SOV designs, Hornbeck Offshore said.
According to Hornbeck Offshore, the service operation vessel will have the capacity to accommodate up to 90 or more persons in flotel or offshore wind service mode, with safe, stepless walk-to-work transfer capabilities in up to 2.5m sea states.
The SOV will be equipped with an Uptime 30m motion-compensated offshore gangway, a 10-ton 3D-compensated crane, helideck, enclosed warehouse and stepless boat landing.
Its existing diesel-electric powerplant will be enhanced by a 1,500 kW-hour battery hybrid power system, enabling reduced emission during offshore operations and in harbor transit, the U.S.-based shipowner said.
The SOV accommodations will be constructed to ABS Comfort Class habitability notation standards, and, Hornbeck Offshore said, will include a host of onboard amenities typical of a newbuild SOV.
Hornbeck is not the first U.S. offshore vessel owner to convert an oil and gas supply vessel for work in the U.S. offshore wind market. Des Allemands, La. based Otto Candies is converting two of its OSVs to operate as SOVs for wind projects in waters off the U.S. Northeast coast.