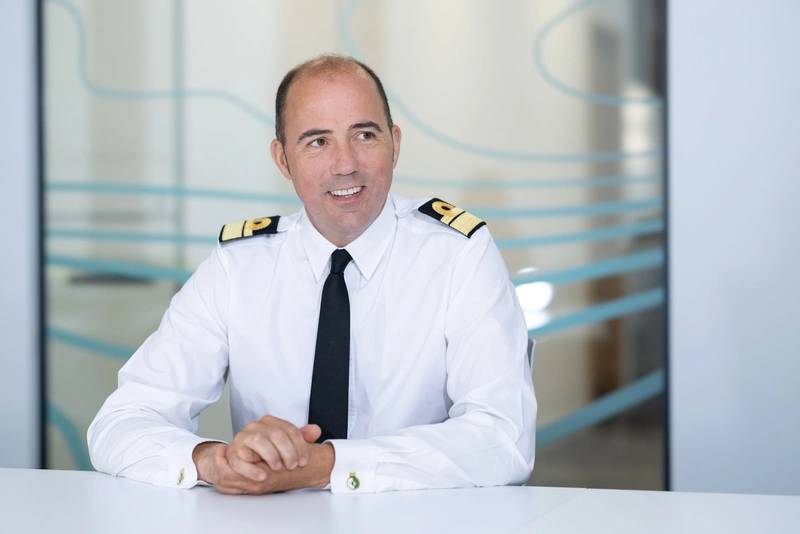 UKHO Appoints Essenhigh as National Hydrographer
The UK Hydrographic Office (UKHO) announced the appointment of Rear Admiral Angus Essenhigh OBE as the United Kingdom's new National Hydrographer. Rear Adm. Essenhigh will take on the role of Director, Defense and Data Acquisition at the UKHO, replacing outgoing National Hydrographer Rear Adm. Rhett Hatcher, who is retiring after two years in post.
The UKHO also appointed Vanessa Blake as Chief Customer Officer. Blake is a multi-award-winning customer experience (CX) expert with 25+ years' experience in creating and implementing successful transformation and CX strategies for customer-centric operations.
Marc van der Donck Receives 2022 Alexander Dalrymple Award
Freire Shipyard signed a contract with IFREMER - the French national institute for ocean science - for the construction of a new 40.3-m vessel for the French oceanographic fleet. It will be designed to deal with all disciplines of oceanography in Atlantic coastal areas: geosciences and paleoclimatology, physical oceanography and biogeochemistry, biological oceanography, and ecosystem functioning, from the coastline to the continental shelf. It will also perform duties related to fishery on the continental shelf and will accommodate a crew of 12 people and 10 scientists, allowing for training campaigns with teachers and students on board.
The oceanographic research vessel stands out for the wide range of energy savings technologies and low-consumption solutions implemented: from the hull design, the design of the power plant, the power distribution system, the heat recovery system, the level from thermal insulation to the efficiency of air conditioning.
The diesel electric propulsion system will combine three main variable speed generator sets (suitable for operation on biodiesel), two shaft lines driven by electric motors and a DC electric distribution system, which together with a battery pack will offer great performance of the power plant, optimization of consumption, good redundancy, and outstanding acoustic performance (not only in terms of compliance with BV COMF 2 class notation but also with DNV SILENT-F standard). The dynamic positioning system and the electric bow thruster facilitate the maneuverability of the boat.
It will have an oceanographic marine telescopic main crane at the stern for marine use designed to launch and to recover scientific equipment (corer, buoys, etc.) and general handling on the aft part of the vessel. In addition, she will have a type A stern gantry, a T-type lateral gantry and a telescopic rail beam for CTD maneuvering. For fishing operations, this boat will also have two trawling winches and a removable net drum.
Feng Joins Birns as Financial Controller
BIRNS announced that Steve Feng has joined the company as Financial Controller, where he will lead the accounting team and oversee the firm's finances and operational accounting, and as part of the corporate management and leadership team will be responsible for developing the annual budget and financial forecasts, and for ensuring the fiscal welfare of the company. He joined the team at BIRNS with deep experience in corporate finance, having held an impressive range of leadership positions such as COO at Case Logistics, Asia Corporate Finance Director at GROHE Ltd., and Managing Director at G4S. He holds an MBA from George Washington University, and a B.A. in Business Administration from Chinese Culture University, Taiwan.
FarSounder Receives 8th Patent
FarSounder has expanded its IP portfolio with the issuance of its 8th Patent, number 11,609,316. This US patent expands the company's patent portfolio for its unique sonar system and its 3D processing.
The invention provides a sonar system that includes a forward-looking sonar device that operates in an integrated fashion with one or more other sonar devices so that a boater can have a reliable navigation tool. The forward looking sonar can include a transducer array that takes a three-dimensional acoustic reading of the objects and seafloor ahead. The electronics that process the acoustic data can also process data from down-looking sonar, side-scanning sonar, or both and can integrate the information to present an expansive display in the boat, revealing the contents and the floor of the sea in front of, around, and under the boat.
Renexia, Seas Geosciences Ink Seabed Exploration Deal
Renexia, a Toto Group company active in the renewable-energy sector, signed an agreement with Seas Geosciences, part of Sealaska's Woocheen ocean-health group of businesses, to study the most environmentally sustainable mooring and anchoring solutions for the turbines at Med Wind, a floating offshore wind farm project in the Mediterranean. Seas will deploy its robotic seafloor drill and cone penetration testing up to 40 meters below the seafloor, in water more than 900 meters deep, to acquire geotechnical information about geohazards at the project site in the Sicily Channel. The work will enable Renexia to define and design the most appropriate seabed anchoring systems for the turbines and ensure maximum attention to the surrounding ecosystem.
Partners Aim to Unlock More Value from Hydrographic Data
QPS and TrueOcean have teamed up to develop digital workflows that they say can optimize the journey of hydrographic data from ping to cloud, by improving on traditional data sharing practices including the use of hard drives or standalone cloud services. The partners are working together to take the next steps in digitizing the data value process in offshore projects. Their focus is on building seamless integration between QPS software solutions and the new TrueOcean Marine Data Platform (MDP), with the shared objective of eliminating friction and accelerating data exchange.
The goal is to get information to end users faster by making it possible to directly upload QPS proprietary data to the TrueOcean MDP without data conversion and including valuable meta data from the QPS format. Data can be viewed directly within the platform and extracted into other QPS products for additional analysis.
The TrueOcean MDP gives QPS users an intelligent dataspace to store data centrally, securely and at scale, with the added benefit that data has less chance of being lost or corrupted compared to using physical media for storage and sharing.
UTEP Autonomous Boat for Bathymetric Surveys
Researchers at The University of Texas at El Paso have built a fully autonomous boat that can carry out bathymetric surveys — surveys of the depth and terrain of bodies of water like oceans, rivers and lakes. Laura Alvarez, Ph.D., an assistant professor in UTEP's Department of Earth, Environmental and Resource Sciences, specializes in unmanned systems for earth science. She started developing the boat several years ago but needed help tweaking the system. That's when she recruited science and electrical engineering master's student Fernando Sotelo '22. "The first time we tested the boat was at the swimming pool at UTEP — just to make sure it could float," said Sotelo, study co-author and now UTEP alumnus. Over the course of a year, Sotelo refined the aluminum watercraft, a 3 x 3-foot circular craft that rests on a thick black inner tube, testing it in various environments like New Mexico's Grindstone and Elephant Butte lakes. His goals included extending the boat's hours of operation and reliability; and making it fully autonomous and responsive to potential environmental issues like wind speed and temperature flux. Now, a failsafe can detect when batteries are low or wind gusts are too high and triggers a return-to-base function. The rudderless watercraft operates with four thrusters, allowing it to travel up to 5 feet per second and easily rotate 360-degrees. A solar panel and lithium battery allow the boat to last up to four hours at sea. All the while a multibeam echosounder emits sound waves from the bottom of the boat. To show proof of concept, the team created 2D and 3D maps of portions of Ascarate Lake in El Paso, Texas and Grindstone Lake in Ruidoso, New Mexico.
MTS Celebrates 60
Formed in June 1963, the Marine Technology Society (MTS) celebrates its 60th anniversary this year. In the early 1960's, a group of business, academic, and government leaders recognized the need for a professional society to bring together scientists, engineers, and others interested in the rapidly growing fields of ocean technology and marine affairs. They convened a committee to establish the character, name, objectives, and basic policies of MTS – launched as a not-for-profit corporation in June of 1963.
The founding members of MTS believed that advancements in the development and use of marine technologies would be essential to support responsible and sustainable use of the ocean. Recognizing the increasing diversity of ocean interests, they established a system of regional sections and topical committees to allow members to self-select into, as a means of uniting the diverse and burgeoning membership around areas of interest. This framework was designed to facilitate the small-group interactions and discourse necessary to propel the marine technology field forward, and it remains largely unaltered today – boasting 20 geographical sections and 15 technical committees worldwide.
Since its inception, MTS has increased its international presence, significantly broadened its educational component, and developed strong communication capabilities. As a demonstration of its dedication to developing the future workforce, MTS has established an Early Career Ocean Professionals (ECOP) Section, created initiatives such as the EMERGE program and the MTS Career Center, and continues to facilitate collaboration through TechSurges and other signature events.
In July 2023, MATE Inspiration for Innovation and its signature program, the MATE ROV Competition, which was established thanks to contributions from the National Science Foundation and the MTS ROV Committee, will be integrated into MTS's program offerings.