Tech Files
Subsea Vehicles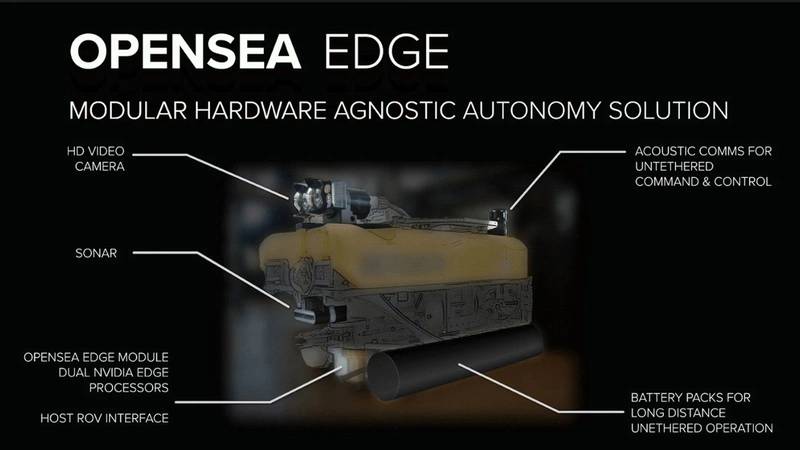 Greensea Launches OPENSEA Edge
Designed for military use but now available commercially, OPENSEA Edge is designed to be a modular edge computing module with perception support for autonomous underwater robots based on Greensea's OPENSEA open architecture software platform, advancing ocean robotics into the next generation. Greensea launched its latest product which the company says promises to bring true autonomy to ocean robotics.
Based on Greensea's open architecture platform OPENSEA, OPENSEA Edge offers the next level of operator capability. While OPENSEA provides the software capabilities of navigation, control, autonomy, perception, and long-range communications, OPENSEA Edge provides a modular, hardware agnostic processing platform, that converts a traditional ROV into one with autonomy, AI, vehicle perception and tetherless, over-the-horizon, communication and control. Essentially, it is a convenient add-on package to deliver integrated edge processing and perception system integration to a traditional ROV.
OPENSEA Edge uses parallel NVIDIA processors to handle sonar and video perception feeds while providing autonomy, communications, and task management for the robot. This platform puts a tremendous amount of processing power at the edge, right on the robot, where it can work directly with sensor data and make decisions for the vehicle. OPENSEA's Safe C2 software package for low bandwidth and high latency communications links provides a seafloor to over-the-horizon communications solution for operators supervising the robot. With the open architecture framework of OPENSEA and available processing space, developers can install their own autonomy and perception-handling software, including AI/ML libraries.
Hydromea & Subsea Wireless Optical Comms
Hydromea is leading the development of the global underwater wireless optical communication standard for bandwidths up to 10Mbps within the Subsea Wireless Group (SWiG), of which Hydromea has been a member since 2019.
Hydromea, emerging player in the field of wireless optical communication systems, can send data through water at speeds of up to 10Mbps using dispersed LED light, a technology the company says assures wide-angle communication coverage as opposed to laser systems. Hydromea's technology enables wireless, high-speed, low-latency communication between two or more communication nodes at depths down to 6,000 meters.
Chevron, Equinor, and TotalEnergies became members of SWiG to drive interoperability of underwater wireless technologies in the energy sector. They welcome initiatives that take a lead on development of industry standards. This will positively affect the adoption of underwater wireless technology by the industry.
Shreekant Mehta, SWiG project manager, added: "Hydromea have been a key party in the development of SWiG standards. In co-operation with an operator, they are drafting an open standard that will facilitate interoperable 1-10mbps FSO (free-space optical) communications for the industry. This standard will be donated to SWiG for review and will significantly accelerate the SWiG timeline. End users will be able to deploy high speed FSO technology that adheres to a SWiG standard. Standardisation initiatives require collaboration and cooperation between vendor competitors. We are lucky in SWiG to have a high level of cooperation between vendors. Hydromea are a great example of this collaborative spirit."
EOLOS Rides Typhoon Hinnamnor
Eolos Floating Lidar Solutions (Eolos), provider of metocean data for the offshore wind industry, has released details of extreme conditions passing by Jindo, on the southern coast of South Korea, during typhoon Hinnamnor.
The deployed Floating Lidar EOLOS buoys recorded wind gusts at sea level of 125km/hr and maximum wave heights of 11m and both the buoy and ZX 300M wind Lidar maintained 100% data availability throughout the storms. While the full energy of the typhoon took place during night hours the daylight video images that each EOLOS FLS200 buoy captures provide an insight into the conditions witnessed during the day.
On August 30, typhoon Hinnamnor became the first category-5 storm on Earth in 2022 and winds have since been reported as reaching 260 km/hr.
The EOLOS FLS200 was deployed in support of offshore wind developments in the region. The buoy which features an integrated ZX 300M wind Lidar has been purposely designed exclusively for the needs of the offshore wind industry, ensuring proper dynamics for wind measurements up to 300m above sea level even in the most challenging conditions such as these.
Vaarst SubSLAM X2
Vaarst inroduces SubSLAM X2 technology to the US market as an alternate to conventional video imagery and other 3D modelling systems. SubSLAM is touted as a real-time intelligent data collection system delivering 4K resolution video with simultaneous high-quality live 3D dense point clouds at sub-millimeter accuracy.
Five SubSLAM systems are being introduced to the US, two deep water systems which can operate in depths down to 2000m and three systems which will operate in shallower waters down to 300m. A 6000m capable system is expected to be available from Q3 2023.
Mounted on any ROV carrying out a visual inspection, SubSLAM can record all data in a single flight. Equipped with machine vision sensors and fast onboard processors, 3D reconstructions are modelled while high resolution 4K video footage is being captured.
Alternatively if work has to be carried out over a longer period of time, multi-session dives can be carried out, with SubSLAM's ability to recommence surveying at the exact point it left off.
The 3D data can be streamed live to any device in the world to multiple recipients without the requirement for any special software on devices. Onshore engineers can remotely track progress, spot issues and react proactively, as the underwater survey is ongoing.
FarSounder Argos for Turkish USVs
FarSounder Argos 3D Forward Looking Navigation Sonars have been included in the navigation control system for two Unmanned Surface Vessels (USV) built in Turkey. The vessels have comprehensive automation technologies enabling them to sail autonomously. The addition of the Argos systems will help them carry out their missions safely. Promar Deniz Malzemeleri A.S., FarSounder's dealer in Türkiye, was instrumental in securing this sale.
Argos sonars interface with the vessel navigation and control systems, providing information about the current state of the environment in front of the vessel and below the water line. This gives the vessel an invaluable level of situational awareness. The systems do all the data processing and provide the vehicle control system with the information needed to make intelligent navigation decisions and make real time course alterations.
FET Video Recording Solution
Forum Energy Technologies (FET) on Wednesday unveiled its latest generation of video recording solutions for the survey and inspection of subsea assets.
"Version 11 (V11) of VisualDVR, a digital video recorder produced by FET's VisualSoft product line, marks a major step forward for the technology's capability and user experience. VisualSoft was originally launched in the early 2000s and has continued to be at the cutting-edge of developments in the technology," FET said.
"In common with its predecessors, VisualDVR (V11) is a multi-channel, rack mountable digital video system designed for use on remote operating vehicles (ROVs), supporting activities in the energy, defence and ocean science sectors," FET added.
According to FET, the system can record up to four channels of HD video and is equipped with a host of tools and complementary applications to support real time documentation of the video images with data from subsea sensors and inspection personnel.
"As part of the update, V11's user interface which has been completely modernized. Configuration of recording quality, data paths, input and output profiles can be accessed easily, and channels can be developed in a simple step-by-step process. There are also new tools to flag potential setting conflicts while improvements have been made to allow video overlay setup simpler," FET added.
Forum said that the new system is also supported by new hardware architecture.
Almarin Updates Balizamar Buoy Range
Almarin launched the new EVO buoys, the evolution of Balizamar buoys. The Balizamar EVO buoys go one step further: their structure is made up of rotomolded polyethylene modular components, enhancing visibility and lowering cost maintenance. The inner structure is made of galvanized steel by immersion and the top mark is constructed of stainless steel. The hull is rotomolded filled with closed-cell EPS foam to ensure buoyancy.
"The design of the Balizamar buoys, which dates to 2010, has been updated to meet current needs. While an improvement in materials was made in 2013 with the change from GRP to stainless steel, the new EVO buoys now have improved day marks while retaining the original design's robustness. This innovative and versatile system offers improved visibility, lower repair costs in the case of damage, and improved aid identification of the aid without limiting the colour only to the hull", points out Aleix San Vicente, director of Almarin. Almarin currently offers two lines of navigation buoys: the new EVO range and the superior GUIA range, which are characterized by an elastomer hull and stainless steel structure.
Dauphin Island Sea Lab's New Research Facility
The Dauphin Island Sea Lab (DISL) announced the recent completion of its newest research facility- a multi-stressor wet lab.
In this new facility, researchers will be able to examine how marine organisms respond to multiple changes in environmental conditions simultaneously. These conditions include oxygen pH, salinity, and temperature. In comparison, most research wet labs only allow a researcher to examine the impact of one stressor at a time and establish a threshold for a single environmental change. However, this new multi-stressor lab at DISL will allow researchers to examine how one environmental change could be impacted by another at the same time.
The DISL campus was built from a repurposed U.S. Air Force base, and the wet lab has given new life to the facility's original generator building.
Initially, the new wet lab will be instrumental for research projects funded through the Alabama Center of Excellence but will be available to researchers throughout the 22 Colleges and Universities that comprise the Marine Environmental Sciences Consortium in the near future.
Some of the first projects that will utilize the lab include the impact of water quality changes on phytoplankton productivity and understanding what changes impact oyster recruitment in Alabama's Coastal Waters. These are two projects funded by the Alabama Center of Excellence.