Tech Files
Subsea Vehicles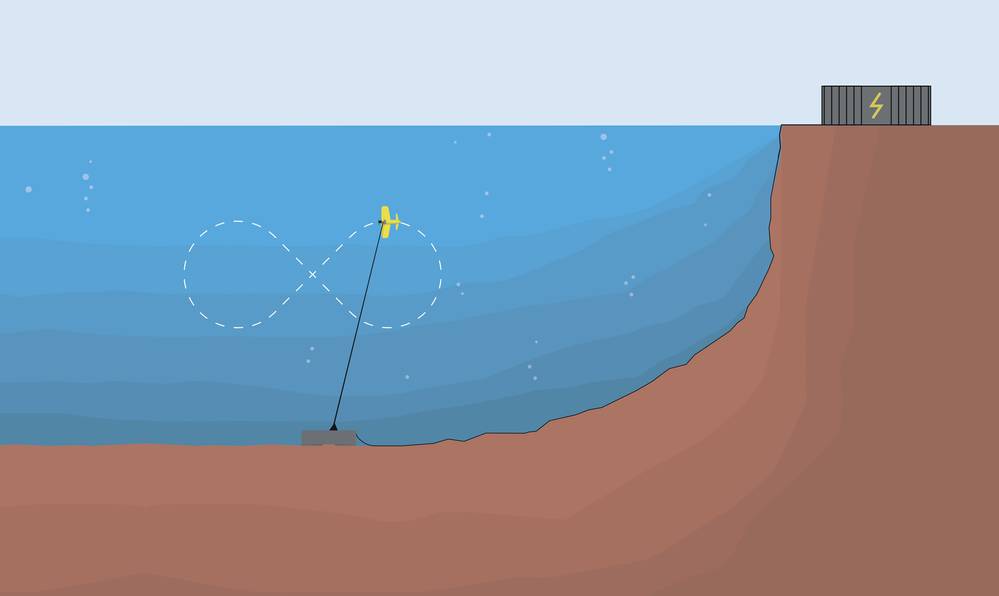 Photo courtesy Minesto
Swooping in a constant figure of eight motion accelerates the kite through the water considerably faster than the actual flow speed and generates electricity several hundred times greater than from a stationary turbine.
"Go Fly a Kite": Falcon ROV flies kites underwater to create Power
Flying kites underwater to generate electricity is an innovative renewable energy concept being installed in the Faroe Islands, supported by SJH Diving and its new Saab Seaeye Falcon. The subsea kite turbine is a unique concept created by developer Minesto to generate electricity in tidal streams and ocean currents using the principle of flying a stunt kite in the wind.
By swooping through the water in a constant figure of eight motion on a tethered cable, the kite turbine accelerates through the water considerably faster than the actual flow speed.
The electricity generated from a kite turbine is several hundred times greater than from a stationary turbine. In support of multiple kite installations, Faroes-based SJH Commercial Diving will deploy their Seaeye Falcon underwater robot for inspecting power-cable runs along the seabed to the shore and inspecting and cleaning foundation points.
Símin Jákup Højsted of SJH Diving, which has been involved in the project for two years, said the Falcon was the best choice for strong currents.
HII REMUS 620 UUV
HII's Mission Technologies division debuted a new medium-class unmanned underwater vehicle (UUV): REMUS 620. Building on the design philosophy of the REMUS 300 — recently selected by the U.S. Navy as the program of record for the Lionfish Small UUV — the REMUS 620 has a battery life of up to 110 hours and a range of 275 nautical miles.
Built to support current and next-generation naval and special operations forces operations, REMUS 620 features a modular, open architecture design to facilitate seamless payload integration and HII's Odyssey suite of advanced autonomy solutions for intelligent, robotic platforms.
REMUS 620 is the same size and weight of the first and only full-rate production medium UUVs: the MK 18 Mod 2, Littoral Battleship Sensing-Autonomous Undersea Vehicle (LBS-AUV) and LBS-Razorback systems operated by the U.S. Navy's Mine Countermeasure Squadrons, U.S. Naval Oceanographic Office and Submarine Forces, respectively.
VideoRay, LLC
Delivering its first ROV (remotely operated vehicle) system in 2000, VideoRay, LLC, is a manufacturer of underwater, portable, inspection-class underwater robots or ROVs. Its Mission Specialist systems are designed to integrate modular components, which enables maximum customization and real-time repairs while a mission is in progress and the implementation of the latest technology.
VideoRay's Mission Specialist Defender is the largest and most powerful configuration, optimized for precise control, heavier payloads, lifting and specialized operations. The Pro 5 system is designed for speed, efficiency and portability. Mission Specialist technology allows the addition of new sensors and tooling from a broad range of manufacturers, enabling it to accommodate a wide selection of power and communications options.
VideoRay is currently fulfilling a large and diverse order by the U.S. Navy for its Mission Specialist Defender systems. The Navy is standardizing on VideoRay Defender Mission Specialist systems due to superior capabilities, flexibility and upgradability of the large number of systems deployed since 2019. VideoRay's customer support for the Navy includes training facilities and personnel in Pottstown, Pennsylvania, and in San Diego.
Image courtesy Armach Robotics
Armach Robotics
Armach Robotics (Armach) is setting out to revolutionize proactive in-water cleaning of ship hulls by using of small, autonomous robots. Armach offers a subscription based proactive cleaning solution that overcomes many shortfalls of current methods through the use of the Armach Hull Service Robots (HSR). The HSR is a single man deployed hybrid flying and hull crawling robot, approximately 1 meter long and weighs under 35kgs. The cleaning head brushes have been extensively tested to ensure they work optimally with any coating system, effectively removing the microfouling while not damaging or accelerating the wear rate of the coating. The HSR is equipped with a forward looking sonar, and forward and rear looking cameras to document the condition of the hull, pre and post cleaning. Autonomy and precision on-hull navigation are built on the OPENSEA and SafeC2 platforms from Greensea.
Image courtesy EvoLogics GmbH
EvoLogics GmbH
EvoLogics GmbH is a German-based high-tech enterprise. EvoLogics are experts in cutting-edge underwater communication and positioning systems, as well as novel robotic solutions. The company's advanced spread-spectrum technology allows it to deliver optimal results for various subsea applications. EvoLogics products include several series of underwater acoustic modems, underwater acoustic positioning systems (USBL, LBL), the Sonobot surface vehicle for surveying and monitoring, as well as the Quadroin, penguin-shaped AUV (pictured), with other uncrewed vehicles currently in development and prototyping stages.
Image courtesy Teledyne Marine
Teledyne Gavia's SeaRaptor
Targeted towards the traditional deepwater space is Teledyne Gavia's "survey-grade" SeaRaptor. This max 4 knot, 3,000m or 6,000m depth capable vehicle, with 50-60-hour range at 3 knots, was first unveiled in 2019, when a first delivery was made, Teledyne said at the time, with longer duration options now available.
The flooded hull design vehicle is 6.8m-long and weighs 1.6 Mt. The modular design, with multiple pressure vessels for its control, navigation and electronics systems, etc., mean it's flexible in terms of sensor and (Kraken) battery configuration ("field-swappable"). The payload included EdgeTech side scan sonar or Kraken 120 MinSAS synthetic aperture sonar, Teledyne Reson T-50 multibeam and Benthos Chirp 3 sub bottom profiler, as well as CathX high resolution camera and laser and Teledyne BlueViewM450 Obstacle avoidance sonar. It can also be air-shipped in its component parts. Navigation includes INS and DVL, with acoustic aiding from Teledyne and third-party, with tracking using an acoustic modem out to 10km, and USBL or LBL.
Image courtesy Bayonet Ocean Vehicles
Bayonet Ocean Vehicles
Bayonet Ocean Vehicles was created to help bridge the gap between open water and the beach with a series of "AUGVs" or Autonomous Underwater Ground Vehicles that can transition from the ocean in through the surf zone and onto the beach. Bayonet Ocean Vehicles was launched in 2022 through the acquisition of IP and inventory of C-2 Innovations Inc. along with its crawling robots product line by marine robotics technology specialist, Greensea Systems Inc (Greensea). The company was created to further develop, manufacture and distribute a line of amphibious crawling robots based on the original concept of C-2 Innovations Inc. Bayonet Ocean Vehicles now designs and manufactures a product line of amphibious crawlers to operate in areas difficult for other vehicles to operate in, specifically on the beach and in the surf zone environment. The product line includes three Bayonet vehicles; the Bayonet 150, Bayonet 250 and Bayonet 350.
Image courtesy Blue Robotics
Blue Robotics
Rusty Jehangir founded Blue Robotics in 2014 in his garage, using Costco foldable tables as a work bench to build his first 600 thrusters, starting with just north of $100K in Kickstarter funding. Following eight years of rapid growth and expansion, Jehangir's facilities and support has changed mightily, but his mission remains the same: design, manufacture and deliver low-cost subsea robotics for multiple markets.
The numbers tell part if not all of the story, as in just over eight years the company has sold more than 70,000 thrusters, more than 3,200 BlueROV2 vehicles supported by an internal team of 58 employees and 50 distributors globally.
Image courtesy Boxfish Research
Boxfish Research
Boxfish is a New Zealand company that designs and manufactures ROVs and autonomous-capable vehicles for marine science, submerged asset inspection, offshore energy, aquaculture, biosecurity, search and rescue, expedition superyachts and cinematography. In 2021, Boxfish Research launched Boxfish Luna, a next-generation drone for underwater cinematography and ARV-i, a new class of underwater observation vehicle developed in partnership with Transmark Subsea. Boxfish Luna is the only underwater drone with a full frame 4K or 8K camera for professional cinematography and natural history filmmaking. The drone makes capturing underwater imagery and scientific data in remote locations quick, easy and safe. Boxfish Research redesigned its remotely operated vehicle (ROV) to integrate the advanced imaging of a Sony A7SIII or Sony ⍺1 camera and a new 200-millimetre precision optical dome, thus allowing professional filmmakers and photographers to capture up to 8K video and 50MP digital stills underwater.
Kongsberg
The Kongsberg HUGIN Edge made its debut earlier this year, and the Norwegian company is hoping to re-open the 1,000 m-rated AUV market with its new "autonomous by design" HUGIN Edge. The 4m-long vehicle, weighing just 300 kg and designed to work at 2-5 knots, is targeting those who want to go deep for up to 24-hours, but don't need to go 3,000m deep and don't necessarily want to have to be AUV experts to run it.
It's been designed to be operated with goal-based adaptive mission planning using AI and for ease of use from uncrewed surface vehicles (USVs), including autonomous launch and recovery and charging and data offload. Kongsberg hopes to deliver the first systems to customers by the end of 2023.
Seaber
Shallower and simpler is the aim of the YUCO range of Micro AUVs from French firm Seaber. Seaber's range is 12m diameter and 98cm to 123cm long, weighing up to 10.5kg and operable down to 300m water depth for 8-10 hours at 2-6 knots. They come in passive acoustic monitoring, CTD, AML multi-parameter and side scan variants and are designed to be used by anyone via a simple web user interface (SEAPLAN) and handheld UHF relocator (SEACOMM) with a 'home' button which triggers the vehicle to home in on that signal.
For navigation, with vehicles use Seaber's INX (Intuitive Navigation eXperience) software that the company says works without needing externing sensors, but can be used with a DVL to more accurate positioning.