End Note
Ocean News & Products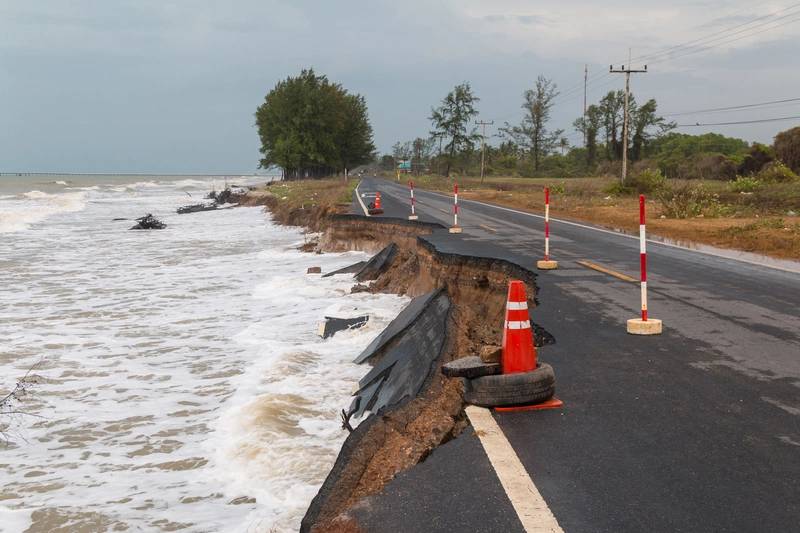 Copyright Attapol/AdobeStock
Report: U.S. Coastline to see a Foot of Sea Level Rise by 2050
The U.S. is expected to experience as much sea level rise by the year 2050 as it witnessed in the previous hundred years. That's according to a NOAA-led report updating sea level rise decision-support information for the U.S. released in partnership with half a dozen other federal agencies.
The Sea Level Rise Technical Report provides the most up-to-date sea level rise projections for all U.S. states and territories by decade for the next 100 years and beyond, based on a combination of tide gauge and satellite observations and all the model ensembles from the Sixth Assessment Report of the Intergovernmental Panel on Climate Change (IPCC). The report projects sea levels along the coastline will rise an additional 10-12 inches by 2050 with specific amounts varying regionally, mainly due to land height changes.
The report updates the federal government's 2017 sea level rise projections, and provides additional information on tide, wind, and storm-driven extreme water levels affecting current and future coastal flood risk. A suite of federal tools are using this data, including the NOAA Sea Level Rise Viewer, which are critical to the Administration's commitment to tackle the climate crisis by making actionable climate data accessible to those who need it.
"This is a global wake-up call and gives Americans the information needed to act now to best position ourselves for the future," said Rick Spinrad, Ph.D., NOAA Administrator. "As we build a Climate Ready Nation, these updated data can inform coastal communities and others about current and future vulnerabilities in the face of climate change and help them make smart decisions to keep people and property safe over the long run."
The report also finds that the sea level rise expected by 2050 will create a profound increase in the frequency of coastal flooding, even in the absence of storms or heavy rainfall.
"By 2050, moderate flooding–which is typically disruptive and damaging by today's weather, sea level and infrastructure standards–is expected to occur more than 10 times as often as it does today," said Nicole LeBoeuf, NOAA's National Ocean Service Director. "These numbers mean a change from a single event every 2-5 years to multiple events each year, in some places."
This multi-agency effort is a product of the Interagency Sea Level Rise and Coastal Flood Hazard and Tool Task Force, composed of NOAA, NASA, EPA, USGS, DoD, FEMA and the U.S. Army Corps of Engineers, as well as several academic institutes. The report leverages methods and insights from both the United Nations Intergovernmental Panel on Climate Change (IPCC) 6th Assessment Report and supporting research for the U.S. DoD Defense Regional Sea Level database.
Norcod Increases 2025 Harvest Forecast by 10%
2021 was a successful year for Norwegian aquaculture company Norcod, delivering proof of concept for cod farming in Norway. Commercial harvesting of Norcod's first batch of farmed cod will continue to April this year, and the company is on course to achieving its target volume of 5,000 MT.
Norcod has also entered into a landmark delivery contract with a major Spanish supermarket chain, delivering 850 MT with a fixed gross price of $6.75 per kg delivered in Spain.
Norcod has also taken the strategic decision to extend the in-sea growth phase to deliver an average of 4+ kg fresh cod to the market. As a consequence, the company has increased its expected harvested volume for 2025 by 10% to 27,500 MT.
Photo Courtesy Maersk Supply Service
STILLSTROM: OSV Charging Stations
Maersk Supply Service, a part of A.P. Moller-Maersk, is launching its offshore vessel-charging venture, Stillstrom, to support the decarbonization of the maritime industry by eliminating idle emissions. Together with Ørsted, Stillstrom will demonstrate the world's first full-scale offshore charging station for vessels at an offshore wind farm. In Danish, "Stillstrom" means "quiet power" and today it is an early-stage technology spin-out whose full-scale product launch will reportedly be the first-to-market in offshore charging, enabling idle vessels to power from electricity. The first full-scale charging buoy will, as previously announced, be demonstrated with offshore wind leader Ørsted in Q3 2022. The power buoy will supply overnight power to one of Ørsted's Service Operations Vessels (SOV), thereby supporting Ørsted's target of climate-neutral operations in 2025. Ørsted will be responsible for the grid integration of the charging buoy.
3D visual of HR SDB point cloud, Lighthouse Reef, Belize. Image courtesy EOMAP
EOMAP Wins UKHO Survey Contract
The UK Hydrographic Office (UKHO) signed a three-to-five-year framework contract for Satellite-Derived Bathymetry (SDB) with EOMAP. The first batch covers 9,000 sq. km shallow waters of Belize. Starting 2022, EOMAP will deliver high-resolution shallow water grids from SDB technology to UKHO, with the first survey covering the waters of Belize. This survey will be the first complete survey of some of these waters, including where uncharted coral pinnacles are currently noted on the chart.
Satellite reflectance product, corrected for effects of atmosphere and water surface, hillshaded with EOMAP's very high resolution SDB record, Lighthouse Reef, Belize
Image courtesy Kongsberg Maritime
Ocean Infinity Adds Six AUVs
Kongsberg Maritime reports that Ocean Infinity has signed an order for six HUGIN Autonomous Underwater Vehicles (AUVs) rated to 3,000m depth. The vehicles are equipped with a geophysical sensor suite and the latest generation KONGSBERG batteries. The new vehicles will be mobilized for global operations, enabled by Ocean Infinity's remote operations infrastructure. The vehicles will integrate as part of the Armada fleet of uncrewed and optionally-crewed vessels and will augment the company's existing AUVs, rated to 6,000m depth.
Image courtesy CRP Subsea
CRP Subsea Buckle Mitigation Buoyancy Solution
CRP Subsea has delivered contracts providing more than 500 Rotating Buoyancy Modules (RBMs), which adds to previous deliveries that have been installed and successfully operating for the past three years. RBMs are used to mitigate buckling in seabed pipelines. They will also be attached to deepwater high-temperature, high-pressure flowlines to mitigate pipeline buckling on the seabed. The RBMs will protect the pipeline by allowing it to roll on the seabed reducing lateral friction and berm creation, thus eliminating rogue buckles and reducing axial walking in the pipeline. Using this innovative buckling mitigation buoyancy solution will reduce the risk of pipeline failure and increasing the lifetime of the field.