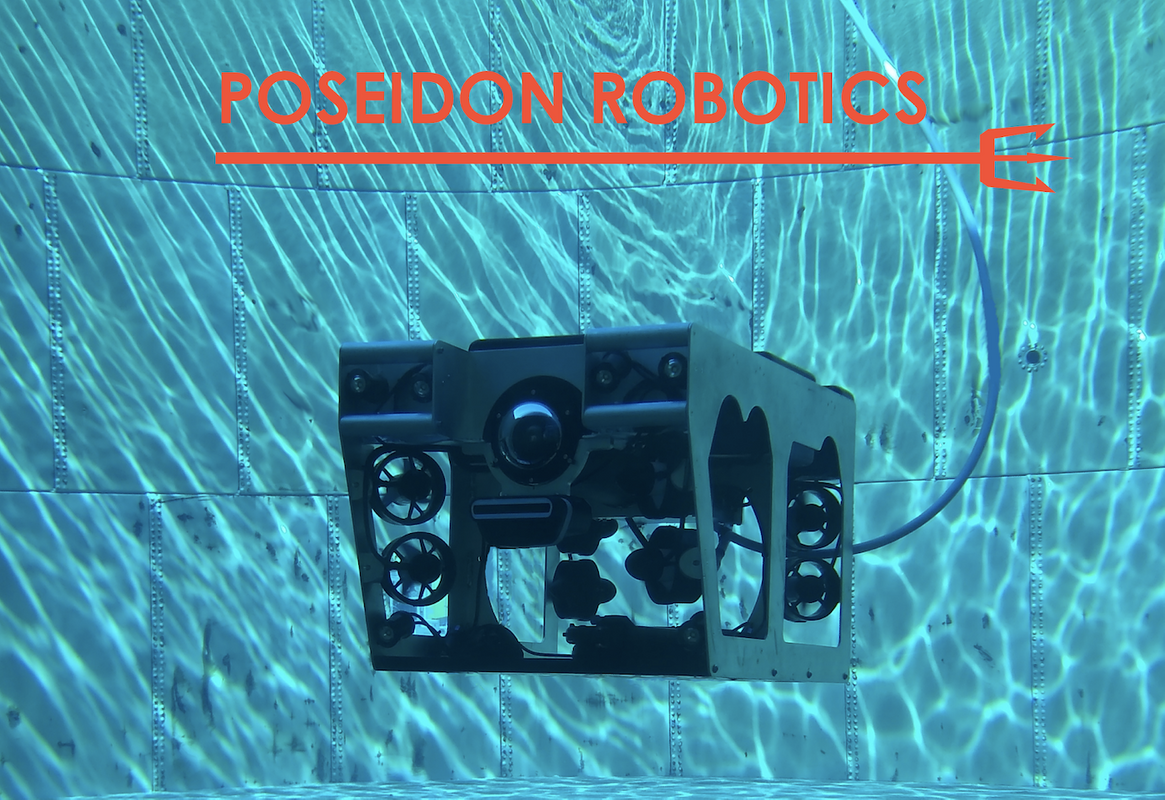 ROV Pilots Design Newest ROV
Photo Credit: Poseidon Robotics, LLC
Poseidon Robotics, founded by veteran ROV operators with decades of combined experience in the field, builds ROVs. Engineers by trade, these operators worked with ROVs all around the globe in many different sizes and environments. With a mission to provide custom solutions, their knowledge of ROV strengths and weaknesses is applied to create vehicles that are complex in design and simple in execution.
With a mindset toward innovation, Poseidon Robotics recently launched the Maui ROV at Offshore Technology Conference in Houston and has been shipping systems since September. Maui is built by ROV Operators for ROV Operators who want more capability in a small package.
The Maui combines big ROV techniques with small ROV manufacturing to become the largest vehicle in Poseidon's current fleet. It joins the Lanai and Lanai Pro, each are mighty in their own class.
One of the best examples of adapting modern technology and industry experience is seen in the unique Vehicle Power Unit. At only 28 inches long, fitting 3kW, 14 thruster controllers, telemetry, and all the accessory ports inside, and leaving room for a large payload was a challenge. Poseidon's mechanical and electrical engineers worked together to fit the power supplies and the thruster motor controllers into a carefully integrated "Vehicle Power Unit". The two units each contain separate power supplies and 8 thruster controllers. By balancing the total volume of the unit, wire density, and port allocations, the density is improved. Preforming the electrical and mechanical design and analysis concurrently also allows both the board and housing to be optimized in a way that's simply not possible throwing off the shelf power bricks into round housing. The VPU PRO is rated to 975m water depth and can pack up to 2kW of thruster and telemetry power into less than the volume of a 1 liter water bottle. To accommodate modern sonars, the thruster power and telemetry power are also separate, reducing electrical noise and the need for larger cables.
Created with Heavy Payloads in mind, the Maui is for those who understand stability's importance during operations. The Maui is designed with 14 thrusters to avoid excessive pitch and roll during flight, especially during heavy lifting. By pairing up smaller thrusters in the corners, the payload volume is increased significantly. Sonar readings are more clearly read with the 22in HD monitor.
Operators no longer have to wait for the ROV to steady before getting a good sonar read. Manipulators maneuver objects with more strength and accuracy. Whether speeding through a strong current or diving as deep as 400 meters, the ride is smooth and stable. The Maui system comes standard with a top side power supply and professional hand controller. Jobs have more uptime using the Maui since no battery changes are needed. The system includes everything you need to get started. Poseidon Robotics uses off-the-shelf parts for easy replacements and competitive pricing. The Maui has the best value of any ROV in its class with 3kW of power to burn and up to 10kg of payload.
The Maui's sturdy deck has a large, open space for all your accessories like Oculus sonars. Even larger options such as the Sound Metrics ARIS3000 sonar and our favorite, the SPRINT-NAV Mini INS/DVL by Sonardyne can fit without the need for a tool skid.
The Maui features Mission Robotics' cutting-edge software specifically designed for marine applications. Built from the ground up, Mission Robotics uses the latest generation components in their topside client application to run seamlessly. In addition to being able to run more than one full 1080HD camera, the video end to end latency is some one of the lowest in the industry.
Poseidon Robotics is excited to continue their vision of perfecting each class of ROVs, small to large, for every operational need.
For more information about Poseidon Robotics' ROVs, please visit www.poseidonrov.com, or call +1-800-882-3413 .