Older Landslide Found in Nuup Kangerlua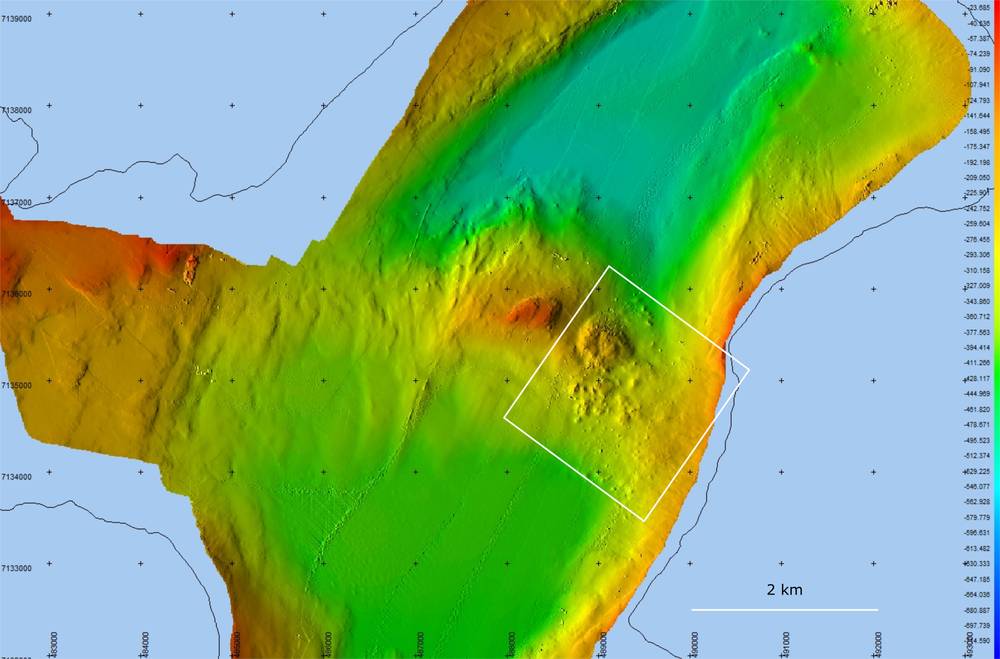 Photo courtesy Diana Krawczyk, Greenland's Institute of Natural Resources
Fig. 1: Bathymetry map (water depth in meters, see color scale) of one of the fiord branches showing a newly discovered landslide (white box).
Photo courtesy Diana Krawczyk, Greenland's Institute of Natural Resources
Fig. 2: Google Earth map of the terrestrial landslide scar marked by the white arrows, where the rockfall originated.
Scientists from Greenland Institute of Natural Resources with their colleagues from Ireland and Poland found an older landslide in one of the fjords of Nuup Kangerlua, South-West Greenland. It was the first time ever that scientists discovered a landslide deposited at the seafloor in this region. It was in connection with a project, which has the goal of mapping the nature (topography) of the large fjord systems of Nuup Kangerlua. The landslide appears though to be an older happening and has a size of ca. 2 x 2 km (Fig. 1). Video footages from the slide location with a drift camera were also taken, and they showed a growth of sponges, sea anemones and other seafloor fauna on the rock debris (Fig. 3), indicating that landslide apparently didn´t happen in recent years.
Landslides are a wide range of ground movements, such as rockfalls and slope failures, which can generate tsunamis. In recent decades, tsunamis caused by rock movements have been observed in Chile, Alaska and Greenland, highlighting the risk of these abrupt events. In Greenland, the Nuussuaq Basin, central West Greenland is the main area affected by landslides, due to its geological setting.
Photo courtesy Diana Krawczyk, Greenland's Institute of Natural Resources
Fig. 3: An example of benthic growth (here a Polymastia sponge) on top of the landslide location.