The new profiler simplifying CTD data collection for oceanographers
The new SWiFT CTD designed for a seamless workflow
Photo courtesy Valeport
One of the most commonly used instruments by oceanographers, a CTD, has been evolved to make it easier to use. Recognising that accurate measured Conductivity, Temperature and Depth data is essential for some oceanographers, the manufacturer of a new CTD profiler has looked to improve the process of taking the CTD profiles.
The new SWiFT CTD profiler from oceanographic and hydrographic instrument manufacturer Valeport, essentially makes the gathering of CTD profiles simpler and more convenient, as well as delivering enhanced accuracy.
The SWiFT CTD is the next generation in the SWiFT profiler range and provides survey-grade sensor technology coupled with the convenience of Bluetooth® wireless technology, rechargeable battery and an integral GPS module to geo-locate each profile.
Watch this short introduction to the new SWiFT CTD
An Innovative solution for out in the field
Designed with the intention of seamless workflow, ease of use is at the heart of the new CTD profiler. With an integral GPS module, every profile the SWiFT CTD produces is time-stamped and geo-located without the user having to log positions manually or cross-reference with another GPS source.
With Bluetooth connectivity the SWiFT CTD doesn't need to be plugged into a cable to be configured or to download data, instead data can be quickly and easily downloaded wirelessly, and uses Valeport's new Ocean software for iOS, Android and PC platforms. The CTD data can then be easily instantly shared in industry standard data formats.
The forward-looking design of the SWiFT CTD is based around simplicity. Devised with a straightforward switching on/off action, the magnetic switch ring is easy to operate, even with cold hands, it simply turns through 90 degrees and reassuringly clicks into position. The end cap features user-friendly LED indications for operational status, GPS, battery and Bluetooth wireless technology.
Problematic battery changes are also a thing of the past with the SWiFT CTD, there is no need to open the instrument to replace the battery. The rechargeable battery, with greater than 100 hours battery life, is simple and easy to recharge.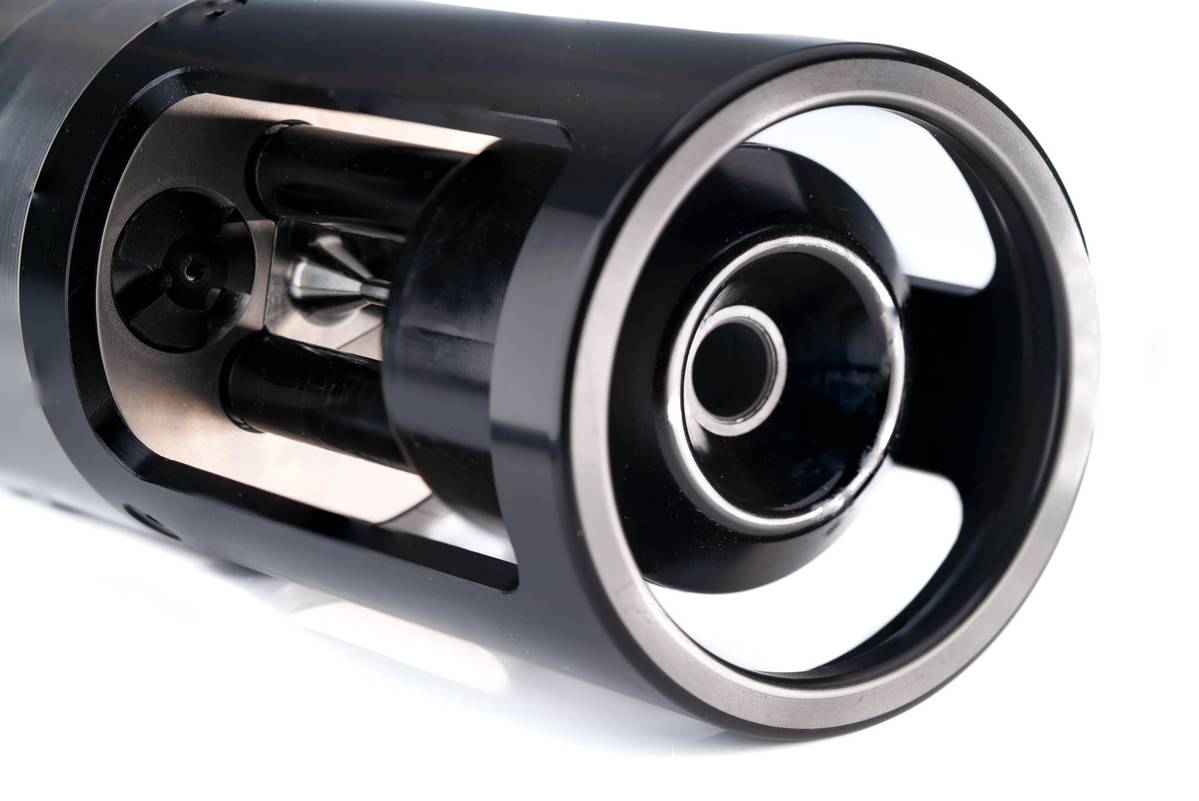 The robust CTD profiler operates down to 500m as standard and the conductivity sensor is housed in a strong acetal protective cage
Ease of use is at the heart of the new CTD profiler, here the end cap shows the user-friendly LED status indications for battery and communications.
Photo courtesy Valeport
Enhanced accuracy
Using Valeport's world-leading high accuracy sensor technology to combine sensors for multiple profiles in a single drop, the SWiFT CTD features a new fast response temperature probe and operates down to 500m as standard, delivering directly measured Conductivity, Temperature and Depth
In addition to the directly measured CTD, it delivers computed Salinity, Density and Sound Velocity which is calculated using the UNESCO international standard algorithm and the Chen and Millero equation, delivering highly accurate data:
Multiple applications
With an operational battery life of up to five days and the convenience of charge via USB, the SWiFT CTD is intended for offshore, coastal, harbour and inland environmental and hydrographic survey use.
Constructed from titanium to provide unrivalled durability and for its corrosion resistant properties in salt water, the SWiFT CTD is robust. The conductivity sensor with its ceramic core is housed in a strong acetal protective cage, addressing traditional concerns sometimes levelled at the fragility of CTD profilers to withstand the rigours of subsea deployment. An additional deployment cage is also available to bolt onto the instrument to secure additional weight and so help the SWiFT CTD get to depth in fast-flowing currents.
The SWiFT CTD is easily portable, ø78mm x length 350mm, it weighs just 2.7kg (in air) / 1.65kg (in water). It is supplied in a durable system transit case, with PC Bluetooth adapter, USB interface and charging cable, Valeport Ocean software and the operating manual.
Made from titanium the SWiFT CTD delivers the highest quality CTD profiles in a compact, robust and portable package
The SWiFT CTD has a three year warranty and is supplied in a strong transit case
Photo courtesy Valeport
Calibration, servicing and warranty
The CTD profiler is calibrated and pressure checked in state-of-the-art laboratories and workshops before it is dispatched from Valeport's premises. The SWiFT CTD comes with a three-year warranty from new. Beyond that, Valeport's Service and Calibration department are able to keep Valeport instruments performing as new for many years and offer a unique 12-month warranty on all serviced Valeport instruments.
Part of the SWiFT Profiler range
In 2021 the SWiFT CTD was launched in response to requests from customers looking for direct CTD readings but from an instrument that delivered an improved user experience. Valeport has an established, popular range of SWiFT profilers which are designed with the intention of a seamless workflow at their core. Common to all the SWiFT profilers is the high accuracy sensor technology which has been combined with Bluetooth wireless technology, a rechargeable battery and an integral GPS. The Valeport R&D team created the new CTD profiler to integrate direct CTD readings with these SWiFT features to deliver the benefits of reliability and ease of use which are consistent across the whole SWiFT range.
The SWiFT portfolio of environmental sensors currently includes: the new SWiFT CTD, the SWiFT SVP, as well as the SWIFT SVP enhanced with the following multi-parameter options: SWiFT SVPplus Turbidity, SWiFT SVPplus Chlorophyll a, SWiFT SVPplus Rhodamine, SWiFT SVPplus Fluorescein, SWiFT SVPplus Phycocyanin.
Technology you can trust
Valeport is a British manufacturer of hydrographic, oceanographic and hydrometric instrumentation which includes: CTD & Environmental, Current, Echosounders & Bathymetry, Sound Velocity and Tide Gauges.
Find out why Valeport technology is selected by leading subsea, hydrographic, hydrometric, metrological & positioning, oceanographic, ports, harbours & dredging, renewable energy and scientific research organisations worldwide by visiting: www.valeport.co.uk
The new SWiFT CTD is now available to order, contact: sales@valeport.co.uk www.valeport.co.uk
"Developed for those who need precise CTD data for scientific applications, this is the first time that measured CTD has been available with all the benefits of our SWiFT profiler; ease of use, Bluetooth wireless technology, rechargeable battery and GPS. The new SWiFT CTD delivers the highest quality CTD profiles in a compact, robust and portable package."
Guy Frankland, Valeport Head of Marketing