Vessels
Marine News rounds up recent notable orders and deliveries, from police and fire boats to pilot and patrol vessels.
©Cathy Kovarik / Adobe Stock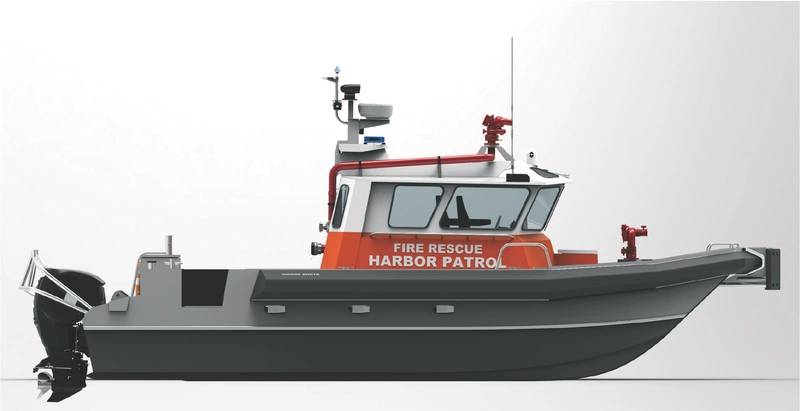 Santa Barbara Harbor Patrol Orders Vessel from Moose Boats
Moose Boats, a boat designer and manufacturer in the San Francisco Bay Area, has been awarded a new contract from Santa Barbara Harbor Patrol for the construction of a M2–35 Catamaran Rescue/Patrol Boat.
According to Santa Barbara Harbor Patrol Supervisor, Nathan Alldredge, "The Santa Barbara Harbor Patrol is excited to partner with Moose Boats to build our next generation patrol, fire, and rescue vessel. Santa Barbara Harbor Patrol is the primary emergency response for the city's harbor, marina, beaches and Wharf. Additionally, Harbor Patrol's area of responsibility extends to the near coastal waters of the Pacific Ocean from Santa Barbara Point to Loon Point and out to 3 miles. Rescue and mutual aid calls extend the operating area out to Coal Oil Point, Rincon Island, and out to 12 miles in the Santa Barbara Channel. The M2 will provide the Santa Barbara Harbor Patrol and its officers with an ideal platform geared towards marine law enforcement, EMS, ocean rescue, marine firefighting, search and rescue, and emergency towing operations."
The M2–35 (37' LOA) all aluminum catamaran will be powered by twin Suzuki 300HP contra rotating dual propeller engines. A dedicated Volvo Penta diesel engine will power Firefighting capabilities that will exceed 1,350GPM through two monitors, handline discharges and one large supply discharge. Pilot house configuration will afford room to care for victims in a protected HVAC controlled environment.
New Launch Delivered to SF Pilots
Seattle shipbuilder Snow & Company has delivered a new pilot boat for the San Francisco Bar Pilots, which provide pilotage service in the San Francisco Bay and tributaries.
The 67-foot-long, all-aluminum vessel Golden Gate was designed by U.K. firm Camarc Design and is capable of speeds up to 30 knots. It has onboard capacity for two crew and up to 12 pilots.
The vessel is EPA Tier 4 compliant, equipped with a selective catalytic reduction (SCR) system and powered by MAN D2862 LE 438 1,200HP engines that drive Hamilton HTX52 waterjets through Twin Disc MGX 6599 SC gearboxes. The vessel is also equipped with Northern Lights M944T3F 38kW generators. A Humphree active ride control system optimizes trim and reduces motions at speed. A Fender Innovations fender system with integrated tires has been fitted.
Metal Shark Building Patrol Boats for Guyana
In recent years, Guyana has emerged as one of the world's top deepwater oil and gas hotspots, and the nation is bolstering its offshore security capabilities with a fleet of highly capable patrol boats.
In August, Metal Shark hosted members of the Guyana Defense Force (GDF) for the launch of the agency's new Metal Shark 115 Defiant patrol vessel GDFS Berbice, (1039). Designed by Metal Shark's in-house engineering team and built at the company's Franklin, La. production facility, the new 115 Defiant is being acquired via direct purchase. Upon completion the new craft will join eight other Metal Shark vessels currently in service with the GDF.
The vessel will carry a crew of 24 on extended missions at sea, and has been designed to accommodate a wide range of mission profiles including search and rescue, border patrol, police and customs duties, counter-narcotics operations, and securing waters of economic importance.
"From the heart of America's energy corridor right here in Louisiana, USA, we've created this next-generation, purpose-built patrol craft," said Metal Shark CEO Chris Allard. "This new 115 Defiant will help to protect Guyana's burgeoning oil and gas industry and the far-reaching interests supporting its development, many of them right here at home. We believe this formidable, American-made patrol craft will be a game-changer for regional security. It is already generating significant interest from naval forces across the Caribbean basin and throughout Latin America."
Powered by twin 1,600 BHP CAT C32 diesel inboard engines turning conventional propellers through Twin Disc marine gears, the vessel is expected to deliver a cruise speed of 12 knots, and a top speed in excess of 20 knots. At cruise, the vessel boasts a 2,000 nautical mile range and 10 days' endurance.
For mothership operations, the 115 Defiant carries a 5.2-meter Metal Shark-built aluminum rigid inflatable boat (RIB) on the aft deck. Launched and retrieved via a PS11000M-5m Palfinger Stiff Boom Marine Crane, the RIB carries up to 10 persons and is powered by twin 50-horsepower four-stroke outboard engines.
New Fire Boat Delivered to the National Parks Service
Silver Ships recently delivered an Explorer 32 to the National Parks Service operating in the Lake Mead National Recreation Area. The vessel will serve U.S. Park Rangers on Lake Mohave and the Colorado River. Distinguishing factors on this fire boat include advanced sonar and fire systems to support the needs of fire and rescue.
The 32-foot workboat has a deadweight capacity of five tons and several customization options, electronics and accessories. This fire-combatting vessel is equipped with twin Mercury Verado 350 engines each boasting 350 horsepower. The loadout for this workboat was designed with the operator in mind, making steering and maneuvering at high speeds as effortless as possible.
Additionally, this workboat is furnished with a fully enclosed cabin and includes both air conditioning and heat for operator comfort. A bow gate provides the versatility needed for rescue missions as well as enhanced firefighting capabilities.
This Explorer 32 series ship is equipped with a Darley fire system with the ability to emit more than 1,500 gallons of water per minute through the remote-controlled rooftop pump. The vessel is equipped with a full Garmin electronics navigation suite, including Panoptix sonar technology. This technology will allow operators to be aware of what's in the water around their vessel and greatly enhance the vessel's versatility as a rescue and firefighting workboat.
Ocean Craft Marine Delivers new Vessel to Black Diamond Police Department
Annapolis, Md. boatbuilder Ocean Craft Marine has delivered a new law enforcement boat to the Black Diamond Police Department in Black Diamond, Wash.
The 6.5-meter aluminum police boat is primed to tackle a wide range of tasks, including search and rescue operations, surveillance and law enforcement activities. It is equipped with cutting-edge navigational systems, state-of-the-art communication tools and specialized law enforcement equipment, the builder said.
"The addition of this exceptional law enforcement boat to our fleet marks a significant advancement in our ability to safeguard our community," said Commander Martinez, Black Diamond Police Department.
Artemis Debuts Foiling Range of Patrol Vessels
Belfast-based Artemis Technologies has unveiled a new range of foiling patrol vessels.
The all-electric Artemis EF-12 Patrol is designed for coastal security, with a top speed of 30 knots and a foiling range of 55 nautical miles. An optional diesel hybrid range extender can extend its foiling range to 236 nautical miles.
The Artemis EF-20H Patrol has a top speed of 40 knots and foiling range of 644 nautical miles. Equipped with retractable foils and a diesel hybrid range extender as standard, its seamless transition between diesel and electric modes empowers silent and emissions-free patrolling in ecologically sensitive areas or where tactical situation dictates.
Both platforms in the eFoiler Patrol range can be used for various operations, from patrol to search and rescue.
According to Artemis, its innovative eFoiler propulsion system minimizes wake disturbances, mitigating impact on shorelines and fellow maritime users. The autopilot flight control system ensures stability, granting crew members a comfortable journey with reduced susceptibility to seasickness, the company said. In addition, these vessels substantially curtail greenhouse gas emissions.
Maryland Pilots Order Another Launch from Gladding-Hearn
The Association of Maryland Pilots has ordered a new pilot boat from Gladding-Hearn Shipbuilding, Duclos Corporation. The high-speed vessel is a sistership to its first Baltimore Class launch, delivered less than two years ago. Delivery is scheduled for 2024.
With a length overall of 48.5', beam of 15.6', and draft of 4', the all-aluminum pilot boat features the Ray Hunt Design deep V hull. It will be powered by twin Volvo Penta D13, EPA Tier 3-compliant diesel engines, each delivering 600 hp at 1,900 rpm with a top speed of 30 knots. A Humphree interceptor trim-tab control system, with its Automatic Trim Optimization, will be installed at the transom.
The engines will turn five-blade Bruntons NiBrAl propellers via ZF370A gear boxes. The launch will be equipped with a 6kW Northern Lights genset.
The vessel's wheelhouse, with a small trunk, is being installed amidships on a flush deck. With forward-leaning front windows, the wheelhouse is outfitted with a center-line helm station, four NorSap shock-mitigating seats, a bag rack, refrigerator and two 12,000 Btu reverse-cycle HVAC units. A second 10,000 Btu HVAC unit will be installed in the forecastle, which will include a porta-potty, tool box and storage for safety gear.
Outside of the wheelhouse are wide heated side decks and hand rails, side and rear doors, and boarding platforms on the roof. A Harken TR-31 safety rail will be installed on handrails on the sides and around the front of the wheelhouse. A control station, along with a powered J-Basket rescue system for pilot rescue operations, will be installed at the transom.
Silver Ships Wins Its Largest-ever Shipbuilding Contract
Aluminum boatbuilder Silver Ships announced it has secured its largest shipbuilding contract order to date.
The Theodore, Ala. builder revealed in June it was awarded a $6.1 million dollar firm-fixed-price General Services Administration (GSA) contract for the construction and delivery of up to 246 High-Speed Maneuvering Surface Target (HSMST) custom vessels. The deal includes options that, if exercised, would bring the cumulative value of the contract to $48.25 million dollars.
Delivery of the first target boats is scheduled for March 2024.
This contract entails the construction of Silver Ships' AM800 RHIB. The 27-foot custom-built AM800 target boats feature a 9-foot 8-inch beam and include an air or foam collar depending on the boat variant. Each AM800 will be outfitted with a specialized compartment designed for installing remote control systems and electronics. These target boats are fully operational and built to the Navy's specifications and payload requirements depending on the boat's specific mission. Vessels can be operated by a one or two-person crew for training purposes but are remotely operated during live-fire training.
Most of the 246 HSMSTs ordered will be powered by twin Suzuki 225-horsepower outboards. The remaining boats included in this contract will be powered by Mercury Diesel Spark Ignition outboards to fulfill Navy fueling requirements. HSMSTs are designed with several uncommon design elements specific to their unique mission, for example, an above-deck fuel tank allowing operators to replace tanks quickly and easily.