Dave Lee, Vice President of Innovation & Technology, Maritime Partners
Tech expert signs on to spearhead innovation at one of the United States' leading maritime companies.
By Eric Haun
Credit: Maritime Partners
Dave Lee recently joined Louisiana-based maritime leasing and financing company Maritime Partners as its new vice president of technology and innovation. A well-known figure in the U.S. maritime sector, Lee has previously held leadership positions at ABB, American Commercial Barge Line (ACBL) and Jeffboat. His next task: help guide one of the nation's leading maritime companies through the next chapter of technological advancement.
"Right now, every marine company around the globe is trying to figure out what to do next because the assets that we are building and operating today will be very different in 10 years due to the speed of new technology," Lee told Marine News after joining Maritime Partners in August. "I will be leading the efforts to deploy assets where Maritime Partners can utilize new technology that lowers emissions in operations in maritime operations. This could be vessels, ports or possibly beyond, but right now I am focusing on what we have in the pipeline."
That pipeline currently includes the Hydrogen One towboat, which Maritime Partners is developing alongside e1Marine and Elliott Bay Design Group. The groundbreaking vessel is expected to be operated by ACBL as the first of its kind globally to run on emissions-reducing methanol-to-hydrogen generator technology—no diesel propulsion on board—as the maritime industry continues to plot its course toward cleaner vessel operations.
Maritime Partners provides maritime financing solutions for vessels used in the Jones Act trade, with a managed fleet of around 1,800 vessels, including a variety of towboats and barges available for lease. In August it reached a deal to acquire AMSC subsidiary American Tanker Holding Company, which owns a fleet of 10 Jones Act tankers. The acquisition is expected to close in Q4 2023, subject to approval by AMSC shareholders and other customary closing conditions.
"I can say I will be quickly moving to other projects," Lee said, noting that his position was newly created because Maritime Partners' leadership—cofounders Bick Brooks, CEO, and Austin Sperry, president—identified a need to guide the company and its customers through the maritime industry's rapidly changing technological landscape.
"Our customers are getting even more pressure today to lower emissions from employees, shareholders, oil majors, ports, etc. that are committed to emission goals to protect our planet for future generations," Lee said. "So, at Maritime Partners we now have a dedicated resource that can help them with that journey, and we can deploy assets that will match their needs while maintaining or increasing the productivity that they have today."
Part of what attracted Lee to the role is the spirit and dedication of the team at Maritime Partners, a company that has grown significantly and emerged as a true industry leader in recent years. "Austin and I have known each other since my Jeffboat days, so I have been pretty dialed in on the journey of the company," he said.
For Lee, another draw is a personal one. "My interest and personal goals are to assist the industry that I have come to love move into the next generation," he said. "The maritime industry is very different from other transportation industries in that many things are still very traditional. To meet the demands of society, government and customers in the next few decades we need to start doing new things now and not wait until the final hour."
"The companies that are challenging the status quo and starting down the path of new technology are very well known in the industry, and this not only helps them as a company, but also helps the industry as a whole," Lee continued. "Before I decided to join, Maritime Partners opted to build Hydrogen One, a boat that challenges everything that we know as a towboat industry. That is the kind of company that I want to be a part of."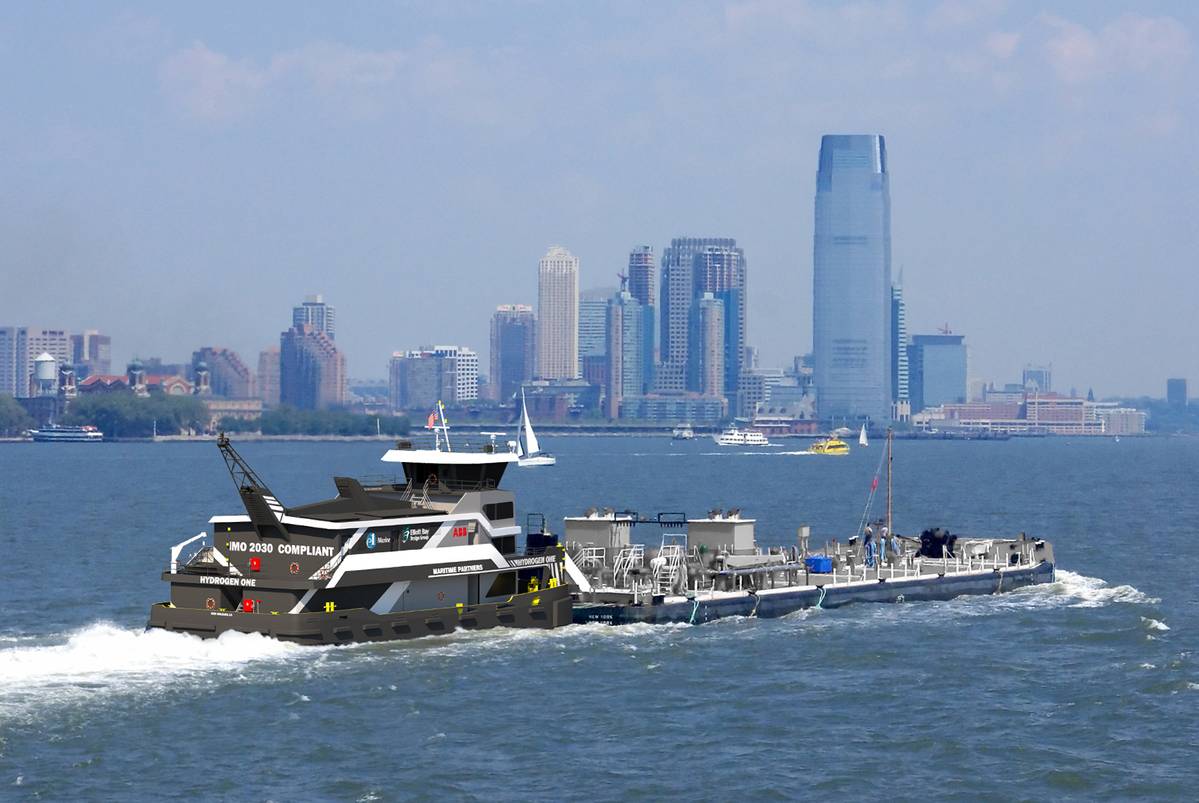 Lee noted that he is grateful for his last 15 years of experience at other maritime companies, but said he is looking forward to his next challenge. "I know that the team at Maritime Partners is committed to the industry. They're committed to increasing safety, decreasing emissions, and increasing overall operational efficiency of our customers operations, and I am proud to be at the tip of the spear in that endeavor."
Something that places Maritime Partners in a better position to explore new and innovative technologies is its large presence and leadership role within the industry.
"We have a large supplier base that will only get larger as the years move along. With this we have a lot of information that we are receiving on a daily basis on new fuels, new technology—both here in the U.S. as well as around the world," Lee said. "My goal is to work with the Maritime Partners team that is exploring opportunities everywhere to find the technology that works for our customers' operations, and not just try to sell them product that is specific to a supplier's portfolio."
For Lee and Maritime Partners, the greatest avenues to explore are those that can have the largest impact in terms of emissions reduction. "Unfortunately, we all know that this normally means there are greater cost involved. I can point to the first electric cars that rolled off the line years ago versus the combustion engine equivalent, but adoption can quickly lower this differential," Lee said. "I would expect that in the coming years you will see Maritime Partners and myself aligned with private/public entities and suppliers to develop assets and technology that allows industry to reap the benefits of early technology adoption, such as lower cost, proven technology, etc."
Asked about whether more collaboration may be needed among industry players to drive innovation, Lee said he has observed more companies like Maritime Partners creating roles similar to his. "I hope we can start coming together as a team to develop the technology that brings the industry forward," he said.
"One advantage that I have over most is that Maritime Partners has many customers that operate our assets. So, instead of looking at the new technology through the lens of operational gains over my competition, I can have a more holistic view of what actually works in every operation and truly meets the goals of all the stakeholders."