Crossing Death's Door Daily
Wisconsin's Washington Island Ferry Line provides umbilical to the mainland.
By Edward Lundquist
Credit: Derek Victor / Adobe Stock
Washington Island Ferry Line (WIFL) has been the essential link between the residents, business and visitors of Washington Island and Wisconsin's Door Peninsula for more than eight decades.
Picturesque and peaceful Door County isn't named for some intrepid settlers named Door. The name has a more ominous meaning. It's derived from the treacherous passage between the peninsula and Washington Island that mariners called Porte des Mortes, or Death's Door.
A unique combination of environmental factors has conspired to place the course of the relatively short crossing from the island to the mainland across one of the most treacherous stretches of water in North America.
That's not to say that every crossing is sailing into danger. Far from it. But the history of wrecks, groundings and collisions date back to the arrival of the voyageurs and missionaries, deserves some healthy respect.
In the summer months and during peak foliage season the island (and all of Door County) swells with visitors. The year-round population of Washington Island hovers around 700, and more than doubles in the summer and autumn. With a land mass of approximately 35 square miles, Washington Island is the largest of 30 islands in Door County, and a self-contained community that is home to the smallest public school district in the state.
There still is a significant amount of ship traffic coming in and out the port of Green Bay. But in the days of sail there was significant waterborne commerce, and navigating the narrow passage around the Door Peninsula and into Green Bay was fraught with peril. Sailing vessels encountered strong currents that coming from a different direction than the wind, and ships under sail often could not make headway to steer clear of the rocky shoals on both sides of the channel.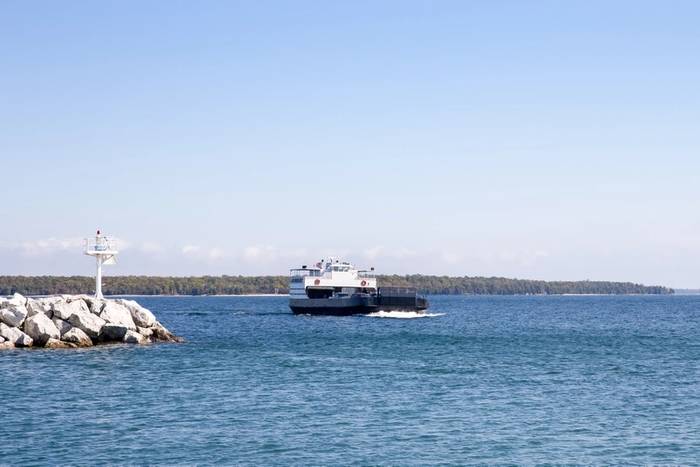 There is a strong current setting in and out according to the direction of the wind, although there is sometimes a counter-current running against the wind. The winds and currents can be so strong that sailing vessels cannot make headway against it, and vessels running up on the rock-bound coast can be stranded or torn apart.
Storms arise without warning, wind can be extreme, precipitation can be blinding and waves can equal those encountered on the high seas in a storm.
Visibility was often poor, so mariners needed an accurate position fix at all times. That's why Door County has 11 lighthouses along its shoreline, a higher concentration of lights than anywhere else in U.S. waters. The number of shipwrecks in and around the passage have earned the name. However, because the passage is narrow, ships that have foundered there could eventually be salvaged, and mariners were often able to get to shore, so the number of deaths from the many incidents is relatively low. The combined efforts of the U.S. Light House and Life Saving Services (today part of the Coast Guard), as well as passing ships and heroic local inhabitants saved many lives.
WIFL represents a family-owned business and community-focused service that is typical of Door County, and is the essential link connecting the island and the rest of Wisconsin.
Based in Detroit Harbor on Washington Island, located 4.5 miles from the tip of the Door Peninsula, WIFL began service in 1940 with a pair of wooden ferries. The fleet has grown and upgraded over the years. Round-trip service from the island to the terminal at Northport on the peninsula runs at least twice a day, and substantially more often at peak times of the year.
WIFL currently operates five car and passenger ferries, as well as a smaller passenger boat. The ferries fleet varies in dimensions and capacities. They can carry 149 passengers and 18-28 standard-sized vehicles. But each was designed and built separately. "They're one-offs," said Capt. Hoyt Purinton, president and captain at Washington Island Ferry Line, Inc.
The oldest was built in 1970, and the newest in 2020. All were built in Door County. All are built to classing specifications of ABS. While they arguably have utility elsewhere, they are designed and optimized for the local conditions found in Death's Door.
Five-ferry fleet
Named after long-time ferry line owner, captain and islander, the 104-foot Arni J. Richter is one of WIFL's four-season ferries, and was built in 2003 at Bay Ship Building in Sturgeon Bay. The 92-ton vessel is powered by a pair of CAT 3508B engines.
The Eyrabakki is named for the port of emigration on the southern coast of Iceland, from where many Icelanders left for America and immigrated to Washington Island in the late 1800s. Built in 1970 at Bay Shipbuilding, the 87-foot, 96-ton Eyrabakki is the oldest ferry in the fleet. She is powered by two 350-HP 2 Cummins NTA 855 diesels.
The 97-ton, 90-foot Robert Noble is a product of Peterson Builders. She joined the fleet in 1979 and has two 454 HP CAT C18 engines. Her namesake is a 25-year-old man who survived icy Death's Door waters in December of 1864. A few years later, Noble became owner and operator of the first ferry in Door County, operating in Sturgeon Bay until a bridge was eventually constructed in 1870.
The 100-foot, 82-ton Washington commemorates the flagship of a squadron of three U.S. vessels which anchored in the northern island harbor (now Washington Harbor), which later secured a foothold in Green Bay following the War of 1812. Built by Peterson Builders, she has twin CAT C18 diesels.
The Petersen-built ferries have an unusual distinction in that the yard, which built ships for the Navy, found it easier and more economical to build the WIFL vessels to the same military specification, resulting in somewhat sturdier construction.
Locally-sourced
Built by in 2020, the 124-foot Madonna is the most recent addition to the WIFL fleet and was built with many modern features. Like Arni J. Richter, she is strengthened for operating in ice conditions, and to provide the most comfortable ride for passengers in the cold months. She is named after a historic schooner built in 1871 that served Washington Island for many years by carrying goods and materials to and from Detroit Harbor and various Lake Michigan ports. Designed by Seacraft Design and built at Fincantieri Bay Shipbuilding, she exemplifies the company's "locally sourced" policy. Her two 800 HP Caterpillar C32 engines, from local supplier, Fabick CAT of Green Bay, meet EPA Tier 3 emissions requirements. Cooling is provided by R.W. Fernstrum Gridcooler keel coolers, made in Menominee, Mich. The transmission came from Twin Disc of Racine, Wisc., and her four-bladed stainless-steel props, shafts and air horns were manufactured at Kahlenberg Industries in Two Rivers, Wisc. Even the outdoor seating is local, provided by Hi Tec Fabrication of Sturgeon Bay. The two 30 kw Northern Lights service generators are pretty much standard throughout the fleet.
"We are fortunate designers, builders, and our key suppliers close at hand." Purinton.
According to Purinton, WIFL conducts USCG hull inspections on each ferry in five-year intervals
The U.S. Coast Guard's local Marine Safety Detachment, just down the road at Sturgeon Bay, inspects the ferries for compliance with regulations.

Icebreaker ferries
Purinton said amongst many challenges, when operating in ice conditions, overheating can be an issue due to ice and slush exceeding depth of sea chests and keel coolers.
In winter, the ice can be in constant motion. The Bay of Green Bay ices up before the rest of Lake Michigan, and that ice can break off and move out through the Death's Door passage. Ice can form into long, continuous "stringers" of fragments. A ferry breaking a path through the ice might not find the channel it had just made minutes earlier on the return trip.
"There are so many different kinds of ice on the lake, and we encounter most of them," Purinton said.
Purinton said a major challenge when operating in ice conditions is the slush up of the sea chest and heat exchangers, causing overheating issues with the engines.
Capt. Joel Gunnlaugsson is second on the WIFL seniority list. He's been with the company for 30 years and a licensed captain since 1998.
He said the WIFL boats—even the newest--are old school—good old-fashioned diesels with twin props. No pods or thrusters.
He prefers the bigger boats, and spends his time skippering the Madonna. "She's a big dump truck of a boat. She can handle anything on the highway. People roll up and see the long lines and think they aren't going to get on the next ferry. But not with Madonna. She gobbles up our lines."
Because of her size, and EPA regulations, Gunnlaugsson said Madonna is a little underpowered for her size. "She can be slow to respond. There can be a three or four second lag. You have to pre-plan your maneuvering."
According to Gunnlaugsson, the transits can get rough in the late fall with the weather pattern and severe winds. " We can get 40 and 50 mile an hour winds, and the water from Lake Michigan is pushed into Death's Door Passage with no place to go, causing waves up to 10 and 12 feet. Fortunately, we have the seawalls where we dock."
Rock Island run
WIFL's 48-seat passenger boat, the Karfi, takes visitors to Rock Island State Park—Wisconsin's only state park on an island. The 900-acre Rock Island has no residents, except for presence of volunteer lighthouse keepers that welcome visitors at the Potowatomi Lighthouse—the oldest commissioned lighthouse on Lake Michigan. The Karfi's Memorial Day to Columbus Day seasonal-service operates from Jackson Harbor, nine miles by road from the WIFL terminal at Detroit Harbor. She makes the trip from Washington Island to Rock Island in about ten minutes.
Community lifeline
Saluting the Scandinavian and Nordic heritage of the county's earliest settlers, WIFL's Detroit Harbor terminal flies the flags of Iceland, Denmark, Norway, Sweden and Finland in addition to the U.S. flag.
"We operate every day, all year round. We run twice a day in the winter, and up to 50 trips on a busy day during the peak season when we typically have all five auto ferries online," he said.
A typical round-trip fare for an auto is $28 plus $15 per adult.
Large loads can be accommodated, such as construction equipment or mobile homes.
Passengers enjoy the scenery from the upper-deck seating on pleasant days. But during the hottest summer days or coldest winter temperatures, or precipitation or high winds, passengers appreciate the climate-controlled interior cabin.
Sometimes there is a need to make an unscheduled crossing. "We are on call 24/7 for medical evacuation trips" Purinton said. "In addition to our scheduled service, we conducted 30 special trips to get people in need of emergency medical attention to the mainland last year."
As essential as these ferries are to Washington Island, Purinton said the privately-held company is not subsidized in any way.
Purinton said all of the company's crewmembers are "Islanders"—either year-round or summer residents. "We start and end every day on the Island."
Although the island has an airstrip, Purinton said just about everybody, and everything, comes over by ferry. "We provide the islanders with a short umbilical to the mainland.""We're as Door County as Door County gets," said Purinton
About the Author:
Edward Lundquist is a retired naval officer who writes on naval, maritime, defense and security issues. He is a regular contributor to New Wave Media publications.