Towboat News
Marine News rounds up recent news on towboat orders, christenings and sales.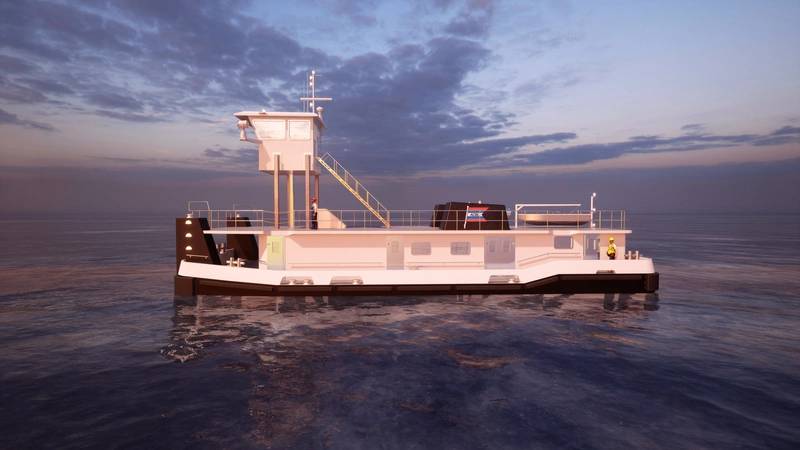 ACBL Inks Deal to Build Tier 4 Towboat
Jeffersonville, Ind. based American Commercial Barge Line (ACBL) announced it has signed a contract with Bayou La Batre, Ala. shipbuilder Steiner Construction Company for the design and construction of a new EPA Tier 4 retractable towboat.
"Investing in our future is a key part of ACBL's strategy. We are proud to introduce the first Tier 4 Mitsubishi engines to the marine industry," said Mike Ellis, CEO, ACBL. "The addition of this new Tier 4 retractable towboat represents our commitment to providing our customers with innovative marine transportation solutions while minimizing our impact on the environment."
Upon delivery in the fourth quarter of 2023, ACBL's new towboat will support barge operations in one of the busiest ship channels in the world, the Port of Houston.
The vessel will measure 82 by 34 feet with a 10-footoperational draft. The boat is equipped with twin engines producing 2,600 horsepower.
"Laborde Products and Mitsubishi are proud to join forces and partner with ACBL," said Brian Laborde, CEO, Laborde Products. "Tier 4 Mitsubishi engine standards represent the strictest of EPA emission requirements for marine diesel engines today and will significantly reduce emissions. Engines that meet these stringent standards promote cleaner air, improved fuel efficiency and better performance."
"We are thrilled to partner with ACBL on building this innovative towboat," said Steiner Construction's CEO Bubba Steiner. "Equally important is the fact that this vessel will be equipped with many of the latest advancements in ship building and design. We are eager to bring it to life."
Ingram Christens New Towboat Steve Alley
Nashville-based Ingram Marine Group in February held a christening ceremony in New Orleans for Steve Alley, the fifth new towboat in the series of 10 ordered by the Nashville-based operator in 2020.
"We are constantly evaluating the readiness of our fleet, and the products of this new construction program provide a significant increase to the overall performance level of Ingram's fleeting operations," said Jason Porter, Ingram's SVP of engineering, barge maintenance and operations.
The four-decked, welded-steel, USCG Subchapter M-compliant towboat was designed by Ingram Marine Group, Louisiana shipbuilder Main Iron Works, and naval architect Ashraf Degedy, PE.
The 78-foot-long, 32-foot-wide newbuild is outfitted with twin Caterpillar Marine tier 3 diesel engines and Reintjes gearboxes, John Deere generators, and 76-inch Michigan special propellers. The live aboard vessel features a 34-foot eye level and have capacities of 18,000 gallons of fuel and 8,000 gallons of potable water.
"This vessel was built to be versatile. It will operate in our fleets in Houston, Texas; Port Allen, La.; Reserve, La.; Paducah, Ky.; and Columbus, Ky., as well as provide shuttle service on the west Intracoastal Canal and various other river systems," Porter said.
The new towboat is named after Ingram's former vice president of external sales, dry cargo, who retired at the end of 2021 after more than 37 years with the company.
"Steve Alley is the living embodiment of The Ingram Way," said Orrin Ingram, chairman of Ingram Marine Group and CEO of Ingram Industries. "In addition to his many business accomplishments, I will personally remember him as hardworking and committed sales professional who always filled a room with his outgoing personality. He built a legendary reputation in the industry and developed enduring partnerships with many of our valued customers. We wish him nothing but the best in his retirement."
"It's hard to put into words what Steve has meant to Ingram over the years," said John Roberts, president and CEO of Ingram Marine Group. "He leaves a lasting legacy, highlighted by his warmth, professionalism and mentorship of our current and future leaders. He absolutely deserves this recognition, and I'm honored to celebrate him at this christening."
Marquette Christens Towboats Charles Reid Perry
Paducah, Ky. based Marquette Transportation Company earlier this year held a christening ceremony in New Orleans for its towboat Charles Reid Perry.
The vessel, built in 2019 by C&C Marine and Repair in Belle Chasse, La., is named after the grandson of Marquette executive chairman John Eckstein. Alix Eckstein Perry, John Eckstein's daughter and mother of the vessel's namesake, officially christened the boat.
The Charles Reid Perry is designed to operate on the Lower Mississippi River and has the capacity to take up to 42 loads southbound during normal operating conditions.
For main propulsion, the vessel is outfitted with fully electronic diesel engines producing 6,600 horsepower. The z-drive units consist of three Steer Prop SP25, azimuth thrusters. Its electrical system is powered by two Cummins AWK-11 tier 3 engines.
Cooper Acquires Towboat from Yazoo River Towing
Mobile, Ala. headquartered Cooper Marine said it acquired a 4,600-horsepower towboat from Yazoo River Towing, based in Vicksburg, Miss.
The 116-foot-long vessel, now renamed Crimson White II, was formerly operated as the Jinx P Smith and is one of the largest vessels operating on the Tennessee-Tombigbee waterway. The 1976-built vessel is powered by EMD engines.
Cooper Marine, a wholly owned subsidiary of The Cooper Group, Inc., said the acquisition expands its towboat fleet to 41 vessels.
"Acquiring the M/V Crimson White II bolsters our longstanding commitment of providing the industry's most reliable barge affreightment services," said Angus R. Cooper III, president of The Cooper Group, Inc. "Adding to our fleet one of the largest towing vessels currently operating on the Tenn.-Tom provides our customers with continued assurance that Cooper Marine will always provide the most reliable barge transportation services in the country."
"As we continue to grow our world-class fleet with the addition of the M/V Crimson White II, we do so in order to best ensure that our customers will continue to depend on Cooper Marine to provide the safest and most reliable barge service in the industry," said James Fowler, Managing Director of Marine & Stevedoring Operations for Cooper Marine.