Ports: Building a New Energy Industry
Sorting out infrastructure, ports and logistics issues will be key as the offshore wind industry scales up to meet the United States' ambitious targets.
By Tom Ewing
© Solosupremoira / Adobe Stock
2022 closed with significant developments to advance offshore wind (OSW) and the necessary, related work required at U.S. ports – on the east and west coasts and the Great Lakes. Some of these developments included:
Funding – MARAD's Port Improvement Development Project (PIDP) grants provided over $100 million for wind at four ports.
Corporate leadership – Marine giants Foss and Crowley stepped up to lead development projects in California and Massachusetts.
New industry focus – The American Association of Port Authorities (AAPA) started a program called POWERS – "Port Opportunities With Energy, Resilience And Sustainability" (see sidebar).
These new efforts add to significant work already underway. In New Jersey, for example, turbine monopiles, from Germany, are due at the Port of Paulsboro at the end of December. The Port of New Bedford, Mass., continues deepening channels and berths and repairing and enlarging terminals to accommodate the fishing, shipping and offshore wind industries.
Another industry trade group – the Business Network for Offshore Wind (BNOW) – remains on point regarding the public policies that will draw private companies and private investments. In September, BNOW hosted the Offshore Wind Port & Vessel Summit in Norfolk, Va., focusing on supply chain opportunities and a better understanding among all players regarding OSW challenges.
Here's a closer look:
MARAD's PIDP grants
On October 28, MARAD/DOT announced PIDP program grants totaling more than $703 million for 41 port improvement projects in 22 states and one territory. PIDP grants provide planning, capital funding, and project management assistance. The 2022 awards included more than $100 million for wind projects at four ports.
In Bridgeport, Conn. the Bridgeport Port Authority will receive $10.5 million for its "Operations and Maintenance Wind Port Project." Work includes 1,300 linear feet of new anchored bulkheads, dredging, a floating service dock and installing two reinforced 20- by 100-foot crane pads.
Salem, Mass. will receive $33.8 million to redevelop a vacant industrial facility, including, somewhat ironically, a decommissioned coal-fired power plant, into an OSW marshalling area. Crowley Maritime is leading this public-private partnership with the city. Work includes a new 700-foot-long wharf and bulkhead to handle oversized and heavy cargoes and to serve as a loadout and assembly location and improvements to approximately 23 acres of adjacent uplands.
In Monroe, Mich., the Lake Erie Renewable Energy Resilience Project will receive $11 million for a series of projects, one of which is constructing a riverfront wharf exclusively for vessel transfer of wind energy cargos.
On Staten Island, N.Y., the Arthur Kill Offshore Wind Terminal Project will receive $48 million for dredging to create a ship basin to support development of an adjacent 32-acre site for OSW staging and assembly. The project includes a 1365-foot-long wharf with adjacent laydown areas and enhanced load bearing capacity.
PIDP support will continue. Maritime Administrator Rear Admiral (ret.) Ann Phillips, in remarks to BNOW's Port-Vessel Summit, emphasized President Biden's energy infrastructure commitments, including port and intermodal projects. Phillips said "over the next five years, the Port Infrastructure Development Program will invest $2.25 billion to strengthen ports all across the nation, including ports that will serve the offshore wind industry."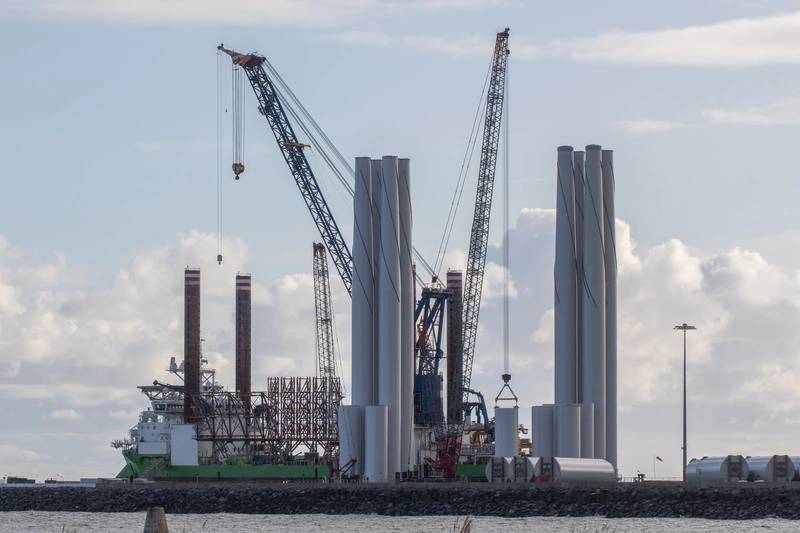 ©Ian Dyball / Adobe Stock
Foss and Crowley take on OSW-port leadership roles
In New Bedford, Mass., Foss announced its partnership last March with local investors to develop the New Bedford Foss Marine Terminal, slated to open in 2023. The terminal will provide storage and laydown yards for equipment and materials, berth facilities for tug and barge operations, and crew transfer and service operation vessels.
New Bedford should open in March 2023. Mark Grantor is director of marketing and communications for Saltchuk Marine Shared Services, of which Foss is a part. Grantor said demolition and removal are underway at New Bedford. Bulkhead work and dredging start soon. The power station is being taken down. After that, watch for a groundbreaking ceremony, originally planned for late 2022. The big goal for 2023 is to complete, by spring, all requirements to open the new terminal to support OSW wind.
John Regan is director of policy and external affairs at the New Bedford Port Authority. Regan was asked about preparing a port for OSW. He said local officials have been at it for 10 years, with related investments totaling $200 million. Projects include a new terminal, infrastructure modernization and new technology for vessel management, navigational safety and port security.
New Bedford Port funding has come from federal and state grants as well as local revenue and private sector funds. A slew of major projects is planned for 2023, including work on terminals, piers and bridges. Funding, though, is not settled for many of those projects. Nevertheless, Regan said that "Vineyard Wind has all the necessary tools and resources to begin (working) in the Spring."
Regan was asked about advice for port officials just starting to look at wind-related projects. His reply: "Start quickly, especially due to the current permitting environment."
Crowley is taking project leadership at two ports – in Salem, Mass. and Humboldt Bay, Calif.
Crowley announced in October that it purchased 42 acres in Salem to develop a terminal and related OSW infrastructure. The terminal will be a logistics and operations center for turbine pre-assembly, transportation, staging activities and storage of assembly components. Crowley Wind Services will operate the terminal. Construction is expected to start next summer and be finished by 2025.
The memorandum of understanding for the Salem project is worth a close look. The big picture is that Crowley purchased the site in September for $30 million. Then, Crowley and Salem received a U.S. DOT project grant of $33.8 million. Next, Crowley agreed to sell the property to the Massachusetts Clean Energy Technology Center (CEC), a state agency, for $30 million. That sum is part of a larger state grant totaling $75 million. In addition, Crowley and Salem agree to transfer relatively small sub-parcels to the Salem Port Authority. CEC will lease the port space back to Crowley. CEC, Crowley and Salem are the parties within the MOU.
Crowley and Salem have a separate "cooperation agreement" in which, among other things, Crowley will help the City's renewable energy initiatives, OSW interconnections and "work with the city" on cold ironing projects "where economically and technically feasible."
Crowley's agreement with the Port of Humboldt Bay, also announced in October, establishes Crowley as the exclusive developer and operator of a terminal to serve floating OSW projects on the U.S. West Coast. Port services will support tenants in manufacturing, installation and operation of offshore wind floating platforms, use of large heavy cargo vessels and providing crewing and marshalling services. The port expects to complete permitting and design in mid-2024. This too is a public private partnership for Crowley and the port.
Looking at policies
Ian Gansler, AAPA's new manager of energy, resilience, and sustainability policy, was asked about MARAD's recent PIDP grants. Gansler said AAPA's interest and priority is on total funding and the impact and extent of that funding. By those measures, PIDP is surely a success and a rich resource. Gansler noted that 2022 funding just about equals all years' prior funding and presents broad geographic coverage supporting a variety of projects.
Gansler was asked whether the grants will give a boost to OSW. His assessment: yes, because of the mix of projects, from rail connections to increased energy resiliency for electrification and help with container operations and new terminals.
Ian Gansler, Manager of Energy, Resilience, and Sustainability Policy, American Association of Port Authorities
He commented further that the ambitious federal goals for OSW depend on sufficient port infrastructure – manufacturing, assembly, port vessels, specialized terminals, and infrastructure for excessive weight. "You can't just reconfigure an old terminal into a wind terminal," Gansler commented. "You need cranes, space, and you need dredging to deepen channels." He added that "the components (for OSW) are different than existing cargo terminals." Ports are challenged now with demands for space. OSW makes vast new demands.
Ports will get the work done, Gansler said. But money challenges will remain. He cited a grant funding ratio of 5:1, i.e., ports submit $5 of PIDP applications for every $1 granted. He's hopeful that MARAD will stay as a generous partner. Port authorities are seeing new demand from developers interested in OSW projects. Officials want their territory to be ready.
In comments about the BNOW's wind-port summit, Sam Salustro, the trade group's vice president of strategic communications, referenced a "wide range of issues" critical to resolve for OSW advancement. Salustro highlighted four issues or bottlenecks: transmission upgrades, vessel shortages, inadequate ports and building "a robust domestic supply chain." He said regulatory certainty is needed to prompt new business investments.
Salustro was asked whether the summit led to agreements or consensus among private and public sector officials regarding project priorities and the timing for next steps. He noted there is no centralized decision-making that prioritizes OSW-port investments. The process is driven state-by-state, with billions invested in numerous ports.
It's important to keep in mind that these decisions originate far beyond ports. Rather, they are usually state-level energy, workforce, utility and transportation decisions that ultimately impact ports.
"This may not leave us in a position to achieve national targets," Salustro commented, adding that federal and state leadership may need to give a higher priority to targeted investments that better maximize all resources and operations.
AAPA POWERS Program – "Port Opportunities With Energy, Resilience And Sustainability."
To stay out front of the federal government's multibillion-dollar investments in green energy the American Association of Port Authorities launched a new program in November to focus on upcoming related investments in green infrastructure. The new program uses a clever acronym – POWERS: Port Opportunities with Energy, Resilience and Sustainability. AAPA wants the POWERS focus to maximize federal funding and steer the sustainability investments of tomorrow.
POWERS efforts will cover five energy program areas:
Alternative fuels – including H2, methanol and ammonia, both land-side and in vessels;
American energy exports – AAPA cites a worldwide demand for LNG, biodiesel and other "bridge fuels," a demand that can be met by American suppliers;
Port electrification – ports need infrastructure and financial incentives;
Port resiliency – ports are on the front lines of extreme weather and cybersecurity impacts; and,
Offshore wind – ports are the manufacturing and marshalling space for wind turbines and related equipment.
To advance these various advocacy efforts AAPA will integrate energy and sustainability programming across all of its events. It will work to prepare the port industry for the next generation of technology, regulation, and environmental challenges. Funding priorities will focus on infrastructure that supports alternative energy powered oceangoing vessels and acceleration of the electrification of port operations. Other efforts will aim at educating local, regional and national stakeholders about the value of ports as the U.S. scales up to a green energy build-out. Workforce development is another focus – training the next generation of port energy and sustainability professionals.
POWERS is supported by a host of corporate and public sector members. Ian Gansler, manager of energy, resilience, and sustainability policy, is spearheading POWERS as it moves forward.
AAPA starts the new year with a POWERS Summit and Expo scheduled for January 24-26 in Tampa, Fla. The conference will home in on what it will take to move from talking about issues to actual projects on energy, exporting, decarbonization and renewables. The draft agenda is available, and listed speakers include people with hands-on experience. Notable participants include: John Regan, New Bedford Port; Crowley; Florida DOT; the Port of Virginia; and David Cummins who heads up the Blue Sky Maritime Coalition.
If green energy is your business, or the business that's looming in front of you, check out the POWERS resource from AAPA.
About the Author:
Tom Ewing
Tom Ewing is a freelance writer specializing in energy and environmental issues. He is a regular contributor to Marine News magazine and other New Wave Media titles.