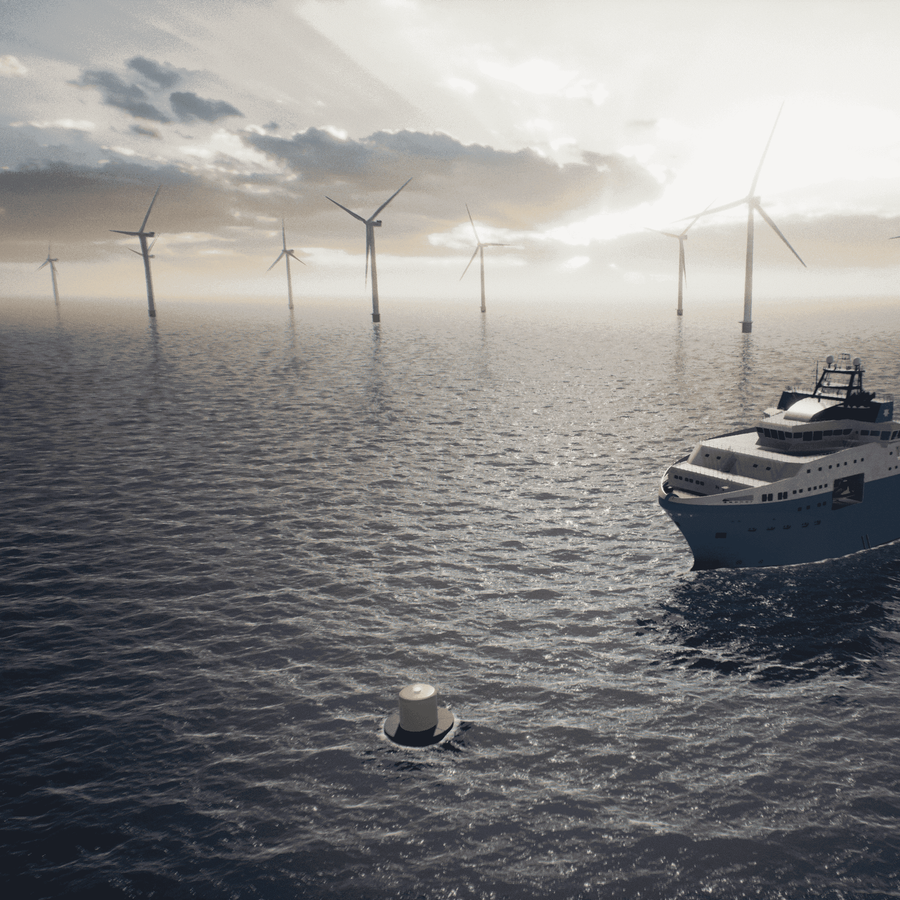 Image: Maersk Supply Service
Offshore Charging Buoy
Maersk Supply Service and Ørsted have partnered to test a charging buoy engineered to reduce vessel emissions by bringing green electricity to offshore wind farm service vessels and potentially to a wide range of maritime vessels. Applicable as a mooring point outside ports, in offshore wind farms, and near vicinity to other offshore installations, the buoy can be used to charge the smaller battery- or hybrid-electrical vessels and to supply power to larger vessels, enabling them to turn off their engines when laying idle.
The prototype has been developed by Maersk Supply Service while Ørsted is responsible for the buoy's integration with the electrical grid at the offshore wind farm. The charging buoy will be tested in the second half of 2021, where it will supply overnight power to one of Ørsted's service vessels.
Ørsted intends to make any intellectual property generated in designing the integration of the buoy into the offshore wind asset publicly available to maximize the uptake potential of this carbon reduction innovation across the offshore wind sector.
Autonomous Landing Solution
As automation technology becomes more sophisticated and vessel owners around the world prioritize the optimization of operational hours, Bosch Rexroth has developed a new autonomous landing solution intended to significantly improve both safety and performance of offshore transfers using Barge Master motion compensated gangways.
Landing systems are used in the transfer of people and essential items between a vessel and an oil/gas platform or wind turbine generator. Through advanced drive technology and digital sensors, these systems compensate for the movement of the ship and the sea, making them safer to use in adverse conditions. However, manual control is still required when it comes to engaging the landing with the platform. Depending on the experiences of the operator as well as the weather conditions, this can become a challenging task.
Through a combination of sophisticated radar technology, cameras and sensors, Bosch Rexroth's new autonomous landing solution automatically attaches the landing to the required site without the need for manual input. This means that the operation is consistent and reliable, regardless of weather and ocean conditions. Once connected, the landing utilizes the usual motion compensation which works alongside the vessel's dynamic positioning system to ensure a safe, steady connection between the ship and the platform.
Huisman Crane for Charybdis WTIV
Offshore equipment provider Huisman has signed a contract with Keppel AmFELS for the delivery of a leg encircling crane (LEC) for what will be the first Jones Act-compliant wind turbine installation vessel (WTIV), Dominion Energy's Charybdis.
Dominion Energy contracted with Keppel AmFELS for the engineering, procurement, and construction of the vessel, which is designed by NOV business unit GustoMSC. Construction kicked off in December, and the crane is scheduled for delivery in 2023.
With a 2,200mt lifting capacity, its lightweight design, 130m long boom but yet the compact house, this crane is unique and ideal for the installation of next generation offshore wind turbines and foundations, according to the manufacturer. Other features the Huisman LEC include a fully electrically driven system, resulting in high positioning accuracy, reduced maintenance and higher reliability; a unique Lambda boom design ensuring a lightweight and stiff design; stiff construction of the Lambda shaped boom leading to reduced motion at the crane tip; and a small tail swing allowing for optimized utilization of free deck space.
Volvo Penta Electric IPS
Volvo Penta is driving its Inboard Performance Systems (IPS) technology into a new chapter: electric IPS. Volvo Penta has worked closely with Danfoss Editron to create the breakthrough serial hybrid system for two 35-meter crew transfer vessels (CTV) designed by MHO&Co in cooperation with Incat Crowther and built by Afai Southern Shipyard for operator Ørsted.
The system consists of Volvo Penta IPS QUAD set-up, where two of the four legs are powered by Volvo Penta D13 diesel propulsion engines and two legs are powered by Danfoss Editron's electric machines, which are in turn powered by five Volvo Penta D8 variable speed gensets. Additionally, a battery pack will be installed to support peak-shaving and to allow the vessels to operate in fully electric mode at low speed, and during long stationary periods.
Both CTVs will be capable of operating in either fully electric or hybrid mode. When cruising to windfarms all four Volvo Penta IPS can be powered, two mechanically and two electrically. In harbor or at the wind farm there is the option to run the vessels with either battery to the electrical Volvo Penta IPS legs or any combination of 1-5 gensets, depending on weather conditions. It is estimated that this choice of operation is set to save about 127 metric tons of CO2 compared to traditional diesel-powered vessels.
HFL Kenter high fatigue life shackle
The Crosby Group has pioneered a product innovation in the offshore mooring markets with the introduction of the HFL Kenter, a new high fatigue life shackle, under the Crosby Feubo brand.
The new HFL Kenter shackle showcases design improvements on the Crosby Feubo NDur Link, an accessory used for temporary and mobile mooring applications such as rigging and anchoring offshore platforms or vessels. The HFL therefore represents the latest state-of-the-art evolution of the Kenter shackle concept, which is over 100 years old.
"The fatigue life is superior, and it can connect to a variety of stud link anchor chain or other mooring accessories such as sockets and swivels," said Oliver Feuerstein, Global Director of Mooring at The Crosby Group. "The new Kenter Connection is DNV-GL type approved and features the unique 'Fastlock' system - proven to reduce project downtime and mitigate risk from conventional assembly/disassembly methods."
Balmoral FibreFlex cable protection system
Balmoral, a UK-based engineering company specializing in offshore buoyancy, insulation and protection solutions for the offshore energy industry, has developed Balmoral FibreFlexx, a cable protection solution for offshore wind.
According to Balmoral, its fiber-reinforced cable protection system mechanically locks to the end connectors removing the need to rely on unpredictable PU bonding.
BFraser Milne is the company's engineering and projects director and says, "Our system provides an increase in axial tension capacity by a factor of two while controlling axial elongation. It also increases bend stiffness by a factor of 1.5 allowing improved control and reduction in the cable's maximum bend radius within a slimline profile."
Balmoral says FibreFlex's long-term creep performance is a substantial improvement on traditional cable protection while bending and axial stiffness is optimized without having to qualify alternative PU materials.